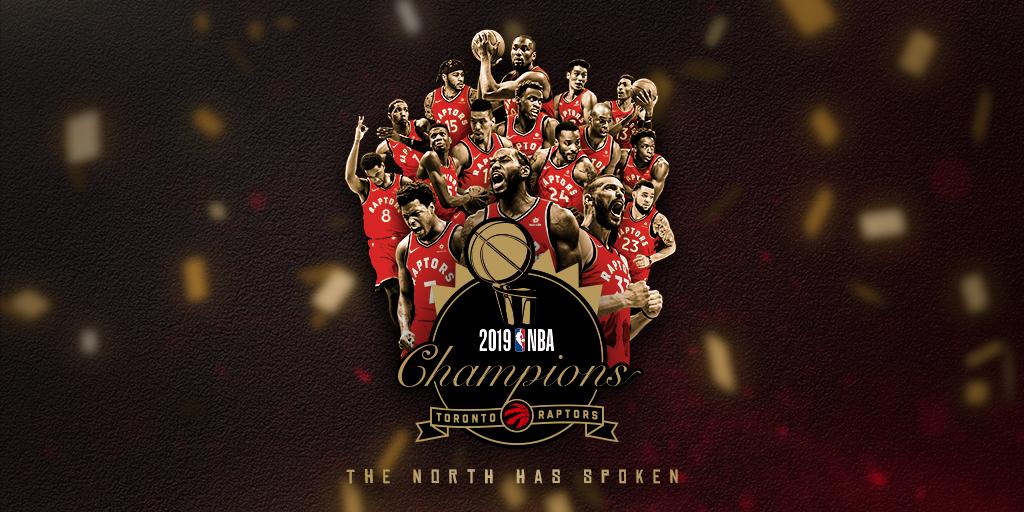 Raptors defeat Warriors for First Championship
Toronto used a total team effort to dethrone the defending champs and take the title back to Canada
It was a close game that came down to the final moments but the Toronto Raptors are the new NBA champions. Golden State had a great chance at the end. With nine seconds left Danny Green had a turnover with the Raptors only up one. The Warriors came up with a incredible play call that ended up with Stephen Curry open for potential game winning 3-pointer. Fortunately for Toronto he missed the shot and the Raptors finished off the game with clutch free throws to win 114-110.
"It was a great group though, they really played together," said coach Nick Nurse,"I thought they really fought hard, they were tough minded. They didn't seem like this was wearing on them at all, two months of playoff basketball. They never seemed tired to me mentally."
It was a balanced offensive attack for the Raptors. They had four players score over 20 points, including Pascal Siakam and Kyle Lowry who had 26 a piece. Kawhi Leonard scored 22 points, as well as Fred VanVleet. He stepped up with 12 points in the fourth, including three 3-pointers. Serge Ibaka contributed 15 points off the bench as the Raptors held on for the win. This is the first NBA title for Toronto and the first championship for Canada since in any major pro team since the early nineties.
Leonard investment pays off for Raptors
The biggest move this past offseason was when Toronto traded for Leonard from the Spurs. He had just come off an injury plagued season that only saw him play in nine games. Leonard faced some criticism for how the San Antonio situation was handled, but he led the Raptors to the second best record in the league. He was awarded his second NBA Finals MVP after averaging 28 points, 9 rebounds, 4 assist and 2 steals.
He was almost an unanimous winner but VanVleet took one vote for his breakout performance in these finals. The Raptors did a good job managing Leonard's minutes this season and it paid off as he did not miss a game in the playoffs. The big question that remains is wether he will stay in Toronto. He has a player option that he plans to forgo and enter free agency this summer. He will be the top free agent now that Kevin Durant and Klay Thompson are facing season ending injuries.
The injury bug strikes again
The Warriors have had one of the worst injury riddled post seasons in history. It started with DeMarcus Cousins tearing a quadriceps. Then Durant injured his calf before attempting to comeback and rupturing his achilles. Finally last night, Thompson tore an ACL after an awkward fall on a contested fast break layup. He was having an amazing game, and still led his team in scoring with 30 points despite being injured in the third quarter. This championship run was not meant to be and they have many questions to answer this offseason. The trio of Durant, Thompson, and Cousins are all scheduled to hit free agency. Thompson and Durant are both expected to miss most or all of next season with their respective injuries. This may be the end of the Warriors championship run that saw them take home three titles in five years.
"More than the what-ifs? It's just feeling bad for the players involved," said coach Steve Kerr," Injuries are always part of the NBA season, any professional sport. Injuries play a huge role. It's just the severity of these injuries… we can sit here and say well if this hadn't happen or that hadn't happen that doesn't matter. What matters is Kevin Durant is going to miss next season with an achilles tear and Klay suffered a knee injury…but it's just brutal what these guys have had to deal with."
New Dynasty in the Making?
Toronto is in good shape to repeat as champions is they manage to lure Leonard back into the fold. The Raptors only have one other role player (Danny Green) facing free agency, and Marc Gasol has a player option for next season. The development of Siakam and VanVleet have been promising signs for the future. They are both 25 years old and seem to be entering into the prime of their careers. Unfortunately for the Raptors they do not have a lot of young talent to build upon. They were the fifth oldest team this past season and only have one player under 23 (OG Anunoby). They do return most of the team from last year but if they can't retain Leonard they may be facing a rebuild next year. His decision this offseason will change the Raptors for years to come.
Written by Blair Young
Follow Blair and TSJ: NBA on Twitter!
Photo credit to Raptors via Twitter

Follow TSJ on YouTube and Twitter