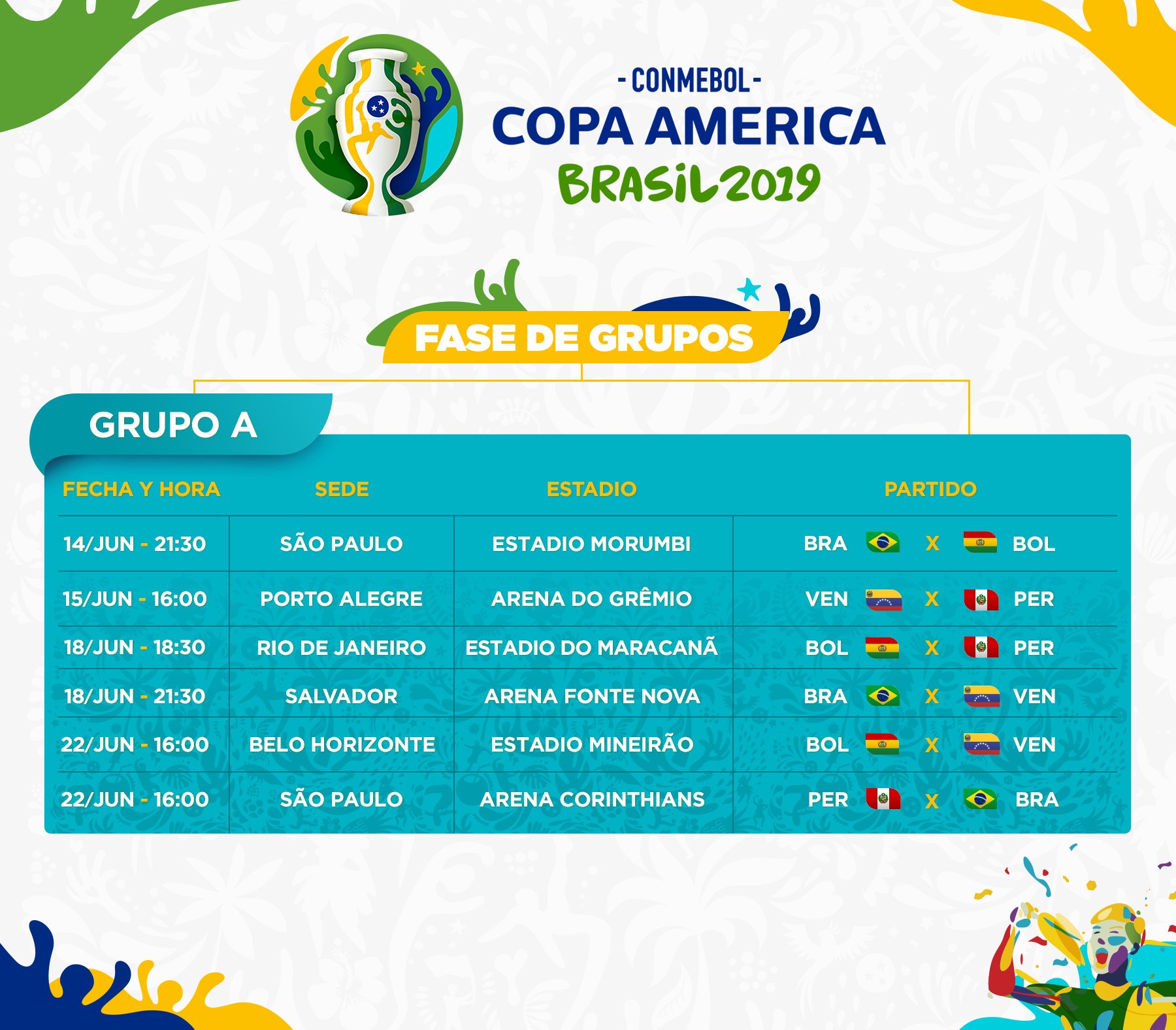 Group A Breakdown
Copa America Group A consists of Bolivia, hosts Brazil, Peru, and Venezuela.
The home team Brazil will host Bolivia at Estadio Morumbi in Sao Paulo.
Brazil is the heavy favorite to win the tournament. However, they will have to do it without Neymar Jr. who has injury that will keep him out for at least a month.
Peru and Bolivia are the only other two countries that will likely put up a fight against Brazil's force at home.
Venezuela comes to these instance with difficulties in their nation. However, they can be the dark horse in this competition but nothing more is expected of them.
Bolivia
Bolivia last won this tournament in 1963. This was the first and only Copa America title.
Marcelo Martins is Bolivia's best player. His father is Brazilian and at one point he considered playing for Brazil.
Luis Haquin and Alejandro Chumacero are the only players, aside from Martins, playing outside Bolivia. These two players in Mexico for Pueblo while Martins plays in China for Shijiazhuang Ever Bright.
Bolivia is the lowest ranked nation in South America at the moment.
Though there is no expectations for Bolivia to take first place from Brazil, they are expected to get to the next round. The second and third best place go on to the next round and they are expected to be there with either Peru or Venezuela.
Brazil
Brazil will be captained by veteran full back Dani Alves. The Paris Saint-Germain defender took over for Neymar, even before his injury that will keep him out of this tournament.
Tite believes Alves brings the veteran leadership to take Brazil to their first Copa America championship in 12 years.
Brazil has won this tournament eight times and are third behind Argentina and Uruguay who hold more Copa America titles.
Nevertheless, they are expected to win the tournament. Anything less than that will be a failure for Brazil.
Peru
Peru is coming off a rather disappointing World Cup in Russia. However, they managed to return to the grand stage after missing out 36 years of action.
Since the arrival of Ricardo Gareca to the Incas' side, the team has seen some successes after earning a third place finish at the 2015 edition of the tournament and reaching the World Cup once again.
To their advantage, the entire squad, with the exception of four players, play abroad in other American leagues and Europe.
Nevertheless, the Gareca's squad has aged and averages a squad of 27-years-old players. Among the oldest are captain Paolo Guerrero and Jefferson Farfan, 35 and 34 respectively.
However, they are the favorites to take the second place ahead of Bolivia and Venezuela.
Venezuela
Venezuela along with Ecuador are the only nations to have never won the Copa America title. Both have only managed to gain a fourth place in the competition in its history.
Nevertheless, Venezuela is going through one of their hardest periods are a nation.
Rafael Dudamel took over Venezuela after managing their U17 and U20 team. A U20 team that reached the 2017 FIFA Under-20 World Cup final and lost to England.
Their more recognizable player is their captain Tomas Rincon who plays for Torino and striker Salomon Rondon who plays for Newcastle.
All of Venezuela's player play abroad with the exception of Arquimedes Figueras who plays for Venezuela's Deportivo La Guaira.
Prediction
Brazil has to come on top of Group A. Tite would be under so much fire if he is unable to gain that spot.
Additionally, Peru and Venezuela will likely fight for the second and third spot in the group with Bolivia possibly ending last.
Written by Edgar Gomez
Follow Edgar and TSJ: Soccer on Twitter!
Photo credit to Copa America via Twitter
Follow TSJ on YouTube and Twitter