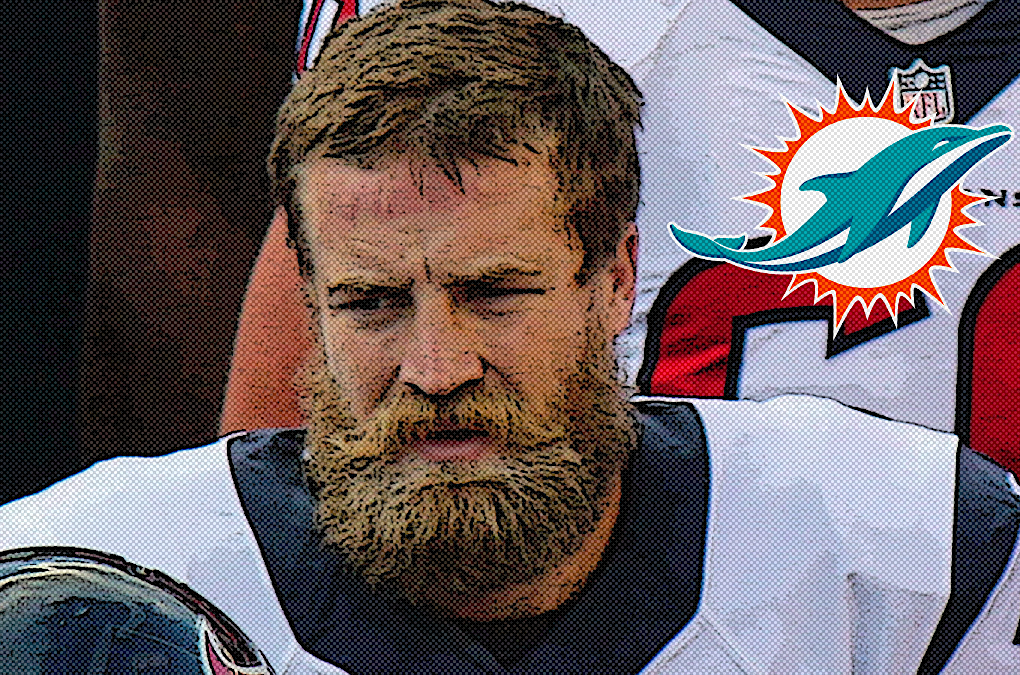 Why Fitzpatrick is the Guy in Miami
In Miami, a QB controversy between Ryan Fitzpatrick and second-year QB Josh Rosen is brewing. Both quarterbacks are coming off a less-than-impressive 2018 season, but Fitzpatrick's rap sheet gives him the edge. Miami is really trying to build a winning team, and that starts at the quarterback position. So, let's dive into why Fitzpatrick is the guy to turn the Miami Dolphins luck around, and why Rosen doesn't quite measure up.
A Veteran With a Strong Arm
In the blue corner, it's 15-year veteran Ryan Fitzpatrick. Fitzpatrick arrived in Miami following a weird season with the Tampa Bay Buccaneers. The short-lived "Fitzmagic" Bucs would finish the year 5-11 and, while flashy at times, didn't showcase Fitz's consistent playmaking capabilities.
In 2015, Fitzpatrick had the best season of his career to date. He was the starting quarterback of the New York Jets, and they finished 10-6. That year, he racked up 3,905 passing yards and 31 touchdowns, which showcased some serious playmaking attributes. Did the Jets make the playoffs that year?  No, but it was still a major improvement from their 4-12 record in 2014.
Fitzpatrick had an impact on the Jets by making use of quick, dependable wide receivers by his side. Brandon Marshall and Eric Decker were great weapons for him, and Marshall didn't shy away from the deep ball.
Fitzpatrick connected with Marshall for a pass down the field across the pond. In London, the two former Jets connected for a 58-yard reception against the Dolphins. That same year, Decker pulled in a 16-yard touchdown from Fitzpatrick against the Titans.
His stint with the Jets showed what he is capable of when given great target options. Fitzpatrick has an incredible arm and it's been on display throughout his career. By the looks of last week's minicamp, Fitzpatrick is pulling out all of his tricks.
At mandatory minicamp this past Wednesday, Fitzpatrick completed an unbelievable no-look pass that had everyone talking.
A pass so good that star QB and MVP Patrick Mahomes had to weigh in. At this point, this competition may be one-sided.
Rosen: From Promising Rookie to Longshot
In the red corner, it's Josh Rosen, a sophomore quarterback trying to prove his worth. With a new head coach, Kliff Klingsbury, arriving in Arizona, the Cardinals enforced an 'out with the old, in with the new' scheme. Rosen was traded to Miami to clear the way for Heisman winner and eventual first overall draft pick Kyler Murray. Now, Rosen is trying to win a starting job in Miami with little to nothing to show for last season.
What exactly did Rosen do last year? Well, he finished the season with 2,278 passing yards, 11 touchdown passes, and 14 interceptions. It's never good when a QB has more picks than touchdowns. Josh Rosen is not an accurate passer and tries to squeeze the ball in heavily covered areas.
With that being said, Rosen's rookie year did display some of his good qualities. Rosen can complete passes when facing pressure. Against the Seattle Seahawks, he completed a pass for a first down to Larry Fitzgerald with the Seahawks' defense trying to get in his jersey.
Last season, the Cardinals finished 3-13, which prompted coaching and quarterback changes. In Rosen's defense, quarterbacks don't always debut throwing 300 yards and 4 touchdowns a game. His underwhelming rookie numbers shouldn't label him as a bust, as there is still hope for him to have a breakout season. Will Rosen have that opportunity in Miami?
A Minicamp TKO
Fitzpatrick's last minicamp outing ended with him throwing three touchdowns. While Rosen also had three TDs to his name, he did throw an interception as well. Fitzpatrick threw two touchdowns to speedy receiver Devante Parker. His longest of the day was 74-yards, while a touchdown for 65 yards was his shortest. He also completed 75% of his throws. Rosen spoke to the media after seeing Fitzpatrick put miles on the football:
I'm competing but it's not really a competition right now with how I'm thinking about it.
He added that after he watches his competition, he tries to replicate it and "continue to add another flavor to it."
Head coach Brian Flores has not come close to a making a depth chart decision yet. "The real competition," Flores said, "starts in training camp." He told the media it's way too early to name a starting guy, but with Fitzpatrick practicing with the first team and Rosen practicing with the second team, it's a little hard to believe he doesn't have some idea.
Winner by Unanimous Decision
Ryan Fitzpatrick is pulling out all the stops in minicamp, and Rosen is drowning in South Beach. Fitzpatrick is already showing he's building chemistry with receivers by making big plays and displaying accurate passing. Rosen is an inconsistent passer, and he showed that his rookie year. Also, I'm sure throwing picks in practice is not helping his case. By the looks of it, Fitzpatrick is a surefire starter for 2019.
Written by Samiya Green
Follow Samiya and TSJ: NFL on Twitter!
Photo Credit to Jeffrey Beall via Flickr and NFL Comm.
Follow TSJ on YouTube and Twitter