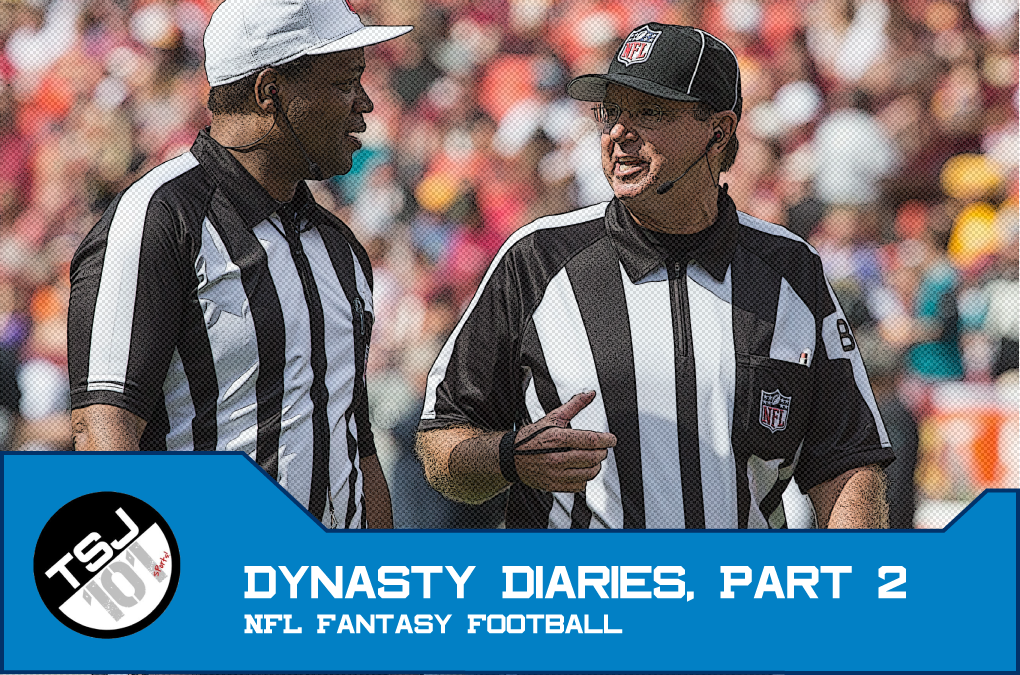 Dynasty Diaries, Part 2
Welcome to Dynasty Diaries, my recurring series chronicling my adventures playing Dynasty Fantasy Football. If you haven't checked out the first entry in the series, you can here. Now that you've done that, enjoy Dynasty Diaries, Part 2!
Dear Diary,
Well, the going has honestly been kind of rough since we last spoke. I made the league, got the guys in the group chat, and all seemed be going well. But then, I started having to ask them about rules. And scheduling. And a league punishment. Looking back, I see that I should have seen this coming. But I honestly had no idea how hard it would be to get people to make decisions. It seemed like they had no interest at all! However, I knew that if I made a choice they were unhappy with, they would be furious with me. After what seemed like weeks of hard, grueling work – putting polls into our group chat, gathering opinions, etc. – I formulated a ruleset for our new league. Let's take a look at some of the tough decisions we had to make.
PPR?
This is a classic question that all fantasy football commissioners, both dynasty and re-draft, must face. For those who don't know, PPR stands for Point Per Reception. If you use this setting for your league, any time a player catches a pass, they get a point; no matter what. They could only run for one yard, but they still get that point. If you have that setting on, wide receivers shoot up in value, as well as pass-catching running backs. Someone like James White on the Patriots is far more valuable in a PPR league than a standard league, due to his prominent use in the passing game. Specifically for dynasty, this can change the entire dynamic of your league for years to come by placing more value on receivers.
When I brought this question to my league, I knew it would be a hard fought debate. Everyone has their own take on this setting. Luckily, there is a compromise that many leagues use, and mine wound up being one of them. We decided to become a half-point PPR league. This means that all receptions are worth 0.5 points, rather than a whole point. I've used this ruleset before and have found that it is a great way to even the value between running backs and wide receivers. I highly recommend it.
Kickers?
The first major issue we took on in forming rosters is one that I am very passionate about: banning kickers. Almost all of the major fantasy football analysts I follow promote this idea, due to the large element of randomness kickers bring. I argued that no one wants to lose one week because Chris Boswell made 7 field goals, but my league-mates argued that not having kickers on our rosters would eliminate one part of the actual game of football from our teams. After a long fought battle, the pro-kicker side won out, although I intend to revisit this issue in the future.
Roster Size
This is another tough rule to settle on, especially in dynasty where you are stuck with your roster for years. Our league only has ten teams, so we knew we needed to have a fairly large roster size in order to limit the number of high caliber free agents available throughout the season.
The next issue we took on for rosters was defenses. I wanted to add IDPs – Individual Defensive Players – to our rosters. We ultimately decided that, while this sounded fun and interesting, we wanted to get used to the dynasty format before adding in this new wrinkle. We plan to add IDPs in a few seasons, but for now we have team defenses. Ultimately, we decided on a fairly standard format for our rosters:
1 QB
2 RB
2 WR
1 TE
2 Flex
1 K
1 D/ST
What turned out to be the hardest thing to decide on was the size of the bench. Some people wanted to have a large bench, in order to allow the rostering of prospects. Other people wanted to start with a smaller bench in order to ease the adjustment from re-draft to dynasty. Eventually, we decided on a ten-man bench, with plans to increase it three spots next year so we don't have to drop anyone after our three-round rookie draft, and we will likely increase it again in the future. Although I don't have any experience with it, I think this seems like a good way to ease the transition into dynasty. We also added one IR spot for injured players. We intend to revisit this every offseason, although we will need a large majority of votes before finalizing anything.
Punishment
This is by far the most important thing we had to decide at the beginning of our league: what would our punishment be? We have a buy-in, with all the money going to the winner, but we knew we needed a punishment to discourage tanking. Many suggestions were thrown out. Sadly, a tattoo was shot down. I think this would have been fun, it would've been an upper thigh tattoo that says "fantasy football loser" and then every year you lost you would get that year added, so that if you lost enough the years would start to become visible. Sadly (but really, happily), that idea did not pass the league.
We knew we needed universal approval for the punishment before finalizing it. I know a guy who got waxed once because he lost his fantasy league, but we didn't want that to happen. Great ideas were suggested, from having to cook the league dinner to riding though a car wash in the bed of a pickup truck (that one came from my roommate, so I hope it was a joke) After much deliberation, we settled on making the loser pass out 100 flyers with an embarrassing photo of themselves that reads: "I lost my fantasy football league."
After we decided on all of these things, we scheduled the draft for a random Tuesday night, and got to work researching and prepping. Thank you for tuning into Dynasty Diaries Part 2! In the next entry, I'll talk about prepping for the draft, one of the most important parts of a dynasty league.
Thank you for reading Dynasty Diaries Part 2, keep your eyes out for part three soon!
Written by Timmy Gibson
Follow Timmy and TSJ: NFL on Twitter!
Photo Credit to Keith Allison via Flickr
Follow TSJ on YouTube and Twitter