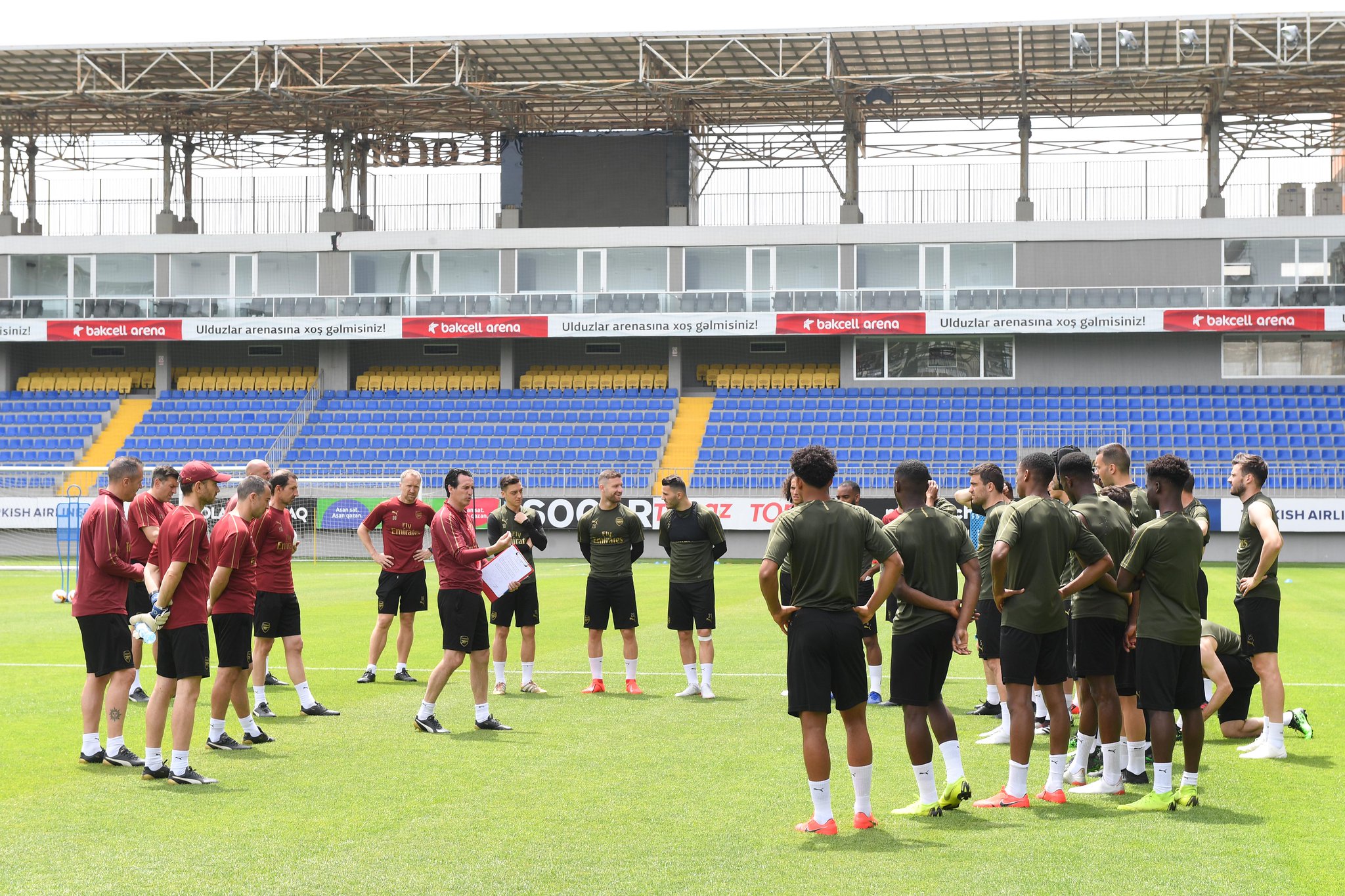 Downtrodden Arsenal Reach Pivotal Point In Club History
Be careful what you wish for, you just might get it. For the better part of a decade, Arsenal fans strongly agitated for the removal of Arsene Wenger. It was their contention that the manager had overstayed his welcome. The banners at the Emirates slowly switched from "IN ARSENE WE TRUST" to "THANKS FOR THE MEMORIES BUT IT'S TIME TO SAY GOODBYE."
When Wenger was forced out in 2018, he was the longest tenured manager in Europe at 22 years. Arsenal was in a rather unique position of having to handle a regime change after so many years. However, the club did have one obvious reference point. Alex Ferguson had left Manchester United in 2013 after 25 years. Since then United descended into chaos.
Arsenal fans looked on gleefully as their Mancunian rivals become the biggest source of banter in the UK. Still, instead of changing their mind, they continued to insist Wenger leave the club. This mentality was even more questionable considering they didn't have a solid succession plan. Fans arrogantly believed United's problems wouldn't happen at Arsenal.
Now, one year into the post-Wenger era, the club is failing at many levels. Heading into one of the most important off-seasons in club history, there is little reason for optimism. Instead, many wonder if the club would be better under the comforting guidance of Wenger, the banished French professor.
Product On The Field
It's logical to begin analyzing Arsenal's struggles via the product on the field. Manager Unai Emery was given two targets in this regard. Primarily, get the club back into the Champions League. Secondarily, improve the quality and effectiveness of the football on display.
Champions League qualification was an unmitigated failure. Agonizingly, both qualification routes were available until the final weeks of the season. Arsenal finished fifth, a point behind Spurs for the required top four spot. The Gunners dropped points to lesser teams in five of their last seven league games, including home games against Brighton and Palace. Winning just one of those five matches would have put the Gunners into the top four.
Despite their epic collapse domestically, all hope was not lost until the final game of the season. Arsenal progressed to the Europa League final against Chelsea. Given their shocking league form, the Gunners predictably capitulated in an embarrassing final, losing 4-1.
With no Champions League qualification, Emery could find a silver lining t if Arsenal's football improved. Last season was objectively Wenger's worst, as Arsenal labored to 6th place. After a 22 match unbeaten streak early this season, it seemed that improvement would be a certainty. Unfortunately, there was not much evidence to support of that conclusion after the season.
Finishing 5th was better than 6th and the side's record against the top-six improved. Conversely, Arsenal scored and conceded virtually the same number of goals as last season. The team's disturbingly poor record away from home didn't improve either. Lastly, fans and neutrals agreed the quality and entertainment value of the football on display was significantly worse this season.
Coaching
Removing Wenger ultimately didn't improve Arsenal's coaching issues. Emery suffered through an uneven season. The fans sang his praises after the 22 match unbeaten streak left Arsenal in third. However, the streak merely papered over some serious problems.
Emery was unable to forge an identity for Arsenal this term. The team shifted through formations at an alarming rate. There was no final decision whether Arsenal was best with four or five defenders and several formations were often utilized in the same match.
Initially, Emery found some success. Unfortunately, it was fool's gold. As rivals steadily improved upon their identity throughout the season, Arsenal remained static. This was evidenced by the Europa final dismantling at the hands of Chelsea, a side no more talented than Arsenal.
Additionally, Emery repeatedly clashed with star players throughout the season. Lacazette, Ramsey and Ozil all found themselves in Emery's dog house. The German took the brunt of Emery's wrath and was omitted for long stretches.
Emery was unable to settle on his squad's best eleven players and struggled to get his stars onto the field together. Arsenal never lost when Ramsey, Ozil, Aubameyang and Lacazette all started together, but this inexplicably happened fewer than ten times. Instead Emery became obsessed with forcing the teenager Guendouzi into the side despite Arsenal's exponentially superior record without the previously unknown youngster.
By season's end it appeared blatant that Emery's abrasive style had worn thin with the squad. His inability to motivate the team was obvious during the run in. Most notably, with three weeks to prepare for the Europa final, the team appeared thoroughly disinterested during the 4-1 defeat. The players were ready to go on vacation far away from their coach rather than help him hoist his first Arsenal trophy.
Transfers
Arsenal's failure to qualify for the Champions League for the third consecutive season was devastating for a variety of reasons. Most notably because the club now won't have the funds to be serious buyers during the summer transfer window. The squad is in desperate need of investment, but widespread rumors contend that Arsenal's transfer war chest contains a paltry £40 million. Any extra spending will need to be financed through player sales.
Unfortunately for Arsenal, the players they are hoping to offload have little value in the market. Players like Mustafi, Monreal, Koscielny, Elneny, Ospina, Chambers and Ozil will all struggle to command significant dollars. If Arsenal truly want to add to their spending budget, they may need to part with one of their prized strikers, Aubameyang or Lacazette.
There was a widespread belief that Arsenal had created two shopping lists for the summer. One was for the Champions League with the other for the Europa League. The former contained players like Zaha and Koulibaly while the latter contains unknown players like Emmanuel Dennis and William Saliba.
Compounding Arsenal's transfer struggles is that the appeal of the club is diminishing. Even if Arsenal find the funds for some of the world's top targets, convincing them to join will be difficult. Arsenal is still a massive club based in one of the world's most desirable cities. But the lack of Champions League football will massively dissuade top talent looking to challenge themselves at the highest level.
Ownership
Owner Stan Kroenke became the target of the fan base's vitriol with the shield of Arsene Wener finally removed. Many will argue that he is the root cause of all of the club's problems. It is extremely difficult to find anyone with a positive word to say about the man coldly known as "Silent Stan."
The owner known for his lack of visible or audible presence at the club didn't even bother to show up for the Europa League final. He instead chose to send his son to the club's first European final since 2006. For reference, Stan was at the Super Bowl desperate to get his hands on the Lombardi trophy. His Rams ultimately fell to the Patriots, but their fans could draw comfort from seeing their owner at the game and the results of his massive free agent spending on the field.
Arsenal fans are right to believe that Kroenke simply doesn't care about the club as anything more than a moneymaking tool. Arsenal is one of the most loved and supported teams in the sports world. There are many billionaires with genuine passion for the club, but unfortunately Kroenke is presently unwilling to sell.
With Arsenal again bereft of the cash generated by Champions League football, the club needs its owner more than ever. The same owner who is infamous for not investing a penny of his own money into the club. Unluckily, that is exactly what Arsenal needs presently – an injection of cash. The club is in the midst of a dark, difficult period. It is not too much to ask the owner to invest significant funds one time after leaching so much over the past decade.
Turning Point
Just as Gooners thought things couldn't get any worse, Tottenham nearly won the Champions League. Plans were being finalized to leave the country and disappear to avoid the insufferable avalanche of noise and banter that would inevitably follow a Spurs win as the game kicked off.
Less than a minute after kickoff, the soccer gods sent Arsenal a lifeline and awarded Liverpool a penalty. The resulting goal was the winner that kept Spurs from being crowned European champions. Arsenal nation exhaled deeply. Superstitious fans believed this was a sign things will soon get brighter.
A Glimmer of Hope
Fortunately for Arsenal there is a potential solution to its problems of lack of money, familiarity and a cohesive playing style: the academy. Arsenal has one of the greatest academies in world football and it is time for the club to fully utilize it. Academy products must now be promoted at a much faster rate.
These additions to the first team of course wouldn't cost any money; they'd provide a sense of familiarity and pride to fans who would have watched them develop over the years; and lastly they'd help establish a culture and style of play given their familiarity with the club and with each other.
Players such as Nelson, Nketiah, Smith-Rowe, Willock, Saka and Bielik should all be given significant opportunities with the first team next season. Of course integrating so many youngsters is a gamble, but it's a gamble Arsenal may be forced to make. Doing so will inject pride, passion, and exuberance into the club, which were all severely lacking last season.
If many of these players fulfill their potential and are combined with a few astute defensive purchases in the transfer market, it's not inconceivable for the club to finish in the top four next season. Arsenal has a long tradition of trusting and promoting youth and must once again rely on this core principle.
This is a pivotal time in the club's history. Fans, coaches, players and ownership must all come together to put forth a superior effort next season. If so, Arsenal can breach the top four and begin to mount an assault on Liverpool and Manchester City. If not, Arsenal could be dragged into competition with mid-table teams flush with cash looking to take their place in the top-six.
Written by Morgan Zimmerglass
Follow Morgan and TSJ: Soccer on Twitter!
Photo credit to Arsenal via Twitter

Follow TSJ on YouTube and Twitter