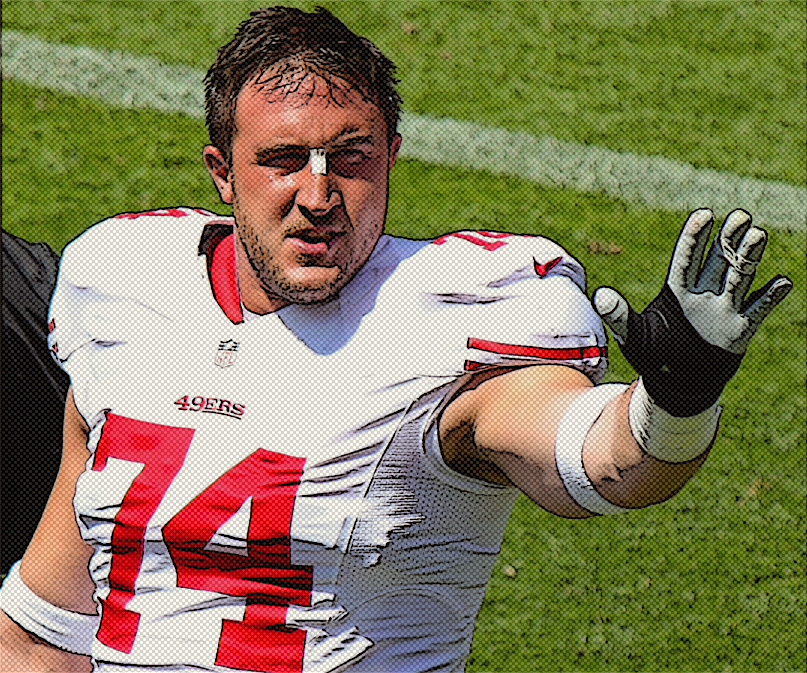 San Francisco 49ers Extend Tackle Joe Staley
On Wednesday, June 5th, during the annual State of the Franchise event, the 49ers announced that they had signed left tackle Joe Staley to a 2-year extension.
Staley is a six-time Pro Bowler and widely regarded as one of the best tackles in the league. His experience, combined with his locker room leadership, makes him incredibly valuable to the 49ers. While it never seemed particularly likely that Staley would leave, given he has expressed a desire to play with one team his entire career, it is a huge relief to have a deal inked with him. Staley's contributions to the O-line are vital to sustaining the success of the 49ers' run game.
Besides his playing ability, another reason it is great to have Staley extended is his legacy. Staley is likely a future Hall of Famer and will go down as one of the best 49ers of all time. It is likely that this will be his last contract due to his age, as Staley will be 37 when this contract expires. The idea of having Staley go down as a lifelong Niner is certainly exciting. Although, it is worth noting that Andrew Whitworth of the Los Angeles Rams is still playing at age 37, so maybe Staley will have more in him after this contract.
The End of an Era
This extension also means a lot to the 49ers, as Staley is truly all that is left of an era. He is one of the greats from an earlier set of 49er legends, and all of the others have now moved on. Frank Gore, while apparently un-aging, has bounced around the league; Navarro Bowman just made his retirement official; and Patrick Willis has been out of the league for a while now. Staley really is all that is left from the Harbaugh, Super Bowl Niners.
These were the 49ers that made me fall in love with the team. Joe Staley staying brings back a lot of fun memories for me. Memories like throwing a pillow at the TV during an NFC Championship game. Or being thankful for a Super Bowl power outage. And, of course, being furious at the refs for missing a blatant PI call at the end of the Super Bowl. How could we ever forget that? Staley was there through it all, and he will continue to be there, which is special in today's NFL. Hopefully he gets at least one more Super Bowl with the Niners before he moves on.
Written by Timmy Gibson
Follow Timmy and TSJ: NFL on Twitter!
Photo Credit to Jeffrey Beall via Wikimedia Commons
Follow TSJ on YouTube and Twitter