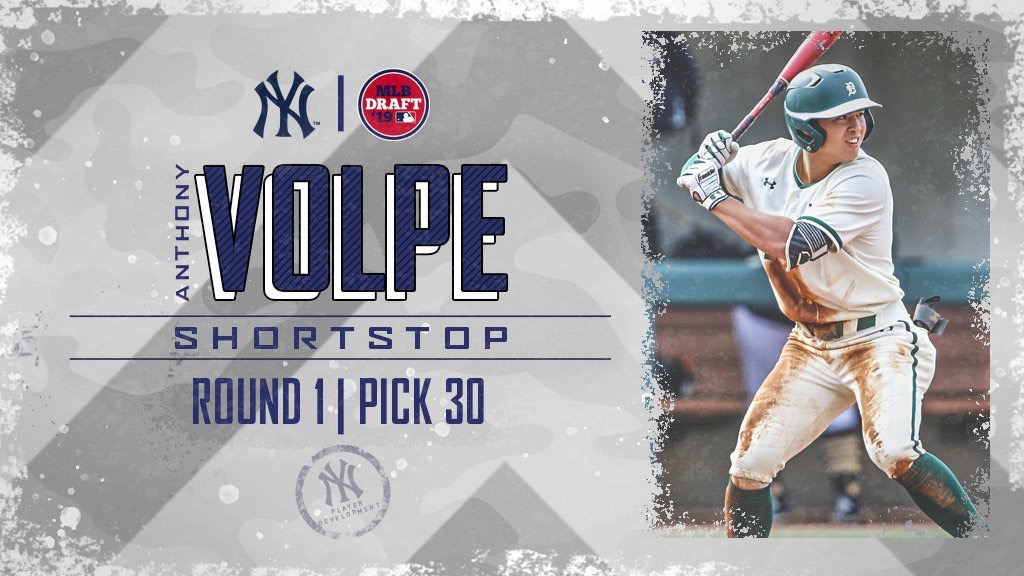 Yankees Draft Anthony Volpe 30th Overall
With the 30th pick in the 2019 MLB Draft, the New York Yankees selected Anthony Volpe. The eighteen year old shortstop hails from Delbarton School (NJ). As a senior, the right hander batted .500 with 39 hits. He also contributed 36 runs scored, 7 home runs, 11 walks and 33 RBIs to the team. Volpe excelled as a member of the 18U USA National team, where he batted .459 with an OBP of .556 and a SLG% of .568 in only 9 games played.
Volpe's Status
Volpe committed to playing college baseball at Vanderbilt University. But growing up a Yankees fan might sway his decision the other way. He has a $2.37 million signing bonus on the line, and getting drafted by your favorite team doesn't happen every day. It's hard to imagine that he turns down this potentially once in a lifetime opportunity. If he chooses to sign, he'll be a nice addition to the Yankees strong farm system. But if he chooses to go play college ball with his buddy Jack Leiter (another star player from Delbarton and Vanderbilt commit), he would need to wait another three years before re-entering the draft and risk being selected by another organization.
What Volpe's Upcoming Decision Means for the Yankees
Shortstop was definitely not a position of need for the Yanks. They have Didi Gregorious coming off of the Injured List soon and are expected to sign him to a long term deal after the season, and have Gleyber Torres as a backup. Assuming Volpe signs with New York and forgoes his commitment to Vandy, they would be looking to stash him in the minors for a nice amount of time until either he's fully ready to compete or somebody leaves the team unexpectedly; or they could easily use him as a new, fresh trade asset. The only real downside for the Yankees if he does not sign with them is that they will have lost out on their first round pick, however it's not the end of the world considering they are in full World Series attack mode with a roster built to contend for years to come.
Written By Avi Nat
Follow us on Twitter @T101Sports and @T101SportsMLB
Follow me on Twitter @avinat42
Photo Credit to NYYPlayerDev via Twitter