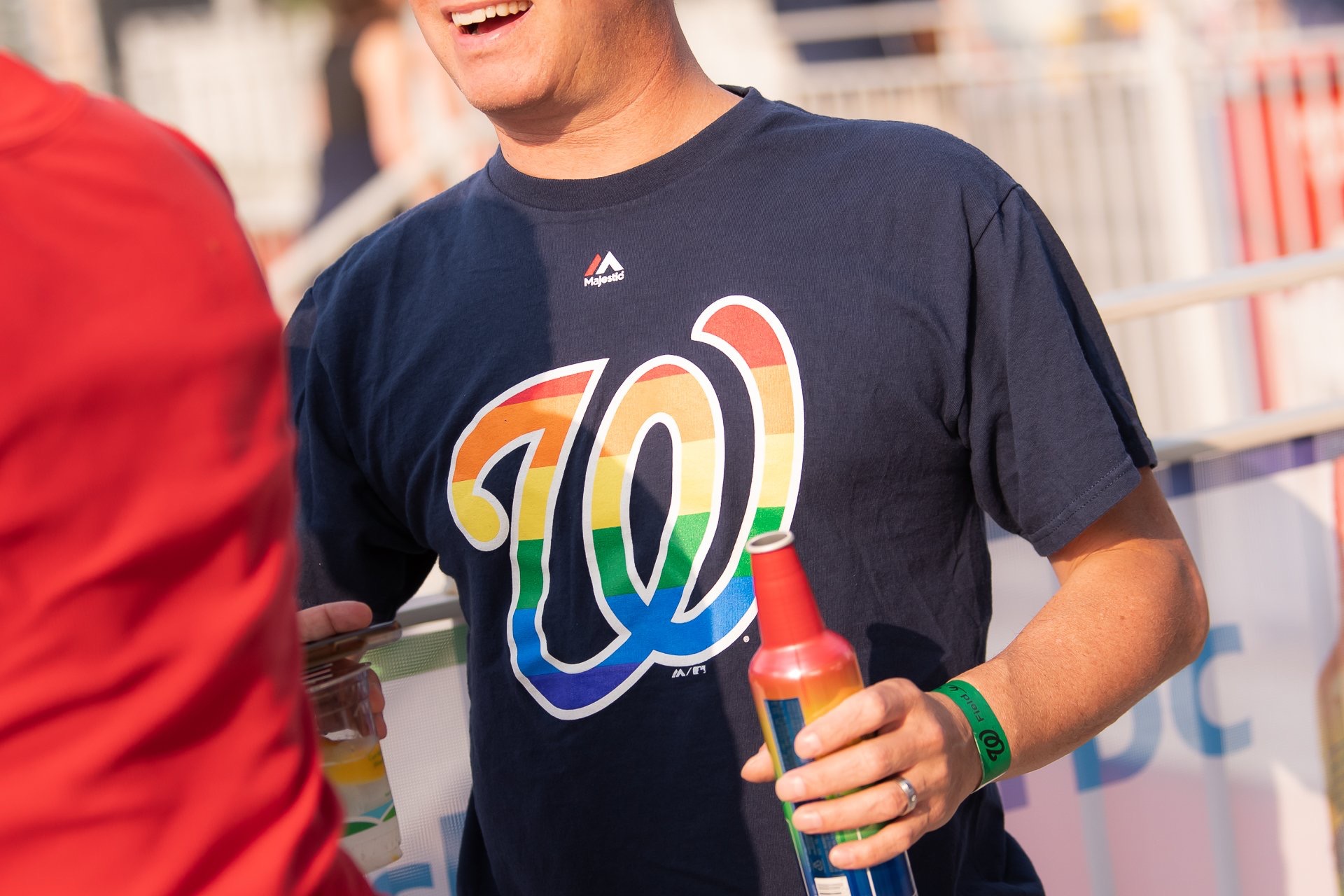 Last night one of the longest standing Pride traditions in Major League Baseball continued. Night OUT at Nationals Park, the Nationals' June celebration, celebrated its 15th anniversary last evening.
The Game
The Nationals had a rough start to the evening as the White Sox took an early 4-0 lead in the first. The Nationals didn't score until the third inning, but the fifth inning is when they really showed up. Trea Turner doubled, then Adam Eaton drew a walk, and Anthony Rendon joined the party with his 11th homer off the season. That gave Washington a lead they wouldn't surrender for the rest of the game. The fun wasn't over yet though. Matt Adams doubled, then Howie Kendrick did the same to score Adams from second. Victor Robles wanted to have fun too, so he hit a 2-run homer, his ninth of the season. That was the end of the scoring for the game, but it was more than enough. The theatrics gave Steven Strasburg his 100th career win. Happy Pride!
Nationals in the Community
The spokesperson for the team's LGBTQ+ outreach in Washington is closer Sean Doolittle. Doolittle and his wife, Eireann Dolan, are very involved in the DC community. They work together with SMYAL, a community outreach program designed to help LGBTQ+ teens reach their full potential, whatever that looks like. They offer many services including leadership programs designed to teach youth that they are important and their voices matter.
Dolan and Doolittle first got involved when Doolittle was still with the Oakland Athletics. The Athletics wanted to start a pride night, but some season ticket holders expressed anger toward the team for doing so. Dolan offered to buy all the tickets for the evening from season ticket members who didn't want to attend the event. No one took her up on her offer, but that didn't stop her and her husband from buying tickets to fill the seats with over 900 members of the community. Doolittle caught the ceremonial first pitch last evening and was also chatting and posing for photos on the field before the game. He also got to come into the game for his 13th save of the season.
Pride Night Around the League
Below is a list of when each MLB team will be having their Pride Night celebrations this season. I encourage you to go check them out, they're usually a lot of fun! I'll be at the Toronto event tomorrow evening and am really looking forward to it!
AL East
Orioles: June 12 vs Blue Jays
Red Sox: June 11 vs Rangers
Yankees: June 25 vs Blue Jays
Rays: June 14 vs Angels
Blue Jays: June 6 vs Yankees
AL Central
White Sox: July 23 vs Marlins
Cleveland: Aug 22 vs Royals
Tigers: June 26 vs Rangers
Royals: Sept 4 vs Tigers
Twins: July 9 vs Royals
AL West
Astros: None listed
Angels: June 25 vs Reds (inaugural)
Athletics: June 1 vs Astros
Mariners: July 5 vs Athletics
Rangers: None listed
NL East
Atlanta: June 14 vs Phillies
Marlins: June 27 vs Nationals
Mets: Aug 10 vs Nationals
Phillies: June 26 vs Mets
Nationals: June 4 vs White Sox
NL Central
Cubs: June 23 vs Mets
Reds: June 1 vs Nationals
Brewers: June 5 vs Marlins (sold out)
Pirates: July 7 vs Brewers
Cardinals: July 26 vs Astros
NL West
Diamondbacks: June 21 vs Giants
Rockies: June 14 vs Padres
Dodgers: May 31 vs Phillies
Padres: April 19 vs Reds
Giants: June 12 vs Padres
Written by Susannah Schmidt
Follow us on Twitter @T101Sports and @T101SportsMLB
Follow me on Twitter @SusannahElyse
Photo credit to Washington Nationals via Twitter