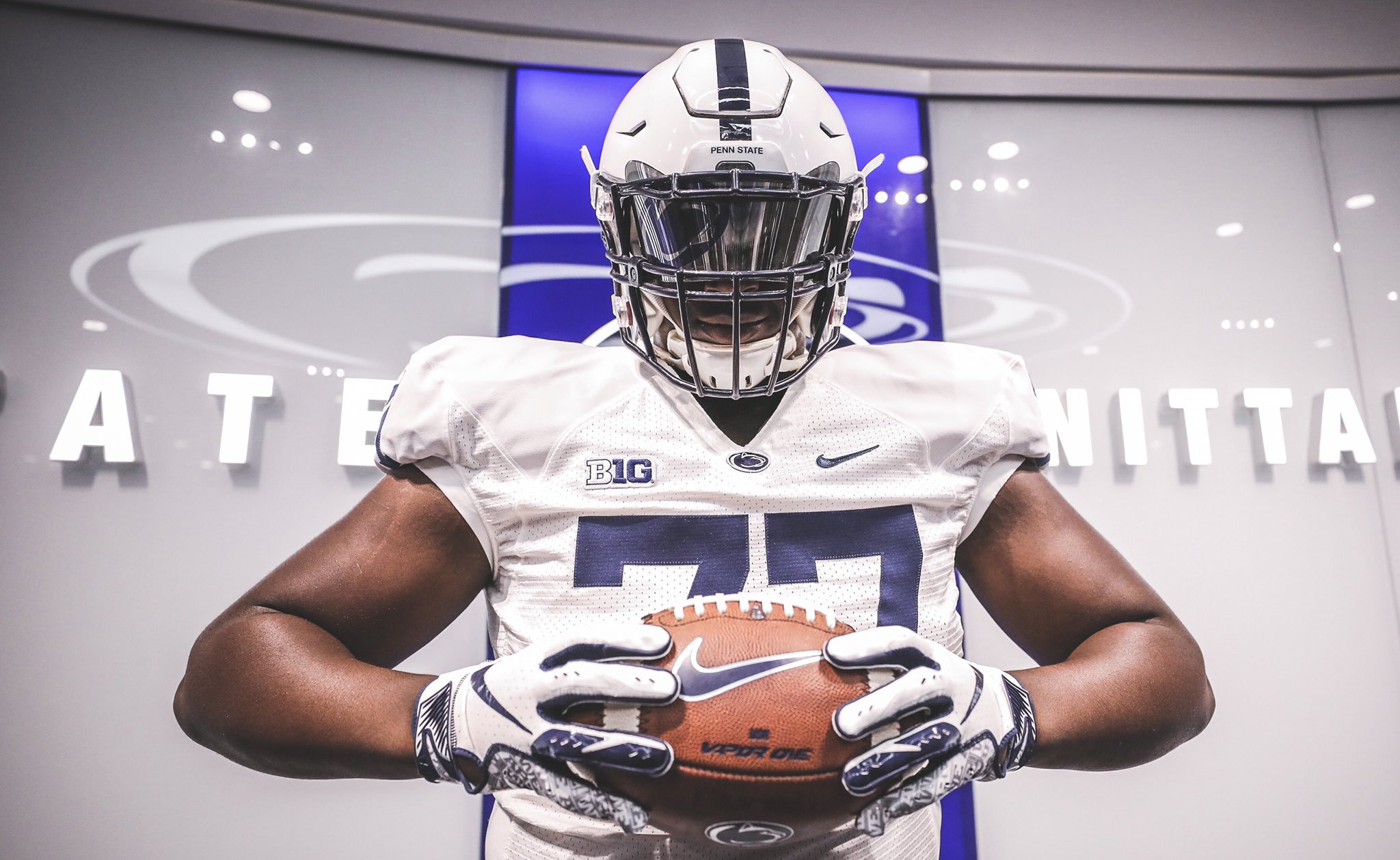 Olu Fashanu Commits To Penn State
We are less than 100 days from the start of college football season. Thus far on the recruiting trail, coach James Franklin and his staff have had a bumpy road. Recently losing out on the state of Pennsylvania top-prospect Julian Fleming to Ohio State. Monday morning brought some light as Olu Fashanu commits to Penn State.
Also over the weekend, Penn State received a commitment from former Virginia Tech walk-on Jordan Stout a punter/kicker.
Olu Fashanu Background
Fashanu is a feisty offensive lineman from Washington D.C. His frame of 6′ 5″ fits the frame of a Big Ten offensive lineman that Penn State needs. On the other hand, his composition rating is just short of 90 (.8906) and his composition ranking is No. 349 overall in the class of 2020 and No. 32 overall in his position OT in the class of 2020. The list of scholarship offers Fashanu had besides the Nittany Lions were two arch-rival Big Ten programs Ohio State and Michigan. Additionally, Oklahoa out of the Big-12 and Alabama and Florida out of the SEC. In fact, Fashanu was suppose to take an official visit to Florida this weekend, though that appears to not be the case anymore.
Penn State 2020 Recruiting Class
Ironically, coach James Franklin current theme for the 202 recruiting class seems to be offensive lineman. This current recruiting class has 11 members to it and more than half of them six to be exact are offensive lineman. James Franklin has the 202 recruiting class ranked No. 10 nationally and second in the Big Ten to only Ohio State. The average rating for each recruit for the 2020 class is 0.9014. Besides Fashanu, the 2020 recruiting class had three four-star offensive lineman and three three-star offensive lineman.
Conclusion
Olu Fashanu commits to Penn State. Although James Franklin and his staff lost out on top Pennsylvania prospect Julian Fleming. The commits of Jordan Stout and Olu Fashanu ive Franklin some relief. In fact, during the entire month of May, Penn State football didn't receive one commit for the 2020 class. In turn, the commit of Fashanu should provide some leeway and give this class a much needed boost.
Follow us on Twitter: T101Sports and T101SportsCFB
Written by Tom Johnston
Follow the writer on Twitter
Photo Credit to Olu Fashanu via Twitter