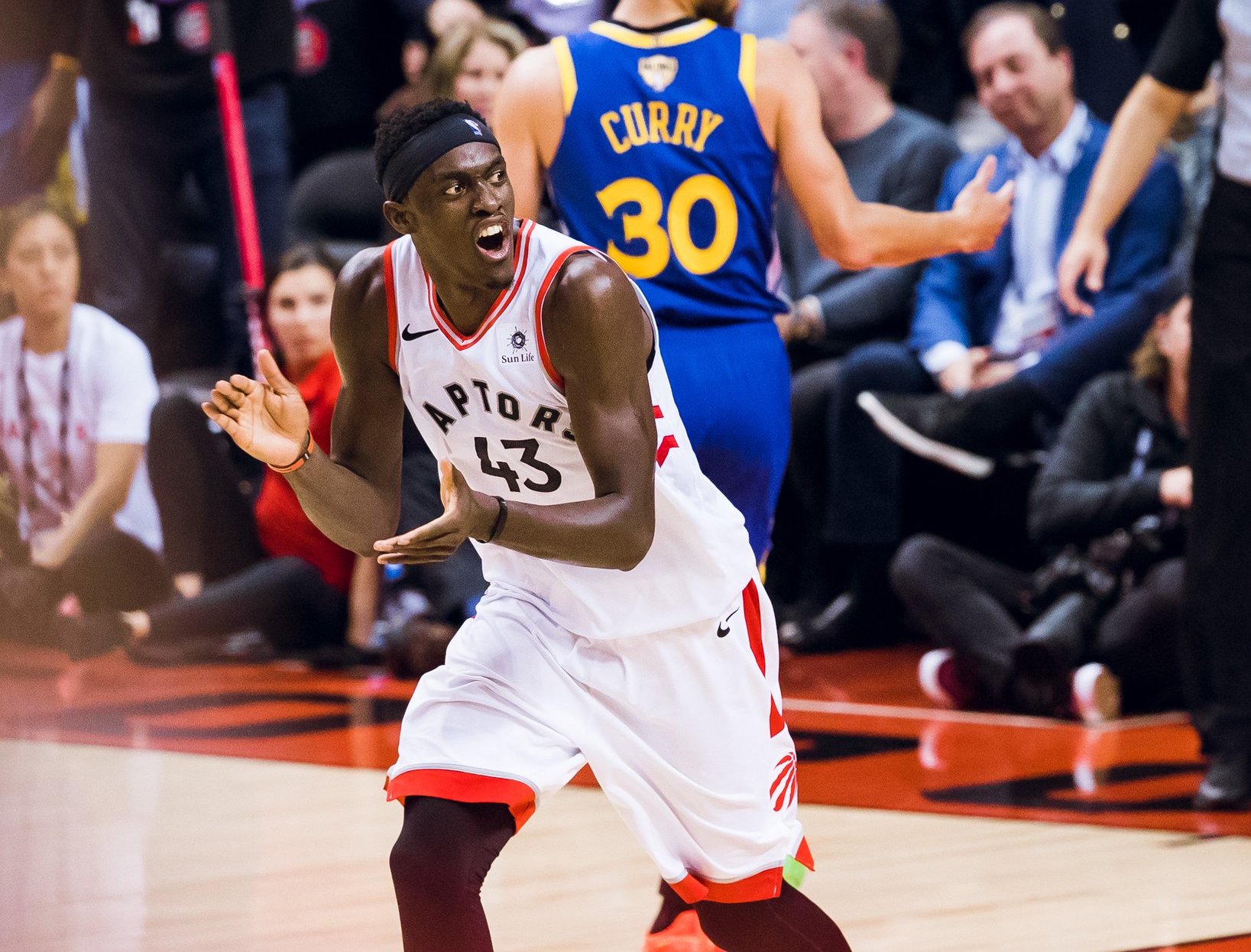 Siakam Leads Raptors Past Warriors In Game One
Pascal Siakam saved his career game for the biggest stage of NBA Finals
When the NBA finals started most people couldn't have picked Pascal Siakam out of a group. But now, he has put himself on the national stage with his performance in game one of the NBA finals. He scored a career high 32 points while only missing three shots, as the Raptors defeated the Warriors 118-109. His performance along with good games from Kawhi Leonard and Marc Gasol made the Raptors hard to stop. They started out hot, taking a early lead and never looking back.
"Obviously Pascal had a big offensive night," said Toronto coach Nick Nurse,"I thought he played with really good composure, he got to his spots and got on balance and was patient. When he needed to go quick and get around them he did as well, and he hit a couple real tough ones as well."
Toronto in Control
The Raptors led by ten at halftime, mainly thanks to Gasol, who scored 14 in the first half. The Warriors scored 32 points in the third, but it was not enough after Siakam scored 12 points. The Raptors held off the Golden State by going toe-to-toe on offense in the fourth quarter. Every time the Warriors hit a big shot, Toronto would answer with one of their own.
Golden State was led by Stephen Curry with 34 points, but only two other players scored in double figures. Klay Thompson added 21 and Draymond Green had a triple-double, but was limited to only 10 points thanks to foul trouble. The Warriors defense that got them to the finals, was no where to be found. The Raptors closed out the game even without Leonard having his typical big fourth quarter. He finished with 23 points with most of them coming from the free-throw line.
"Biggest thing for me was our transition defense was just awful," said Golden State coach Steve Kerr,"And that's the game, the number one priority when you play Toronto. You have to take care of their transition and we gave up 24 fast break points, we turned it over 17 times, that's the game really."
Overcoming Injuries
One of the major factors in this series will be if the Warriors can return from injuries and be effective. DeMarcus Cousins returned from a torn quadriceps and played a few minutes off the bench. Kevin Durant is still recovering from a torn calf muscle and is doubtful for game two. The question of if the Warriors are better without Durant was emphatically answered last night. They will need him to return and continue his playoff performance if the Warriors hope to capture another championship. Andre Iguodala hurt his calf in game one, but the MRI came back negative, and he is expected to play next game. The Raptors came into this series totally healthy and it may be the deciding factor in this series.
Up Next
Game two will be on Sunday night in Toronto live on ABC at 8:00 p.m. The Raptors own home court advantage in this series and hope to take a 2-0 lead over the Warriors. Durant will not be available for this game but hopefully he will make his finals debut on Wednesday when the series returns to Oakland. If Toronto can keep up the performance of Siakam and Gasol, then it could be trouble for Golden State's quest for a three-peat.
Follow us on YouTube and Twitter
Written by Blair Young

Follow me on Twitter
Photo credit to Toronto Raptors via Twitter