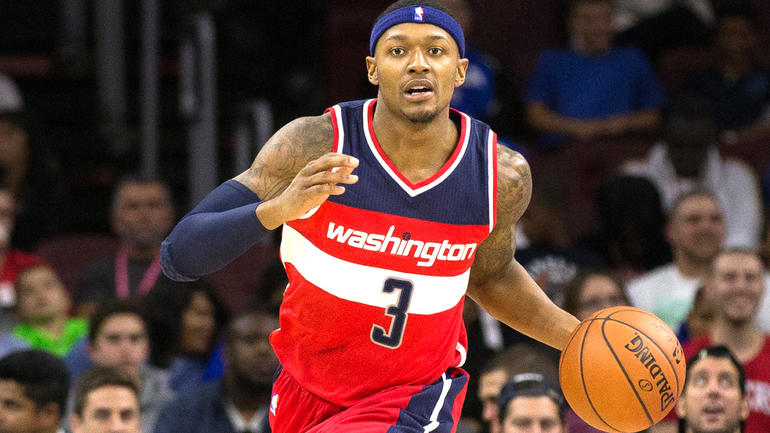 Beal Misses Out On All-NBA Teams And A Big Payday
Bradley Beal was not voted to any of the All-NBA teams despite being one of the best players in the league this season.
Bradley Beal averaged 25 points, 5 rebounds, and 5 assist this year for the Washington Wizards. He was one of six players in the NBA to average those kind of numbers this year. Despite this, he was the only one not to make a All-NBA team. His lack of votes probably are due to his teams performance this year. The Wizards finished in eleventh place in the East with a 32-50 record. This was too much for Beal to overcome. Only two players made the team from under .500 teams: Lebron James, and Kemba Walker. Some could argue that he deserved a spot over these two but James is one of the best ever, and Walker competed for a playoff spot for the entire season.
For some historical context, there have been 65 instances of players averaging Beal's numbers, and only four times they have not ended in All-NBA honors. Beal accomplishments were not totally unnoticed. He did receive the most votes among players that did not make the three teams. Beal ended up with 34 total points, with one second team vote, and 31 third team votes. He was seven points ahead of Klay Thompson and 17 points behind Walker for the final guard spot. Beal did lead the league in minutes this year and played every game for the second straight year. It looks like he has finally overcome the injury bugs that plagued him early on in his career.
Costly Snub
One issue that does arise from his snub is that he will not be eligible for the super-max extension when he reaches free agency. Beal may have missed out on the extension this year but if he continues his play and the Wizards improve their performance as a team, it will be hard to keep him off the All-NBA teams next season. This does bode well for the Wizard's front office who was facing a salary cap mess if Beal did qualify for the extension. They just gave John Wall the same extension a few years back and it kicks in this upcoming season.
It would have been difficult if not impossible to build a team around two players making $40+ million per season. This now gives the Wizards options and time to prepare for 2021. Hopefully a new GM will not shy away from the Wizards because of the upcoming salary cap issues. As of now the Wizards only have five players under contract: Beal, Wall, Dwight Howard, Ian Mahinmi, and Troy Brown. The GM may have his hands full but at least Beal will not be as big as of issue as once thought.
Follow us on YouTube and Twitter
Written by Blair Young

Follow me on Twitter
Photo credit to Smashdown Sports News via Flickr