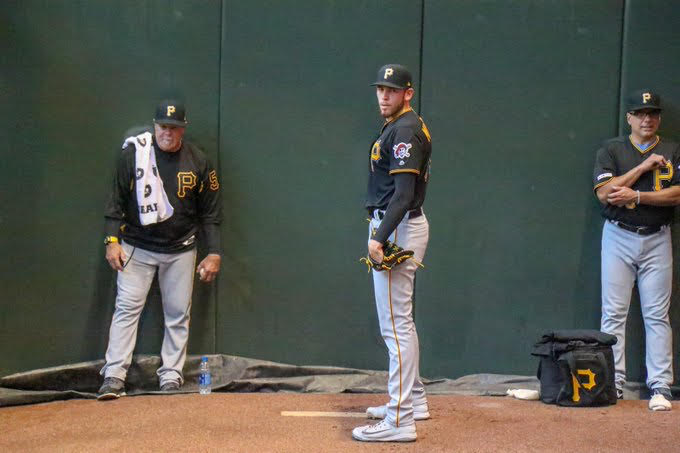 Pirates Struggle Against Diamondbacks
The Pittsburgh Pirates lost two-of-three in Phoenix, Arizona to the Arizona Diamondbacks. The Diamondbacks brought the offense too.; Pirates struggle at Arizona.
The Overall Series
If you're a Pirates fan, you know that the Pirates are not normally good on the road on the West Coast. This current road trip is reflecting that statement. The Pirates lost two of three to the Diamondbacks and the Pirates pitching is what took the biggest hit. Furthermore, the Pirates will finish the season series against the Diamondbacks with an abysmal 1-6 record. Besides that, the pitching against the D-backs has been awful. Just this series alone, the Pirates were outscored 22-10.
In game one, Nick Kingham just didn't have it. Kingham only pitched four innings and in that time frame, he gave up 10 hits and allowed seven runs (all of them earned). He also walked one, struck out two and gave up a home-run. In game two, Joe Musgrove provided some bounce-back as he went seven innings allowing one hit and no runs. Additionally, Musgrove walked two and struck out five. In game three, Chris Archer didn't bring it and it cost him. Coming off of suspension, Archer didn't last through the fourth only pitching 3 and 2/3 innings. However, during that time frame, Archer only gave up four hits. On the other hand, Archer allowed seven runs (six earned), four walks and five strike-outs along with one long ball.
Diamondbacks Have Pirates Number
Both teams are not scheduled to meet again and to say the least this season the D-Backs owned the Pirates. Earlier in the season the D-Backs came to Pittsburgh and took all four games of a four-game series. When the series shifted to Phoenix, the Pirates took a game out of the three-game series. However, Arizona will take the season series seven-game series 6-1. During the overall series, the Diamondbacks outscored the Pirates 52-17.
Follow us on Twitter: T101Sports and T101SportsMLB
Written by Tom Johnston
Follow the Writer on  Twitter
Photo Credit to Pirates via Twitter