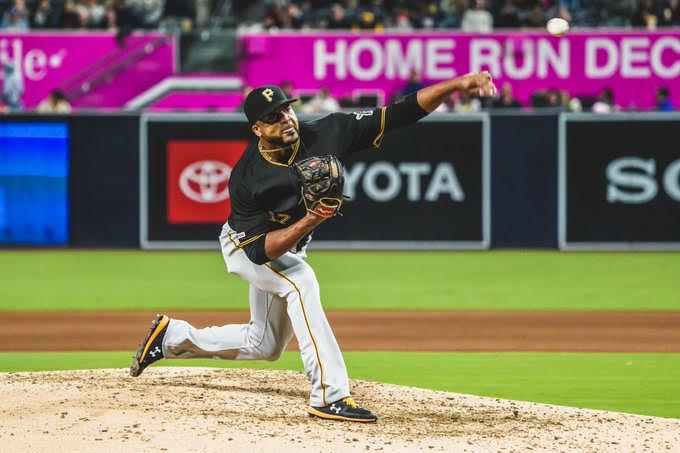 Pirates Lose Tough One To Padres
The Pirates lose a tough one to Padres by a final score of 4-3. Not much offense was provided beside the middle innings.
How The Game Went Down
The first two and a half innings of the game were scoreless until the Padres had their shot to tackle Trevor Williams in the bottom half of the third inning. However, before the scoring started, Williams had to get himself out of a bases-loaded jam. Franmil Reyes got the scoring started in the third with a solo shot to center field for the Padres. The Pirates tied the game off of an infield hit by Adam Frazier which scored Josh Newman. The Padres would challenge the call. However, the call would stay as is. More so, the Pirates would score again via a passed ball in the sixth inning. Furthermore, at this point in the game, the score is 2-1 in favor of the Pirates.
Likewise, in the bottom of the sixth is where the Padres delivered the biggest blow of the ball game when Ian Kinsler would step to the plate with two runners on and one out and hit a three-run home run to seal the deal. At this point, the score is 4-2. Later on, the Pirates would add a run to make the final score 4-3.
Pitching
For the Pirates, Trevor Williams got the start in his home town of San Diego. Unfortunately, Williams only lasted 3 and 2/3 innings due to coming out for some sort of injury. Additionally, his line for the game was two hits, one earned run and one walk. Likewise, Williams struck out five Padres. For the Padres, Eric Lauer got the start and he went 5 and 2/3 innings (still hasn't eclipsed six innings in a start). In those 5 and 2/3 innings, Lauer would allow seven hits along with one earned run. However, Lauer didn't walk anyone and punched out three Pirates.
Game Two
The Pirates will look to bounce back in game two tonight. The Pirates will send RHP Jordan Lyles (3-1, 2.09 ERA, 35 strikeouts). The Padres will send Joey Lucchesi (3-2, 4.57 ERA, 40 strikeouts). Both the Padres and Pirates batters don't have much prior experience against either pitcher so this should be an interesting match-up.
Conclusion
Pirates lose a tough one to Padres. After losing game one 4-3 the Pirates will look to bounce back with one of their better pitchers on the mound.
Follow us on Twitter: T101Sports and T101SportsMLB
Written By Tom Johnston
Follow me on Twitter
Photo Credit to Pirates via Twitter