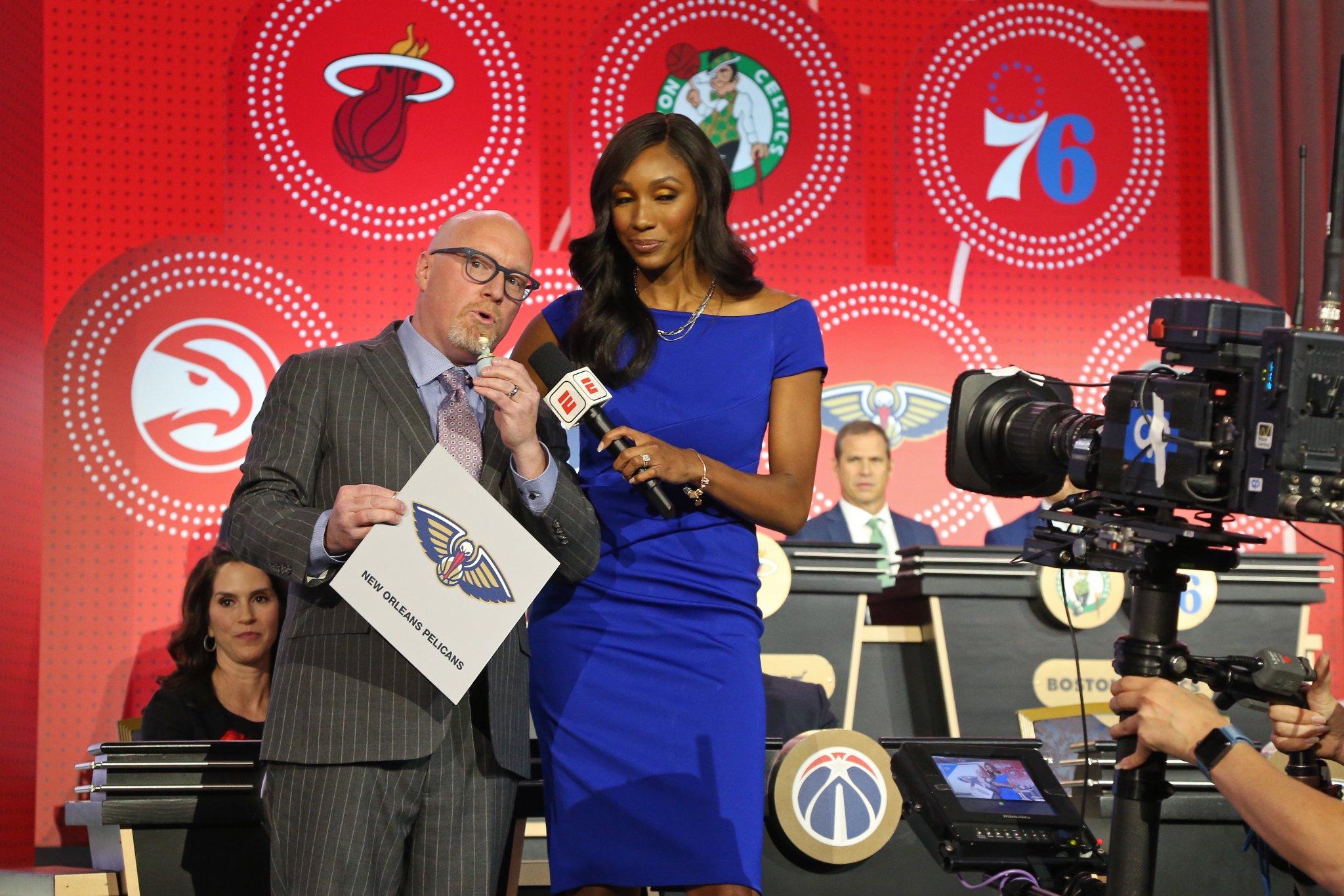 Pelicans Win 2019 NBA Draft Lottery
The new NBA draft lottery format was changed to equalize non-playoff teams, and try to disincentivize tanking among the league's terrible teams.
If the 2019 draft lottery is any indication, it worked.
Three teams moved up several spots, and the NBA landscape changed greatly with the fate of a few ping pong balls. I will provide simple analysis, updated draft slots and a mock draft for all lottery teams.
So as quickly as the Los Angeles Lakers change coaches, let's begin.
1. New Orleans Pelicans (Projected pick: Zion Williamson)
For a franchise that has been absolutely besieged since AD announced his trade request, Zion will make the transition clean and easy. Zion will be the foundation of a complete rebuild, and moving Anthony Davis in the off-season will only expedite that process…
2. Memphis Grizzlies (Projected pick: RJ Barrett)
A real win for a franchise that can still compete. Conley can still play, and a 1-2 punch of JJJ and RJ is perfect for the new NBA. Add in the underrated Jonas Valanciunas, and these Grizzlies are a couple pieces away from getting back to the playoffs…
3. New York Knicks (Projected pick: Ja Morant)
RJ Barrett is a better fit, but I personally don't think he will be available in this draft slot. PG is a tough spot in the Big Apple with DSJ, Mudiay and daily Kyrie Irving rumors, but Morant is a player you can build around – even if Kevin Durant and Kyrie join the madness. Trades will be needed, but Ja Morant is going to be a star.
4. Los Angeles Lakers (Projected pick: Cam Reddish)
My feeling is this pick gets traded to the Pelicans in a package for AD, but either way, the #4 slot is not ideal. The drop off begins in earnest right here, and I'm selecting the disappointing Cam Reddish in a weak draft class. He has immense upside, even if he realized very little of it in his 1 year at Duke.
5. Cleveland Cavaliers (Projected pick: Jarrett Culver)
The talent wasteland that is Cleveland just needs to add talent. The overrated Culver has shot up draft boards after his team's NCAA success, but I don't see a star player here. Cleveland just needs warm bodies at this point, and Culver is a buzzy name. The Cavs are going to be bad for a long time…
6. Phoenix Suns (Projected pick: De'Andre Hunter)
While not projected to be a star, Hunter is the best 3 and D player in this draft. He will help the Suns compete right away – which they seem to want to try and do… There is upside here. Solid addition to a Suns team brimming with young assets…
7. Chicago Bulls (Projected pick: Darius Garland)
The Bulls need a PG badly, and will take the first big risk of the lottery. Garland was very good in a handful of games, but the sample size is incredibly small. Still, the Bulls have a major positional need, and Garland has as much potential as anyone else available at this point of the draft…
8. Atlanta Hawks (Projected pick: Brandon Clarke)
For a young team loaded with offensive talent, Clarke can anchor their D as an undersized big in a positionless NBA world. A defensive dynamo & an efficient scorer, Clarke won't need many touches to make an impact. Considering all the scorers on this team (Young/Collins/Huerter), somebody has to do the dirty work…
9. Washington Wizards (Projected pick: Jaxson Hayes)
For a team that desperately needs a star, they won't find one in Hayes. But he fills a team need, and has plenty of upside in the C position. Less of a risk than many others available in this draft slot…
10. Atlanta Hawks (Projected pick: Bol Bol)
For a team with two picks in the Top 10, Atlanta can afford to take a high upside risk like Bol Bol. Manute's son could be Greg Oden – or Kristaps Porzingis. His health is obviously the big question mark here, but he also has Top three upside. The potential is real, but so is the injury risk. The Hawks are in the ideal position to swing for the fences here though…
11. Minnesota Timberwolves (Projected pick: Coby White)
Minnesota is a team in transition – with no clear path to NBA success. Towns is the present & the future, so Coby White could be a complementary piece for the future. The T-Wolves need the best non-big available at this point in the draft, and White was the most consistent player still on the board at #11.
12. Charlotte Hornets (Projected pick: Kevin Porter Jr)
Skilled offensive player with character issues? Sounds like a Michael Jordan pick to me. If MJ can help channel KPJ's nasty side, he might have a steal on his hands at this point of the draft. If MJ's own shady past is any indication, he likes to gamble…
13. Miami Heat (Projected pick: Nassir Little)
Little's strong NCAA tournament overshadowed an extremely disappointing freshman season. Still, he showed growth. And Miami is a strong organization with solid principles. Nassir could flourish in a disciplined system. He could also fail, but at #13, you're looking for upside.
14. Boston Celtics (Projected pick: Sekou Doumbouya)
Sekou is the most enigmatic player of this draft, and Boston has multiple first round picks. It's worth taking a flier on this boom or bust selection at the end of the lottery. Hunting for superstars to trade is the name of the game for Boston in 2019….
So that's my lottery mock draft.
With big jumps, the Pelicans and Lakers just got infinitely more interesting. The new NBA lottery format is a firm step forward in the anti-tanking ethos, and it looks like an effective way to discourage failure by rewarding apathy. Time will tell how NBA teams react to a less certain draft outcome…
As for Zion, welcome to the Pelicans. You can post your trade request on Twitter. Anthony Davis can help you out with that – in case you have any questions on how to be a modern NBA superstar.
Written by Bobby Del Rio
Follow Bobby and TSJ: NBA on Twitter!
Follow TSJ on YouTube and Twitter
Photo credit to Pelicans via Twitter