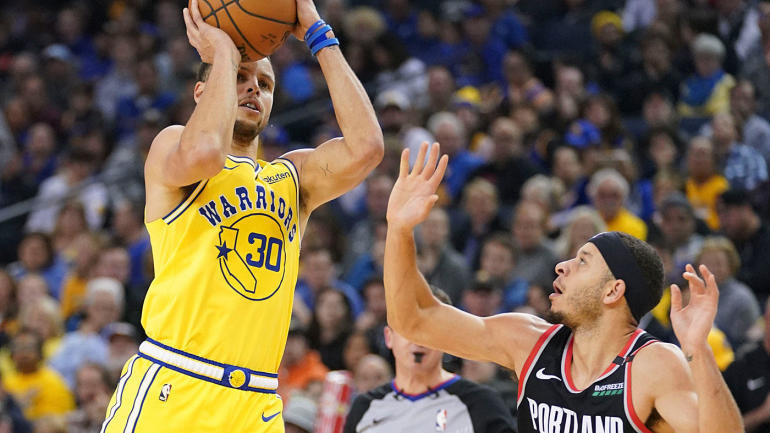 The Western Conference finals feature two teams ready to make their mark on NBA history.
The Golden State Warriors are looking to become the next great NBA dynasty by going for the first three-peat since the Chicago Bulls in 1998. Portland on the other hand is looking for its first championship in 42 years. Both of these teams have had a tough road to this point, but this  series sets up to be a highly competitive and entertaining. Here is a preview of the upcoming Western Conference finals:
Portland Trailblazers:
Portland has used these playoffs to overcome their disappointing results of the past three years. They have built on the previous first-round exits and have finally made the next step as playoff contender. Damian Lillard has had a his typical clutch playoffs with one of the best shots of his career versus the Oklahoma City Thunder in the first round. Lillard struggled shooting in the Denver Nuggets series but it did not matter thanks to his back-court mate CJ McCollum. He stepped up his game, and became the Blazers go to option. He averaged 26 points per game, including a incredible game seven performance in which he took on the clutch mantle. Enes Kanter has also been a pleasant surprise for the Blazers this playoffs, averaging a double-double. The combination of Lillard and McCollum have been unstoppable this playoffs and may offer some trouble to the defending champs.
Golden State Warriors:
These playoffs have been a huge test for the Warriors. The Los Angeles Clippers gave them everything they had, forcing a six game series. Then Golden State faced off against their playoff rivals the Houston Rockets, who also took them to a game six. Kevin Durant has had a career playoff run, but unfortunately he was injured in game five versus the Rockets. He suffered a strained calf muscle and will miss some games in the upcoming series. Durant avoided what many people believed was a Achilles injury and hopefully can return to form after missing a few games. Stephen Curry has had a up and down playoffs. He has struggled scoring in both of the series but has come up big in clutch moments for the Warriors. After going scoreless in the first half of game six, he blew up for 33 points in the second half to lead his team to the win.
Head-to-Head:
These two teams split their regular season series, but the recent playoff history is not good for the Trailblazers. They have only beaten the Warriors once in the past two playoffs. They do have a small glimpse of hope thanks to Durant's injury but the Warriors have won a championship without him. The overall experience of the Warriors will be tough for Portland to overcome. They also have problems on defense this playoffs giving up 110 points per game, but the Warriors have been worse giving up 112. Golden State has led the NBA in playoff scoring but without Durant they may have trouble reaching their average of 118 points. The Warriors are on a mission to cement their legacy in NBA history and Portland may not have enough fire power to slow them down.
Prediction: Golden State Warriors in seven games
Follow us on YouTube and Twitter
Written by Blair Young

Follow me on Twitter
Photo credit to Smashdown Sports News via Flickr