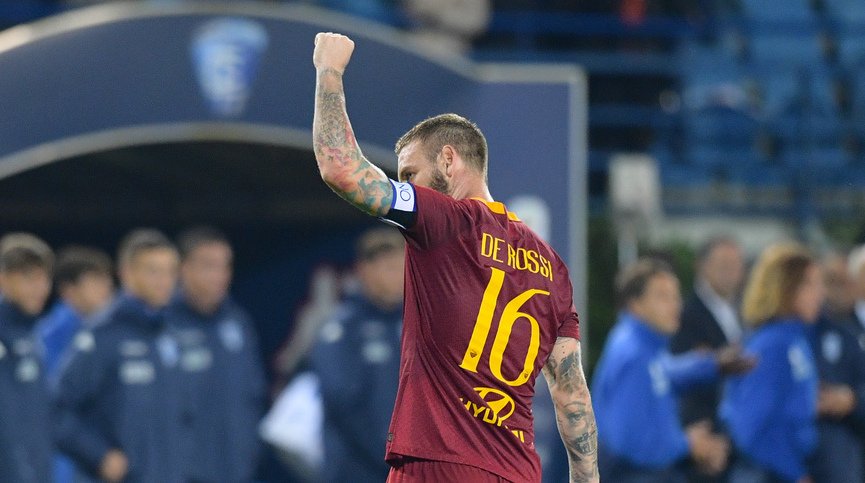 Daniele De Rossi To Leave Roma
Daniele De Rossi will leave Roma this summer as announced by the club.
After 18 years with the club, De Rossi will pull on the Giallorossi shirt for the final time against Parma.
In a news conference on Tuesday, De Rossi said:
"Roma and I chose each other. There is a lot of love between us, both now and in the future – even if it will be in another form. "Don't bet against seeing me in with the fans at a few away games, having a sandwich and a beer and cheering on my friends."

"Looking back, some specific moments I would change. But overall, I wouldn't change anything about staying loyal to this team. If I had a magic wand, I would have put a few more trophies on the mantelpiece."

"I realized the decision the club was going to take regarding myself. I'm almost 36 and I know how football is, but I didn't want to distract from our European race. I thank the directors for their offer – I respect it and appreciate it, but I still feel like a player."
Who made the decision?
"I don't agree that the decision should have been mine alone. The club exists to make these sort of decisions, alongside the coaches. Someone has to make that ultimate call."

"Eventually I would like to be a coach. At this point I don't see myself becoming a director, but at Roma a role like that would have some meaning. I need to go away and study, to learn – it will be a long journey."

"I've always loved Roma. My advice to the fans is to back this squad: they are a good group, who deserve respect. "Romanismo is important for this club and it still has it – with Florenzi, with Pellegrini. But they must not copy me, they need to forge their own path."

"I'm not over the moon, but I accept the decision of the club. I have no resentment towards that. We never spoke about money: that was not the crux of the matter."

"I thank God for the career I've had. I would have been happy if I'd manage to emulate my father's career, in Serie C. He's my idol. When I was 14 or 15, it did not look like I would ever become as good as I did."

"I thank everyone for the career I've had. I've experienced so many emotions, especially in away games, and they made me feel alive. Football is about support, but also rivalry – I've pleased if I've had people see me in both ways, it shows I became something."
De Rossi
The 35-year-old was born in the Italian capital and through Roma's youth ranks until making it to the first team in 2001.
He has played 615 games while winning two Coppa Italia and one Supercoppa. He also was Francesco Totti's replacement as captain when he departure the club not too long ago.
Additionally, De Rossi represented Italy on 117 occasions, winning the 2006 World Cup with the Azzurri in Germany.
De Rossi is deeply saddened by the move the club made. However, he insist it has nothing to do with money rather that he wants to continue playing.
Follow us on YouTube and Twitter
Written by Edgar Gomez

Follow me on Twitter
Photo credit to Roma via Twitter