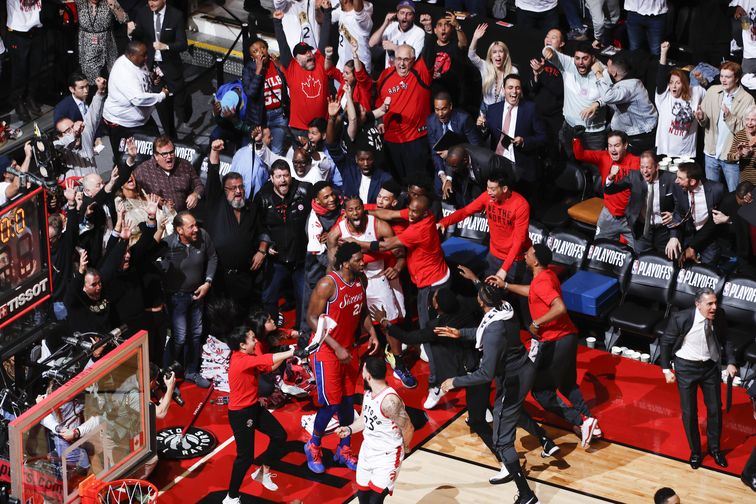 The Greatest Moment In Toronto Raptors Franchise History…
The Past
In a history of franchise disappointments, it would be forgiven if this game's outcome turned out like oh so many others. The ghosts of Vince Carter's failed jumper at the buzzer in 2001. Then being swept by LeBron James multiple times in years the Raptors were "ready to turn the corner". Chris Bosh left us, T-Mac didn't even blink.
For a team with such a curiously loyal fan base, we've seen it all. We're a country singer with a 24-year career. Our tales of heartbreak and woe are the stuff of legend.
Enter Kawhi Leonard.
The Shot
From tenant to saviour, Kawhi Leonard waited until the final seconds of Game 7 against the Philadelphia 76ers to cement his status as a franchise legend. Not only did Kawhi hit the biggest shot in franchise history, he may have hit the biggest shot in NBA history. However, in a sport that defines itself with buzzer-beaters, you may be surprised to discover that Kawhi Leonard's bouncer in the waning seconds to win the entire playoff series was the FIRST BUZZER-BEATER IN A GAME 7 PLAYOFF SERIES EVER. Yes, EVER. Did I mention ever?
While there are certainly many buzzer-beaters that made a larger impact to an NBA team's destiny (Big Shot Bob earned his nickname), Kawhi hit arguably the most dramatic.
For Toronto, a city of lovable losers, those four bounces represented 24 years of failure. However, that slight trickle through the mesh to win the entire second round series is a new feeling. The proverbial corner has been turned. Additionally, the Raptors playoff ineptitude can now be reliably refuted by referencing "the shot". For a town where "Joe Carter's home run" is all you have to say, "Kawhi's shot" just bought a unit in the building.
In Toronto, we're a town of underdogs. However, when we get our moment in the sun, it usually comes with sports history.
Kawhi's Humanity
For the first time all season, the basketball robot named Kawhi became a human being: an emotional, imperfect, fallible, lovable everyman. However, while I personally think he is staying, it doesn't really matter either way.
Also, Kawhi Leonard gave Toronto fans the moment we will remember for the rest of our lives. A moment that we will tell our children about.
And for that, being a devoted fan of this franchise for 24 years, I simply say: thank you.
Written by Bobby Del Rio
Follow Bobby and TSJ: NBA on Twitter!
Photo Credit to Erik Drost via Flickr
Follow TSJ on YouTube and Twitter
Photo credit to Toronto Raptors via Twitter