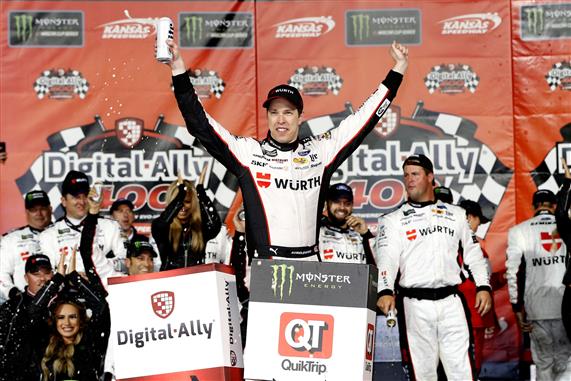 Late Charge for Brad Keselowski at Kansas Leads to 30th Career Win
On Mother's Day weekend, the stars of NASCAR took to Kansas Speedway for a Saturday night race. After 400 miles that saw many drivers dominate, Brad Keselowski stole the show. By coming out of seemingly nowhere, Keselowski earned his 30th career win at Kansas. This race was also his 3rd win of 2019, and 2nd victory at Kansas.
Many Drivers Fail Inspection Again
In what now seems like a weekly occurrence, a series of drivers would start Kansas from the rear for inspection failures. In total, 11 drivers would forgo their starting position for Saturday night. This list of drivers included Chase Elliott, Martin Truex Jr., Aric Almirola, Joey Logano, Daniel Suarez, and Kyle Larson. In the opening run, several of these drivers would regain much of their lost ground, especially Logano. The first 10 laps would see Logano's 22 go from 30th to 15th, as he had a fast car that could pass traffic.
Harvick Dominates Stage 1
What a difference a year makes for Kevin Harvick and the 4 team. A season ago this team won at Kansas, their 5th win of the year. This weekend they again came into Kansas as the favorites, but still searching for their first win of 2019. Harvick started from the pole, and had a lead of more than 4 seconds by the lap 30 competition caution. While Harvick was not the only strong car for Stage 1, he was the most dominant for the opening run. Harvick took the Stage win, looking for a record 4th-win at Kansas Speedway.
Lead Change in Pit Cycle for Stage 2
Stage 2 at Kansas would be divided by a cycle of green flag pit stops beginning on lap 121. Harvick would pit as the leader 2 laps later, with an advantage of more than 2 seconds. However once this pit cycle ended, Harvick's lead was gone. Right behind him was Chase Elliott, who passed the 4 on lap 145. The 9 of Elliott would hold on to win Stage 2, his second Stage win of 2019.
Near Disaster Coming into the Pits
During Stage 2's green flag pit cycle of lap 144, calamity nearly struck for 2 drivers. As Daniel Suarez was slowing down to come into the pits, he was ran into by a hard charging Martin Truex Jr. Suarez's 41 would spin, but he was able to recover, and there was no caution. Both drivers would continue on with average nights, as Suarez finished 14th, and Truex ended up 19th.
Trouble Takes Away Win for Harvick
With the lead and potential win well in hand on lap 179, Kevin Harvick made an unscheduled pit stop. Harvick thought he had a tire going down, but in reality he had a windshield tearoff covering his grill. This moment of bad luck sent Harvick from 1st to 27th, a lap down. With less than 100 laps left, Harvick's chances at the win were all but gone. The 4 would eventually get back on the lead lap, but only recovered to finish 13th. This moment would be a major turning point in the race, as the field of potential winners was wide open with 93 to go.
Another Great Run for Bowman
The biggest beneficiary of Harvick's troubles would be Alex Bowman, who inherited the lead. Coming off of back-to-back 2nd place finishes, Bowman was in prime position for his first career win. He even held off a hard charging Kyle Busch to maintain the lead. Bowman's advantage was over 4 seconds at one point in this run, as he looked to be on cruise control.
Caution During Pit Stops Shakes Up Results
In the midst of the final cycle of green flag pit stops, the caution flag flew again. Ryan Newman's team had a tire escape their pit stall, and it rolled into the frontstretch grass. For safety concerns, NASCAR threw the yellow, which came with only 7 cars on the lead lap. When the top 7 made their pit stops under the yellow, one of the contenders had a costly penalty. Kyle Busch drove through too many pit stalls, sending him to the rear of the field for the restart. The restart would be delayed by a few laps due to a jumbled running order, but NASCAR finally got the standings right with 39 laps left.
Hendrick Teammates Dueling for the Win
In a sight that has not been common for a few seasons, 2 cars from Hendrick Motorsports were racing each other for the win. Alex Bowman lost the lead to Chase Elliott, as Elliott was looking for 2-straight Kansas wins. Bowman would regain the top spot on lap 249, after Ricky Stenhouse led a few laps. The 17 of Stenhouse made a 3-wide move under the HMS cars to take the lead for 3 laps.
Historic Streak Comes to an End for Busch
With Stenhouse out front, cars behind him were racing 4-wide for the lead on the frontstretch. One daring move was made by Kyle Busch, as he split Erik Jones and Clint Bowyer to gain positions with a big run. However, the 18 made contact with the 14 that resulted in a tire rub. Busch made his way to pit road immediately, which sent him 2 laps down. This series of events would lead to a 30th place finish for Busch, his first race outside of the top 10 in 2019. Kyle started off 2019 with 11 top 10s in 11 races, which ties Morgan Shepherd's record from 1990. Kyle's attempt at breaking this record was not successful, as he was 20 laps away from another top 10.
Hard Racing Between Top 3 Late
After Bowman retook the lead from Stenhouse, both Brad Keselowski and Erik Jones quickly passed the 17 and caught up to the 88. These 3 drivers representing all 3 manufacturers were withing a second of each other, duking it out for the win with the laps ticking down. Only lapped traffic wrestled the lead away from Bowman, as Keselowski used the 51 of Cody Ware as a pick to gain the lead with 11 laps left.
Late Yellow Sets Up Overtime Finish
With 4 laps remaining, a caution came out one final time for fluid from Matt Dibenedetto's motor blowing up. The 2 lap overtime finish was all under Keselowski's control, as he nailed the restart. Brad held on to get the win over Alex Bowman, his 30th in the Cup Series. For 3-straight races now, Bowman has finished a career-best 2nd. Under these final 2 laps Erik Jones would also block a big run from Clint Bowyer, which cost Bowyer a 2nd place finish. The hometown driver was less than happy with Erik post race.
Other Notables in the top 10
The top 10 finishers from Kansas Speedway were Keselowski, Bowman, Jones, Chase Elliott, Clint Bowyer, Jimmie Johnson, Kurt Busch, Kyle Larson, Tyler Reddick, and Chris Buescher. As mentioned above, Bowman now has 3 consecutive runner ups, which no other winless NASCAR driver has achieved before. Jimmie Johnson finished 6th, his second-straight top 10 on a 1.5 mile track. Tyler Reddick also quietly finished 9th in only his second ever Cup start. Lastly, Chris Buescher scored his second top 10 of the year after several strong races.
Significance of the win for Keselowski
At 3 wins apiece, both Brad Keselowski and Kyle Busch lead the Cup Series in victories for 2019. This comes as the season passes its one-third mark at Kansas. Kansas also marks Keselowski's 30th career win, a feat only 26 other drivers have achieved. This is also Brad's first win at Kansas since 2011, which was his first win for Team Penske. Keselowski pulled off a 'where did he come from?' moment with his 30th Cup Series win, as he said his car was way off in the last pit stop. Combined, Team Penske and Joe Gibbs Racing have won 11 of the 12 races so far this year.
How to Watch the Next Race
With 12 races in the books for 2019, the next race will be the All-Star Race at Charlotte Motor Speedway. Coverage begins on Saturday, May 18th, at 8 PM EST on FS1, MRN, and SiriusXM NASCAR Radio Channel 90. No points are on the line this weekend, only $1 million. Who will take home the big check on Saturday night? TSJ101Sports will be there to cover all of the action.
Be sure to follow us on Youtube and Twitter.
Written by Peter Stratta
Be sure to follow the writer on Twitter.
Photo credit to NASCARMedia.