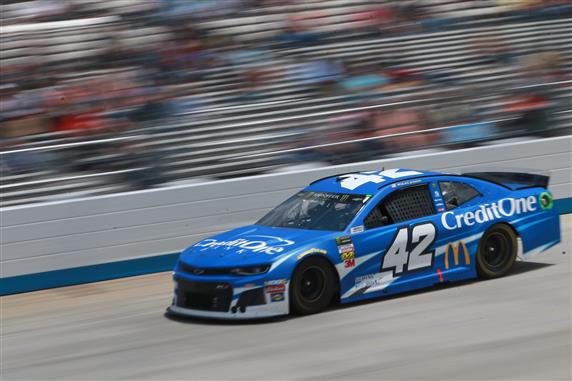 This weekend the Monster Energy NASCAR Cup Series heads to Kansas for the Digital Ally 400. There is one driver in particular that will be attempting to build momentum for the first time this season. That driver is none other than the man who pilots the #42 Camaro Kyle Larson. Larson so far in 2019 has had nothing but a disappointing season. As a driver who is viewed as a yearly championship favorite, it has been strange to see him perform so poorly. This weekend, however, Larson looks to get back to championship form.
Larson looks to Build on recent Kansas Success
As a rookie, Kansas looked as if it would be one of Larson's best tracks as he finished 12th and 2nd in his first two contests at the track. However, after that came a string of four finishes of 15th or worse that included three finishes of 29th or worse. The past two years Larson has managed to break that trend that was developing. As in the past four races at the track, Larson has three finishes of 6th or better that he has managed to tally. His only finish outside of the top six was an engine failure in the fall of 2017 that relegated him to a 39th place finish. So it appears that there is a much better trend growing for Larson at Kansas. Which means there might not be anywhere better for Kyle to get back on track.
As stated previously, 2019 has not been a great year for Larson by any stretch of the imagination. Since leading 142 laps in a race he ultimately finished 12th, he has managed to lead just one lap since. Larson has an average finish of 17.2 and has only finished in the top-10 three times this season in eleven races. In the last five races, Larson has DNF'd three times and finished a lap down in 19th at Bristol.
Last week was the bright point of his season though. In a race that was delayed until Monday by rain, Larson notched his first top-5 of the season with a 3rd place finish at Dover. Such a great run could be the catalyst to building momentum for a driver everyone knows is one of the sports best. So as Larson looks to build momentum after last weeks race, Kansas might be the perfect track to keep it going.