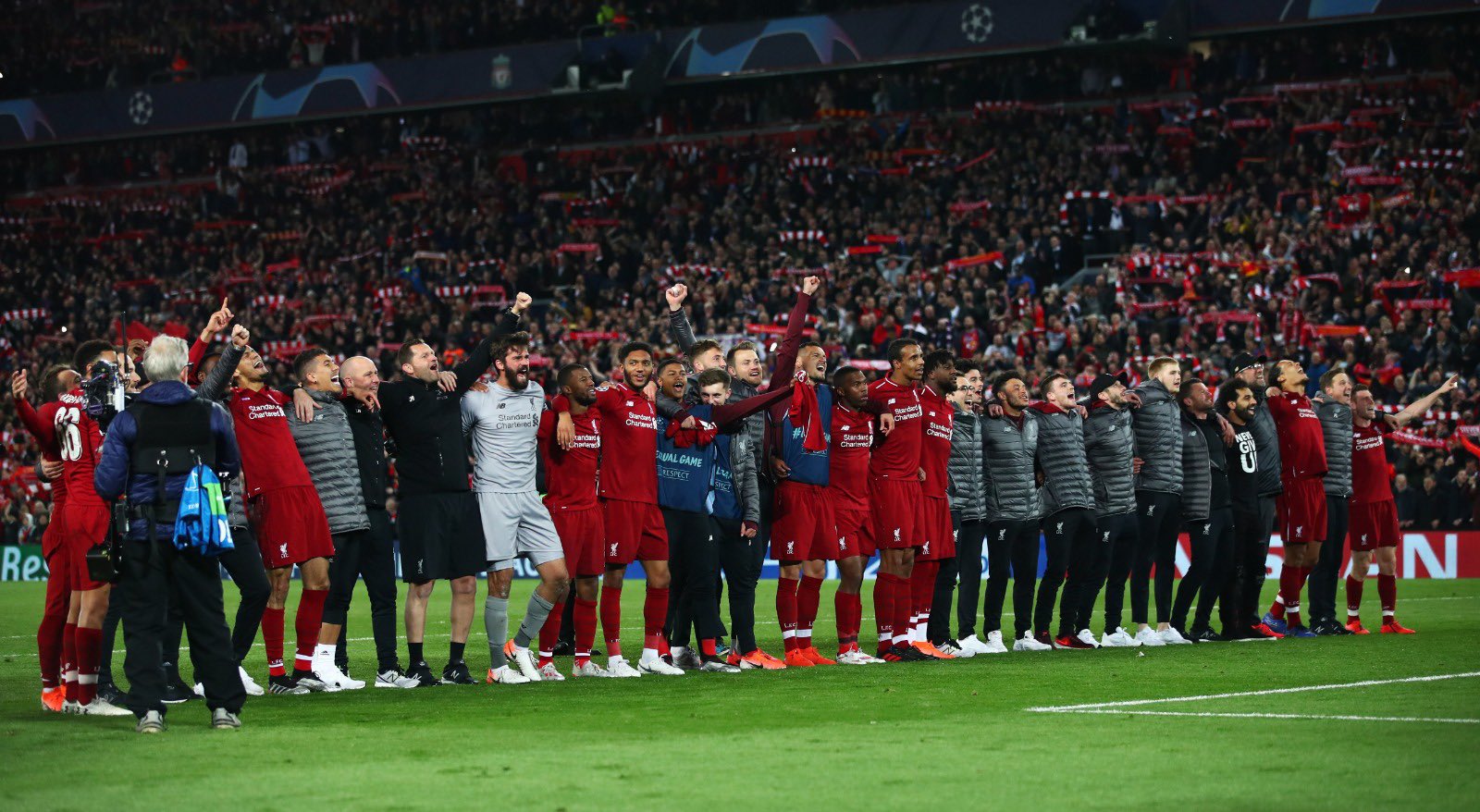 Comeback of Dreams: Liverpool Romp Barcelona
A superb display from Liverpool at Anfield saw them batter Barcelona 4-0 to make the UCL final for a second successive year. Liverpool were very solid all across the field and Jurgen Klopp's tactical setup was perfect. They executed their famous "gegenpress" to perfection and did not allow Barcelona any time on the ball. Barcelona have crumbled once again after gaining a three goal aggregate in the first leg. Barcelona seemed like their European fortunes were turning after the infamous Roma debacle but they made the same mistakes once again. However, it was a truly spectacular night of football and Liverpool pulled off a spectacular comeback.
Rampant Reds
The home side seemed much the superior team right from the get go. They were missing huge names like Mohamed Salah, Roberto Firmino and Naby Keita from their lineup but that didn't faze them in the slightest. Divock Origi and Xherdan Shaqiri were named as deputies and boy were they amazing. Origi scored twice and was a constant menace to the distraught Barcelona back line. Shaqiri was heavily involved in the build up play and even got an assist. The defense was also impeccable. They snuffed out all the dangers and played the ball out from the back in a fashion that would make Barcelona proud. They neutralized all the threats and didn't allow Barça to score that precious away goal. Trent Alexander Arnold was a menace in attack as well as defense. His terrific presence of mind resulted in the winning goal for Liverpool to complete the comeback.
Genius Gino Seals the Comeback (Comeback of Dreams: Liverpool Romp Barcelona)
Klopp's inspired substitution to bring on Georginio Wijnaldum has to be one of the biggest master strokes of the game. The Dutch midfielder brought incredible energy on to the pitch. He even scored 2 great goals to completely turn the tie on its head.
Hapless Barcelona
The Spanish Champions looked completely lost. They turned in one of their worst displays in recent years. They failed to learn from their mistakes in Rome. Their reactive, low energy approach to the game proved to be their undoing. Despite knowing full well that they had to play at their best to get a result at Anfield, they just didn't. Ernesto Valverde however, made a few very erratic decisions as well. He decided to take off Arturo Vidal and left Ivan Rakitic on the field despite the latter being largely invisible and picking up a booking. Arthur's exclusion was surprising as well.
Missed Chances Haunt the Catalans
Ousmane Dembele's miss in the first leg and squandered opportunities in the second leg by Jordi Alba and Luis Suarez also came back to bite Barça. Alba also had a garish performance. Although he has been world class all season, he made two fatal errors leading to Liverpool goals. Barcelona will rue their lack of clinical finishing. It was simply unacceptable from the Blaugrana.
---
As for Valverde, this may spell the end of his Barcelona tenure. However, Liverpool will now play in another final against either Ajax or Spurs. That game will be highly interesting as well and the final will be incredible to watch.
Follow us on YouTube and Twitter
Written by Aaryan Parasnis

Follow me on Twitter
Photo credit to Virgilvdijk via Twitter