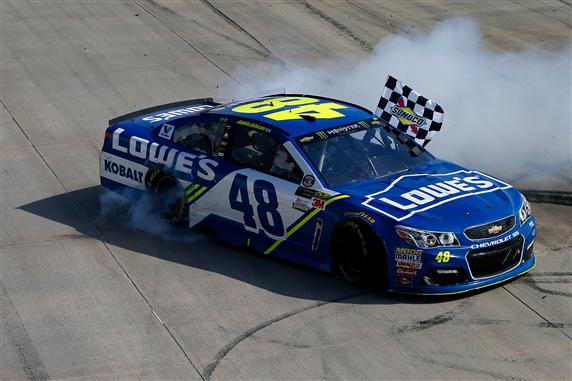 Jimmie Johnson Looks to Conquer the Monster Mile Again
This weekend at Dover there is a driver in the field who is on an unprecedented winless streak for his career. That driver is none other than 7-time champion Jimmie Johnson. Johnson, who hasn't won a race since the spring of 2017 is likely happy every time Dover shows up on the schedule. Dover is the very track Johnson scored his last win at on June 4th, 2019. So with his prior successes at Dover that winless streak could snap as Johnson looks to conquer the Monster Mile.
Johnson's History at Dover, His Best Race Track?
As stated prior, Johnson has an unbelievable record at Dover International Speedway. Johnson leads the field in seemingly every statistic you can think of at Dover. In 34 starts Johnson has amassed 17 top-5s and 24 top-10s. If those two stats aren't astounding enough, prepare yourself for the most impressive of all. Johnson has won at Dover International Speedway a total of 11 times throughout his career. In his first 2 trips to the track in 2002, he swept the races for that year as a rokie. Johnson has also led the most laps at Dover with 3,105. As well as boasting a driver rating of 114.4 and an average running position of 8.835. Dover is truly a track which Johnson figured out immediately.
So as Johnson's winless streak approaches the 2-year mark, Dover could be just the track to get him back in victory lane. This weekend has been off to a good start for Johnson as well. Johnson posted the 10th fastest time in the weekend's first practice session and followed that up by qualifying 12th. In the second practice session, Johson flexed some muscle and posted the fastest time in the session. So far this weekend it appears that the #48 team is headed in the right direction. So as Johnson looks to conquer the Monster Mile for the 12th time, it could be trouble for the field if he can get the weight of a 2 year winless streak off his shoulders.
Be sure to follow along for Dover coverage, @T101_NASCAR.