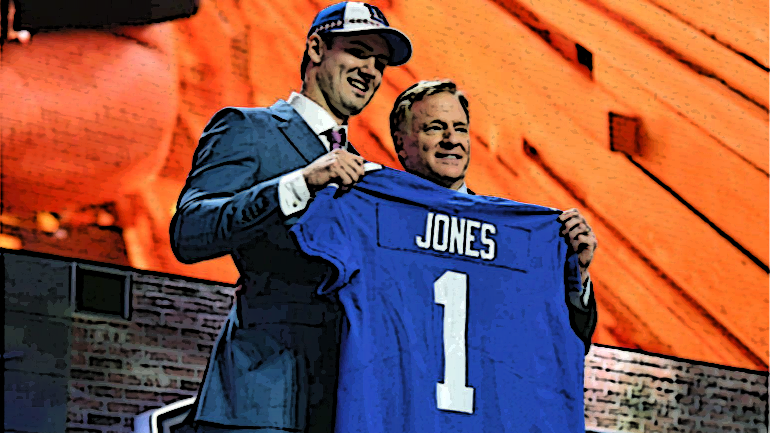 Daniel Jones and the History of Jeered First Round NFL Draft Picks
The New York Football Giants may have made a giant football mistake, or so their fans think. With the sixth overall pick in the 2019 NFL Draft, the Giants selected Duke quarterback Daniel Jones.
Daniel Jones, who stands 6'5″ and 220 lbs, played just 36 games throughout his collegiate career. In his three active seasons, Jones completed 59.9% of his passes, threw 52 touchdowns and 29 interceptions, and finished with a 122.9 passer rating.
When Jones was selected, Dwayne Haskins (Ohio State), Drew Lock (Missouri), Will Grier (West Virginia), and Ryan Finley (NC State) were all still available. The only QB not on the board was Kyler Murray, who was drafted first overall by the Arizona Cardinals. Jones was ranked 4th at the QB position and 39th overall prior to the draft.
Both fans and foes of the Giants alike questioned the logic behind the pick.
Years of First Round Jeers
If misery loves company, denunciation welcomes fraternity. Daniel Jones is not the first, nor the last top pick to be greeted with the boos of fans. In his brotherhood are some notable names; the draftees below are some of the most memorable.
Eric Ebron, TE
Despite running the second-fastest time in the 40-yard dash that year by a tight end, Ebron's selection didn't go over well with Lions fans. His selection at 10th overall selection made him the highest picked TE in the Lions' history. Ebron was unable to prove draft scouts and the city of Detroit wrong, with the Lions ultimately releasing the tight end.
However, Ebron found a new home in Indianapolis, enjoying a career revival with the Colts. In 2018, his debut season as a Colt, Ebron managed career highs in receptions, receiving yards, and touchdowns.
Jamar Fletcher, CB
The Jim Thorpe award, Jack Tatum trophy, Big Ten All-Decade Team, Big Ten Defensive Player of the Year award, and a listing in the Top 100 College Players are just some of the collegiate accolades garnered by Jamar Fletcher. Sadly for him and the Miami Dolphins, that is where his success peaked. From 2001 to 2009, Fletcher played for five different teams, playing only 105 games.
Tedd Ginn Jr, WR
Despite success at the high school and college level and exceptional remarks from draft scouts, Ginn Jr's selection at 9th overall was quite controversial. The boos Ginn received were less about himself than the expectation that Miami would draft quarterback Brady Quinn.
While he never recorded a 1,000-yard season and finished three seasons without recording a receiving touchdown, Ginn finished his career with over 5,000 receiving yards and nearly 7,000 return yards. Ginn also holds an NFL record, scoring two kickoff return touchdowns of 100 yards or more.
Sebastian Janikowski, K
Janikowski became the third kicker to ever be drafted in the first round. Unfortunately for the future kickers of America, he did little to help their cause. Both before and after the draft, Janikowski found himself at odds with law enforcement. His rookie season ended in a measly 68.8 FG%, missing six from 40-49 yards. However, things later picked up for Florida State alumnus.
Before his retirement in April of 2019, Janikowski was named a Pro Bowler in 2011, became the Raiders' all-time leading scorer, and secured eight NFL records.
Records Held by Sebastian Janikowski (retired on April 28, 2019)

-Game-
Longest FG in OT (57 yds)
Longest FGA (76 yds)
Most FGs in One Quarter (4)
Most FG of 50+ Yds (3)
Most XPT in Pro Bowl (8)

-Career-
Most FGs of 50+ Yds (58)
Most FGs of 60+ Yds (2)
Most FGA of 60+ Yds (8)

— Lauren Phillips (@LaurenP_52) April 30, 2019
Jeff Lageman, DE
Lageman's small size drew questions and critiques from fans and scouts when the New York Jets selected him with the 14th pick in the 1989 NFL draft. The draft class he found himself in was one of the most anxiously awaited and New York was hoping for something other than a defensive end.
By the time of his retirement, ten years after he was drafted, Lageman had proved all his critics wrong. At career end, he had recorded 47 sacks, 459 tackles, and 11 forced fumbles. Still, Jets fans remain split on whether his career was worth the pick relative to the other talent that was available. Lageman has commented on his jeered draft experience often.
Eli Manning, QB
Prior to the 2004 draft, Eli Manning stated that he would not play for the San Diego Chargers, who held the first overall pick. The San Diego Chargers then selected Manning anyways. Given his pre-draft campaign and public comments, Chargers fans unleashed a storm of boos after selection. Manning's facial expression on stage stood in solidarity with the fans.
As history would have it, Manning went on to play for his team of choice, the New York Giants, and now figures to become the mentor to one Daniel Jones.
Donovan McNabb, QB
The only city to rival New York in draft jeering is Philadelphia. After quarterback Tim Couch was taken first overall by the Cleveland Browns, the Philadelphia Eagles selected McNabb with the second pick. There are no words to describe just how painful the onslaught of insults dished out by Eagles' fans was, paired with the awkward tension on stage being nationally broadcasted.
While the relationship between McNabb and the city of brotherly love is still far from, well, loving, his career validated the Eagles' choice. McNabb helped win five division championships, brought the Eagles to five NFC Championship games, and reset the Eagles' QB record book. He is also the sixth all-time rushing QB in NFL history.
Brady Quinn, QB
Quinn, the Notre Dame alumnus who was beloved in college, was barely tolerated at the pro level. Despite a great showing at the combine, Cleveland fans were unhappy by his selection even at 22nd overall. Quinn's off-field behavior didn't help his cause. His behavior before the draft saw him drop from the top 10, where he was projected to go. During the draft, Quinn's behavior and demeanor were heavily criticized.
Quinn only stayed with the Browns for three years before signing with the Broncos, Chiefs, Jets, and Rams before retiring. He threw more interceptions than touchdowns (17-12) in his NFL career and finished with a 64.6 passer rating. After a less-than-notable tenure, Quinn became an analyst, himself.
J.J. Watt
There was a time when J.J. Watt was not King of Houston. Watt spent his freshman season in college at the tight end position, switching to defensive end for his sophomore and junior seasons. In just two seasons at DE, Watt recorded 11.5 sacks. Come draft day, the Houston Texans selected Watt at 11th overall, a decision not welcomed by fans. Watt's cold welcome was due, in part, to who else was available in the draft, along with some negative comments by scouts in his combine portfolio.
Luckily for Watt and Houston, J.J. has brought both success and morale to the state of Texas. After eight professional seasons (104 games), Watt has already notched one interception, 51 defended passes, 22 forced fumbles, 92 sacks, 455 combined tackles, 244 QB hits, and one safety.
Photo Credit
Featured image courtesy of Smashdown Sports News via Flickr
Stay informed, follow our NFL Department and Lauren Phillips on Twitter for upcoming stories and news!
Subscribe to get the latest news from TSJ at the TSJ 101 Sports TV YouTube channel!