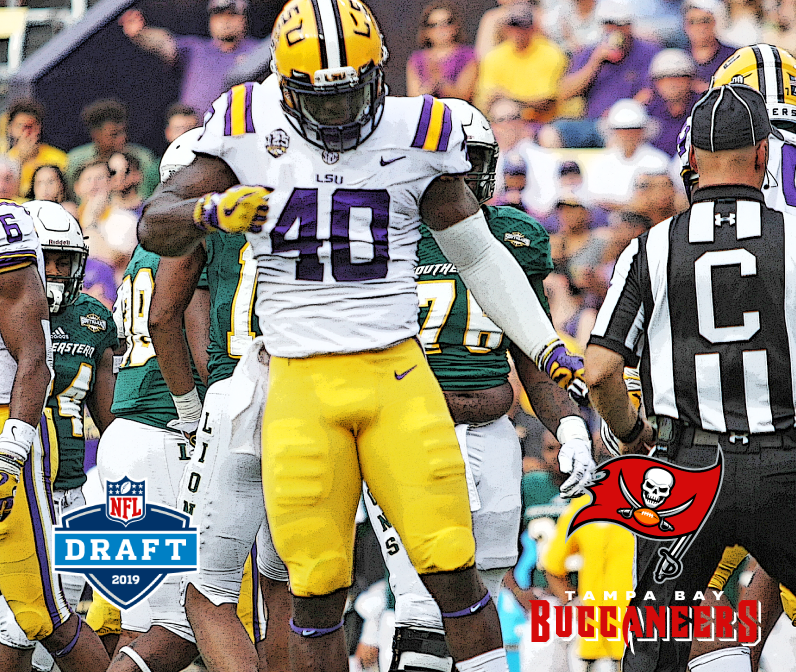 Speedy Inside Linebacker Devin White Drafted 5th Overall by the Tampa Bay Buccaneers
Three years ago, Devin White was a top prospect coming out of North Webster High School in Springhill, Louisiana. He was a 4-star prospect and ranked in the top five for his position. So it's no surprise that he's ranked as the No. 1 overall linebacker in the 2019 NFL Draft by NFL Scout Matt Miller, right?
The sheer magnitude of White's talent comes to the light when – just three years ago – White was a top five running back, not linebacker, coming out of high school. LSU quickly converted White to linebacker once he arrived in Baton Rouge. White's talent showed immediately, leading to him, along with LSU teammate, Greedy Williams, being projected as top fifteen overall picks.
White's LSU Career
It didn't take long for linebacker Devin White to touch the field, as he suited up for all 12 games his freshman year. A season in which White managed 30 tackles (three for loss) and a sack against former Louisville Heisman-winner Lamar Jackson, White was selected to the SEC All-Freshman team. White's true potential, though, began to show in his Sophomore year.
During White's Sophomore season, he led the SEC with an astounding 96 assisted tackles and was tenth in the nation with 133 total tackles. White added 13.5 tackles for loss (4.5 sacks) as well as an interception on the season. White was named Permanent Team Captain and Team MVP in 2017. He also received All-SEC First Team and Second team All-America honors.
Facing high expectations approaching his Junior year, White didn't falter. The Louisiana native posted 123 total tackles, including a career-high 62 solo tackles, on the season. He also added 12 tackles for loss (3 sacks) and six forced fumbles to his stellar Junior campaign. White was once again named team MVP in a season where he was also named First Team All-SEC and First Team All-American. In addition, White was chosen as the Butkus Award Winner, an award given to the best linebacker in the nation.
Is White Pro-Ready?
So, what on-field traits will propel Devin White to NFL stardom? Watching White's film is a treat, to say the least. He's one of the guys that pops off the screen when you watch an LSU game.
Let's take the Week 13 matchup against Central Florida into account. White secured eight solo tackles, a pass deflection, and a forced fumble in the matchup. Simply put, if you watched the game, you noticed him. Here are three of White's most notable qualities:
Sideline-To-Sideline Playing Style
Devin White's speed and shiftiness is noticeable from the moment he steps out on the field. His game speed is even more apparent when you put in the film. However, if that's not convincing enough, White posted the fastest 40-yard dash time for linebackers at a blazing 4.42 seconds.
White's pursuit speed allows him to make plays on screens, outside zones, and even power runs, where the linebacker has to cross the face of the pulling blocker. Although White's pursuit speed is a gift, the trait has often worked against him as well. As a result, he has tendencies to often overrun plays and miss tackles.
Physical Player
When observing Devin White's measurables, it's easy to call him an undersized player. With a height of 6'0″ and weight of 237 lbs. as the standouts, he's definitely on the smaller end of linebackers in the league. Yet this doesn't raise much of a concern when comparing White's stature to the likes of other similarly sized linebackers, such as Lavonte David, Myles Jack, and Ryan Shazier. Additionally, White packs a lot of punch for his size.
White was in the top-12 among linebackers in the bench press, managing 22 reps in Indianapolis. White also knows how to use that strength to his advantage, as he forced three fumbles in 2018 — good for fifth-best in the SEC. While White can improve in shedding off blocks, when he gets to the ball, he will cause havoc.
High Ceiling
It's scary to think of the possible untapped potential that Devin White possesses. With just three years of the linebacker position being his primary focus, he has so much more to learn. Much of White's criticism comes from being out of position on plays, taking false steps, and his take-on technique.
All of these critiques have one thing in common: they are coachable issues. Rarely can you find this combination of production and ceiling from a player in a draft. Devin White has an opportunity to exceed very lofty expectations. Expect White to draw lots of attention in Buccaneers' training camp with his explosiveness.
Photo Credit
Featured image courtesy of Tammy Anthony Baker via Wikimedia Commons and NFL Comm.
Follow Khadeem on Twitter at @ReachingGod and TSJ's NFL Department @TSJ101SportsNFL
Subscribe to get the latest news from TSJ at the TSJ 101 Sports TV YouTube channel!