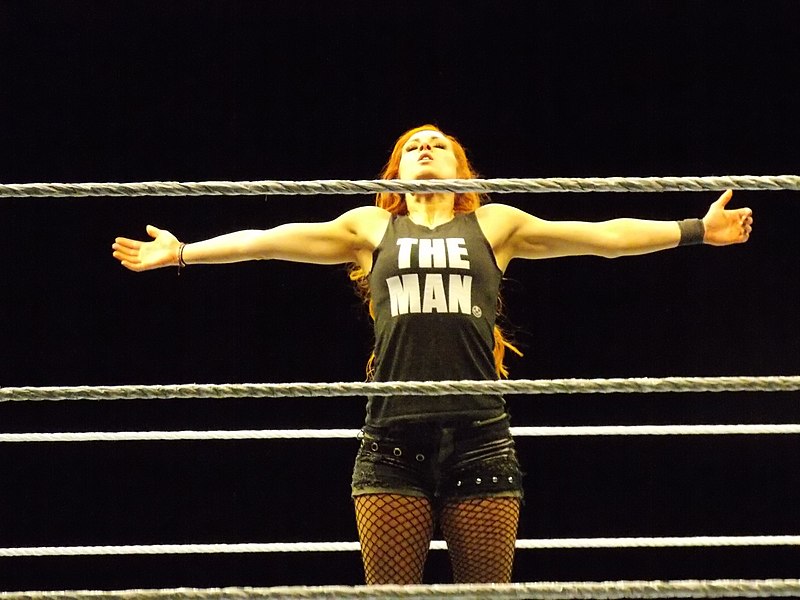 The Women's Back Story
For the past several years now, the growth and expansion of the women's division in the WWE has been one of the more inspiring aspects of the WWE product. Whether it is the shift in focus to a more athletic presentation or the fewer instances of pushing the "Barbie Doll" cookie cutter stereotypes to the top, WWE has definitely changed how they present women's wrestling. This has brought a much more realistic and competitive product to the industry.
Of course, the debate can be made that other influences including the TNA Knockouts Division led by Gail Kim and Awesome Kong. They may have played a vital role in the encouragement of WWE to give women a bigger platform. If you keep with contemporary stories, even former Lucha Underground Champion Sexy Star believes that she influenced the WWE Women's Evolution.
The Truth
In the end, what can't be ignored is the fact that women's wrestling both in WWE and abroad has made a significant shift and the women are now in the main event. That was never more evident than at WrestleMania 35 where Ronda Rousey, Charlotte Flair, and Becky Lynch made history as the first women to main event WrestleMania.
With all that the women have accomplished, we have seen the surging popularity of several talents who have garnered mainstream attention to a degree that female wrestlers never have. Even performers who may not be in the "top spot" like Summer Rae, Eva Marie, or Kelly Kelly have seen mainstream attention. This is in part because of WWE encouraging their talents to be more vocal on social media. They want a bigger role on weekly programming.
With all of the progress that the women have made, a new debacle has emerged.
New Dilemma
In the past, female talents didn't need to concern themselves with "getting over." They relied heavily on their sex appeal and good looks to garner attention. Many wrestling fans have long complained about the lack of quality workers throughout women's wrestling history.
There have been a few true pioneers from the past who competed in a similar style to the über talented ladies of today. Medusa Micelli, Sherri Martel, Bull Nakano, Wendy Richter, and Chyna come to mind. The problem was that while these few were incredible ring technicians who deserved a larger role, there were few talents who could give them a quality match. That's because female wrestlers were not cultivated in the same numbers as the men.
Today's Product
When you fast forward to today's presentation, there is no lack of incredible talent. Looking at the WWE women's roster, you have Charlotte Flair, Becky Lynch, Bayley, Sasha Banks, Nia Jax, Lacey Evans, Naomi, Alexa Bliss, Asuka, Kairi Sane, Shayna Baszler, Toni Storm, and many others. Each have demonstrated the true athleticism that contemporary wrestling fans have come to expect.
Even when you look outside WWE you have a plethora of female talents who are far and away better than the vast majority from yesteryear. Tessa Blanchard, Rosemary, Gail Kim, Sienna, Tennille Dashwood, Kelly Klein, Ivelisse Velez, Jazz, Britt Baker, Aja Kong, Kylie Rae, and many others give women's wrestling a shot of life. And that's all outside of the WWE!
Unfortunately, what this has done is leave little room at the top. It also created a level of competition that the industry has never had before. Along with that comes the animosity and competitive nature. That has long been a staple of the men's division. At this point, it could become a barrier to many talents making it to the top of the card.
The Sasha Effect
It has been well documented at this point that Sasha Banks and Bayley are upset. They were involved in a very open and defiant backstage protest. That protest was due to the decision to put the WWE Women's Tag Team Championships on the IIconics at WrestleMania. The knowledge that their team was scheduled to be broken up was clearly not perceived to be a positive either.
There are only a handful of openings for the main event positions in WWE. Since your lineup includes Charlotte vs Becky on one show and Becky vs Lacey on the other, it doesn't leave room for someone like Sasha.
Sasha detractors point to her 1 NXT Women's Championship and 4 RAW Women's Championship reigns and claim that she has had her opportunities. In addition she, along with her BFF Bayley, was given the inaugural run with the WWE Women's Tag Team Championship. She was involved in the first women's main event on RAW, first women's Hell in a Cell, first Women's Elimination Chamber, and had the longest tenure in the first Women's Royal Rumble. All of that seems like she has been given plenty of opportunity.
Her supporters claim that her 4 RAW Women's Championships lasted a combined 82 days. WWE always took the title away from her in favor of Charlotte so quickly that those reigns meant very little. This is the same for the WWE Women's Tag Team Championship reign as well. It was supposed to be a lengthy run for the Boss N Hug Connection. Then both the reign and the team dissolved after WrestleMania.
What to do?
Indeed, it is a challenging quandary that WWE finds themselves in. Obviously, Sasha Banks and even Bayley to an extent are not happy with their position in the company. Sasha apparently wants to wait out her contract and be free from WWE. Some say that this behavior is unjustified and sets a bad precedent if WWE allows that to happen. Talents sign contracts with little creative control. If WWE starts granting releases or allowing talent to call the shots, who knows what could be the long-term effect on the division?
On the other hand, WWE needs their talent to be all hands on deck. AEW is emerging soon and the quality of wrestling in other promotions is on an uptick as well. WWE needs their best in ring workers, which Sasha Banks clearly is. They also want to keep as much talent from signing with their competitors as possible. In the end, Sasha Banks is worth so much more to WWE than their booking suggests as of late. She is believable that she could pose a threat to Becky Two Belts. Could she take down the Queen or the Goddess? She could be the Legit Boss. Only time will tell if WWE allows that to happen. Can they mend the fences that have brought us to this point?
What are your thoughts? Comment Below!
Social Media
Don't forget to follow us on Twitter:
@T101Sports and @T101SportsWWE
You can also talk to me, the writer:
@FroWrestling on Twitter
Also, check out the Fro Wrestling Podcast at:
YouTube, Spreaker, Stitcher, and on iTunes.
Photo credit: InFlamester20, via Wikimedia Commons