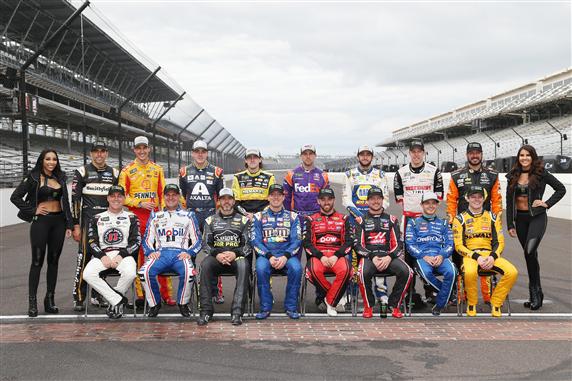 How the Playoff Field Looks After the First Quarter of the 2019 NASCAR Cup Series Season
9 races into the 2019 NASCAR season, the first quarter of the Cup Series schedule is in the books. To date, 5 drivers have locked themselves into the 16-man Playoffs, leaving 11 spots open. Let's take a detailed look at who is currently in the NASCAR Playoffs, and how tight the bubble is. The Playoff field will not be final until the Brickyard 400 in September. But many drivers already have a big cushion so early in the regular season.
Kevin Harvick (+137)
The strongest man in 2019 who has yet to win, Kevin Harvick currently sits 4th in points. With 4 top 5s, 7 top 10s, and 163 laps led in 9 races, most drivers would be content. However, Harvck is anything but happy, as he had 3 wins during the first quarter a year ago. While Harvick has not won, he has been close on multiple occasions, but has faded late in races.
If not for a series of prerace penalties, he may have been a strong contender at Bristol a few weeks ago. That day, Harvick was 4 laps down at one point but managed to finish on the lead lap in 13th. The 4 Stewart-Haas Racing Mustang is too strong of a team to remain winless. This is in spite of their recent lack of late-race execution. Only once since joining SHR has Harvick gone this far into a season without a win.
In the coming weeks, Harvick will likely secure a 2019 Playoff position through a win. SHR has trailed the Penske Fords in overall speed this year, but not by much. Outside of Harvick, all of SHR has looked as strong as ever through 2019's first quarter. Expect the organizational performance to translate over to the 4.
Kurt Busch (+75)
Racing for his 6th team in his 20th season, Kurt Busch is off to one of his strongest starts ever. Through the first quarter of 2019, the elder Busch has 3 top 5s, 6 top 10s, and an average finish of 8.9. This hot start to 2019 has Kurt Busch currently ranked at 7th in points. Kurt has managed to make the postseason each of the last 5 years, and is in good position now with Chip Ganassi Racing. With the performance the 1 team has shown, they are looking more and more capable of putting together a winning run. With Kurt saying after Bristol that he'd wreck younger brother Kyle for a win, that may just happen in the coming weeks.
Clint Bowyer (+68)
The second SHR driver ranked in the Playoffs, Clint Bowyer is currently 8th in points. On the strength of 3 top 5s and 5 top 10s, Bowyer is having one of his better starts to a year. The only place he is lacking is in the win column, but the 14 Mustang has shown race-winning potential. 2 of the last 3 races have seen Bowyer finish in the top 3, as their short track program looks strong. However, there will not be another short track race until August, so Bowyer's team needs more consistency on the intermediate tracks. This weekend at Talladega should be a strong showing for Bowyer, as he has 2 prior wins on the Alabama superspeedway.
Ryan Blaney (+65)
The lone Penske car not locked into the Playoffs via a win, Ryan Blaney's bad luck has kept the 12 from showing its full potential in 2019. 4 top 5s, 4 top 10s, and 353 laps led are the 12's results from 2019's first quarter, with a best finish of 3rd at Phoenix. Blaney is looking to make just his third appearance in the NASCAR Playoffs, as he is currently 9th in points. Speed has not been lacking for the 12, just a few instances of bad luck have kept the 12 from victory lane.
Chase Elliott (+55)
Currently the highest-ranked driver from Hendrick Motorsports, Chase Elliott has been off to a rocky start in his 4th season. The 9 car has 1 top 5 and 2 top 10s so far in 2019, but was the strongest car late at Martinsville. Hendrick as a whole has lacked speed this year, in spite of strong qualifying efforts across the board. While Elliott is in a solid position now to make the Playoffs, HMS needs to find more performance if he is to win his way in. Elliott's team has historically made late-season surges where they find more execution during the postseason. Expect the 9 to be up front more as the summer months wane on and the Playoffs start.
Aric Almirola (+48)
In his second season at Stewart-Haas Racing, Aric Almirola is off to his best start ever. Through the first quarter of 2019, the 10 has 1 top 5, 6 top 10s, and 72 laps led. If not for an early-race exit at Bristol, Almirola could have had a streak of 7-straight top 10s. As with all of SHR, the 10 has had execution and speed this season. However Almirola has lacked just a little performance, keeping them from victory lane. After last year's breakthrough run that saw Almirola finish 5th in points, expect him to remain in the Playoff hunt and contend for wins throughout the year.
Daniel Suarez (+23)
The newest addition to Stewart-Haas, Daniel Suarez is having the best season in his young career. At 12th in points, Suarez has never been higher in the Playoff standings. The 41 has 1 top 5 and 4 top 10s so far, but also 4 finishes worse than 15th. Suarez is in prime position to make his first career Playoff appearance, with a very strong team. Last year with Kurt Busch, the 41 made the Playoffs with 1 win, and contended for a spot in the final 4 until being taken  out at Phoenix. Suarez's inconsistency puts his Playoff outlook at an unknown, but the SHR 41 is more than capable of maintaining a solid points position. As long as there are not many surprise winners, Suarez should make it 4-for-4 in the Playoffs for SHR.
Jimmie Johnson (+22)
The 7-time champion who has yet to miss a postseason would still make it currently, despite some struggles. Jimmie Johnson's 48 team has 1 top 5 and 4 top 10s, putting them at 13th in points. Johnson has fought an uphill battle this year due to Hendrick's lack of speed. However, the 48 did win the pole and lead laps at Texas, an intermediate track similar to many of the upcoming races. Even though Johnson's widely publicized winless streak nears its 2-year anniversary, he is still remaining consistent enough for a record-16th Playoff showing.
Austin Dillon (+4)
At this point last year, Austin Dillon was locked into the Playoffs as the Daytona 500 champion. In 2019, the Richard Childress Racing 3 is winless, but has shown bright spots. Dillon's first quarter features 2 top 10s and a pole, as the RCR team has shown more speed. Dillon called his car after Richmond "a car capable of running with the leaders," as he finished 6th. With the upward trend in RCR's performance, Dillon should remain around the cut line in points. If not through a win, Dillon needs to race cautiously and gain points if he wants to make his 4th Playoffs.
Ryan Newman (+4)
In his first year at Roush-Fenway Racing, Ryan Newman brings experience. This experience has brought an uptick in performance to the 6 Mustang, as they are tied for 14th in points. Newman's best result in 2019 is 9th, coming in each of the last 2 races. With just a 4-point buffer above the cut line, Newman is far from a lock for the Playoffs. The 6 team needs to gain points and continue to find speed if Roush will make the postseason again.
Paul Menard (+1)
If the Playoffs started today, Paul Menard and the Wood Brothers Racing 21 would make it in by a single point. Menard only has 2 top 10s to show for 2019, but he has 6 lead lap finishes. The 21's Playoff chances are a question mark, but they are certainly a fringe contender. With the Penske alliance, the Wood Brothers should be a stronger team than in years past. However, Menard's Playoff standing is dependent on any winners outside of the top 16.
The race for the Playoffs has just begun, with the first quarter of 2019 complete. This field of 16 is far from being finalized, as nearly 5 months of racing lay between now and the regular season finale. Perhaps the biggest wildcard of the season will be this weekend's race at Talladega Superspeedway. Be sure to follow along all season long to see how the current Playoff field changes.