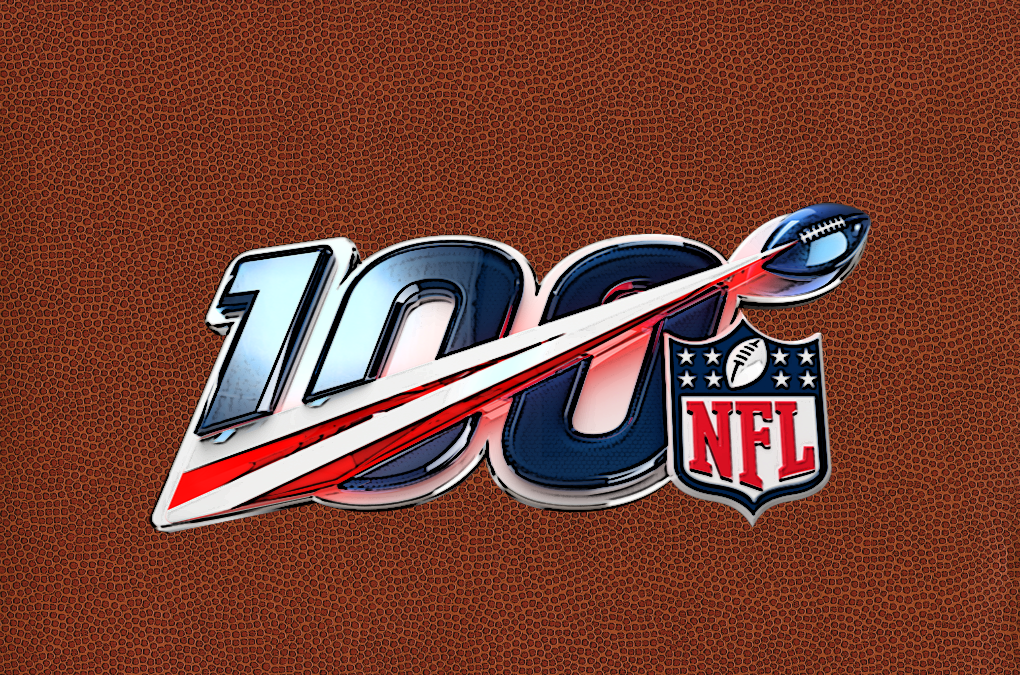 A Then-and-Now Celebratory Portfolio of the NFL's 100th Birthday
In a world covered in the fingerprints of ancient dynasties, a once isolated nation less than 300 years old can struggle to find its own identity. For the past 243 years, the United States has known it's not European, Asian, African, or Latin. Rather, it's been the aggregate of them all. As a result, little felt organically American. Baseball began to fix this problem in the 1800s.
Roughly 50 years later, the world and the United States had transformed. World War I had eclipsed America's isolation and birthed an idea of international dominance and fortitude. The financial and philosophical economy of the U.S. was roaring nearly as loudly as the calls for a cultural revolution. And as the American ethos evolved, a new past time was born, one that reflected its self-concept: football.
Global relations continued to change over the decades of the 1900s. Nationalism, like a tsunami, came over the Western world and then receded, leaving behind the globalist ideology. The United States found herself at the eye of this storm again, questioning its foreign and domestic identity. The age of pinstripe gentlemanship seemed at dusk while a brooding and rebellious age was kicking off at dawn; its archetype was none other than football's favorite son, the NFL.
Establishment of the NFL
On September 17th, 1920 representatives from several semi-pro teams held a meeting at the Hupmobile showroom in Canton, Ohio. The result of this meeting was the formation of the American Professional Football Association (APFA) made up of 14 teams. Jim Thorpe was named the APFA's first league president.
Akron Pros
Buffalo All-Americans
Canton Bulldogs
Chicago Cardinals – Arizona Cardinals
Chicago Tigers
Cleveland Tigers
Columbus Panhandles
Dayton Triangles
Decatur Staleys – Chicago Bears
Detroit Heralds
Hammond Pros
Muncie Flyers
Rochester Jeffersons
Rock Island Independents
The first APFA game took place on September 26th, 1920 at Douglas Park in Illinois. A reported 800 onlookers watched as the Rock Island Independents defeated the St. Paul Ideals 48-0. By season's end, the Akron Pros held the best league record at 8-0-3, thereby winning the championship.
In 1922, the APFA changed its name to the National Football League.
Pre-Merger: 1933 – 1965
After three disputed titles in the formidable years, the NFL adopted a playoff system in 1933. By this time the league had dwindled to just ten teams, divided into an Eastern and Western Division.
In the Eastern division (in order of the 1933 standings) was the New York Giants, Brooklyn Dodgers, Boston, Philadelphia Eagles, and the Pittsburgh Pirates.
The Western division was made up of the Chicago Bears, Portsmouth Spartans, Green Bay Packers, Cincinnati Reds, and Chicago Cardinals.
Winningest Teams From Pre-Merger Era

Green Bay Packers (11)
Chicago Bears (8)
New York Giants, Detroit Lions, Cleveland Browns (4)
Philadelphia Eagles, Baltimore Colts (3)
Canton Bulldogs, Chicago Cardinals, Los Angeles Rams, Washington (2)#NFL100

— Lauren Phillips (@LaurenP_52) April 9, 2019
Chicago won the first playoff championship in 1933. The current NFC North and East divisions owned eight and four of the NFL titles respectively from 1933-1944.
By the mid-60s, the NFL had expanded westward.
Merger and Creation of the Super Bowl (1966)
Throughout the NFL's history, several other professional football leagues, have sought to compete in the market. While most have withered within a few months or years, one league seriously challenged the flagship enterprise: the AFL.
In 1960, the American Football League began to draw both ratings and talent away from the NFL which prompted the eventual merger of the two leagues. Prior to the marriage, relations were contentious.
Competitors of the NFL

AAFC: 1946-1949 *Browns, 49ers, and Colts
CFL: 1958-Present
AFL: 1960-1969
USFL: 1982-1986 *Jim Kelly, Herschel Walker, Steve Young
XFL: 2001-2001 *Tommy Maddox, Sky cam (NFL never used this camera view prior to the XFL)
AAF: 2019-2019#NFL100

— Lauren Phillips (@LaurenP_52) April 9, 2019
In 1959, oil tycoon, Lamar Hunt, set out to create a rival league to the NFL. After a failed attempt to buy an NFL team and relocate them to Dallas, Hunt and other fiancial partners, turned colleagues founded the AFL. By the first game of their inaugural season, the league consisted of eight teams: Boston Patriots, Buffalo Bills, New York City Titans, Houston Oilers, Denver Broncos, Dallas Texans, Oakland Raiders, and Los Angeles Chargers.
With the addition of talented college prospects, the AFL secured lucrative broadcast deals with media groups who concurrently or previously were in business with the NFL.
After NFL owners realized that they could not financially outlast the AFL like previous competitors, Cowboys' owner, Tex Schramm, met in secret with Lamar Hunt and other AFL owners to discuss the details of a potential merger. The reason for the backroom mitigation was the fear of the AFL commissioner, Al Davis, and his likely reluctance to any contractual concessions.
In the end, the AFL and NFL came to fiscal agreements where NFL teams who would share markets with AFL teams provided financial assistance. Prior to the completion of the merger, the two leagues shared a common draft starting in 1967.
So It Begins
In 1970 the AFL and NFL joined together as one league. By the agreements of the merger, the NFL split into two conferences: the American Football Conference and the National Football Conference. The teams associated with the NFL prior to the merger were assigned to the NFC while the AFL teams were placed in the AFC with the addition of the Browns, Steelers, and Colts.
Each conference had three divisions: East, Central, and West. The Central and West divisions were comprised of four teams while the East divisions were made up of five.
AFC Divisions in 1970 (Year of the NFL/AFL Merger)

AFC East: Baltimore C, Buffalo, Miami, Boston, New York J
AFC Central: Cincinnati, Cleveland, Houston, Pittsburgh
AFC West: Denver, Kansas City, Oakland, San Diego

— Lauren Phillips (@LaurenP_52) April 9, 2019
The etymology of "Super Bowl" has its origins in college football, similar to the Rose, Cotton, and Sugar Bowl. The NFL named their new championship the Super Bowl, signifying its superiority in talent and competition.
Green Bay continued its tradition of greatness out of the pre-merger era and into the Super Bowl age. After winning the final NFL championship in 1965, Vince Lombardi led the Packers to win the first two Super Bowls in 1966 and 1967.
Since the creation of the Super Bowl, the Patriots and Steelers have both won six while the Cowboys and 49ers have each won five and the Packers and Giants each boasting four.
Advent of the Aerial Attack
From the 1970s into 1980s, the San Diego Chargers led the NFL in passing yards seven of eight seasons. The mad scientist behind the Chargers' success was Don Coryell, father of the vertical offense. Prior to Coryell, NFL offenses operated out of the pro set.
Coryell sacrificed players in the backfield to add additional receivers, also putting those wide receivers and even running backs in motion.
His offense was heavily predicated on timing but done so with the intention of making the opposing defense defend the entirety of the field. This, in turn, led to greater windows of "catchability" for receivers and quarterbacks.
Today, there would be no West Coast or Vertical Offense without these innovations.
Defense Respond
Throughout the history of the NFL, defensive coordinators have experimented with defensive formations in various game scenarios.
By the 1990s, it would not be uncommon for a defense to set up with two linemen, a few linebackers, and several defensive backs. This defense began to be used in pass-prevention scenarios.
Defenses also began to add additional blitz packages along with zone and man coverage options; players who would have normally been on the field to simply rush and stop the run began, participating in pass coverage.
Former Ravens' linebacker, Ray Lewis, is emblematic of this defensive metamorphosis. Lewis in his career had over 1,500 solo tackles, over 40 sacks, and over 30 interceptions. Only two players in NFL history have finished a season with six or more interceptions and 120 or more solo tackles (Lewis and Brad Edwards).
Patron Saints of the Pigskin
From plastic helmets to crop-top jerseys, the NFL has seen a corpus of changes. The following men have advanced the game of football and the National Football League in irrevocable ways.
Walter Camp: "Father of American Football" Created a set of expanded rules to delineate American football from sister sports at the time like rugby.
Bert Bell: Kept NFL going during WWII. Created the draft, restructured the league for branding and economic purposes. Recognized the NFLPA.
Vince Lombardi: One of the greatest coaches in American Sports history. His postseason win percentage was 90%. Proud civil rights advocate from race relations to gay rights.
Johnny Unitas: 3x NFL MVP, Unitas set the framework of the modern day pocket QB. Unitas revolutionized the game by calling plays at the line.
Tex Schramm: Helped found the Dallas Cowboys. Secretly mitigated NFL & AFL negotiations to bring about a resolution. Successfully advocated for instant replay, and the scouting combine.
Al Davis: AFL commissioner in the year of merger negotiations. First GM to hire an African American head coach and second to hire a Latino head coach.
John Madden: Combined play by play game calling with analytical commentary for the first time in mainstream media. As a coach, he finished his career with a 112–39–7 record.
Jim Brown: Averaged over 100 rushing yards per game and 5.2 yards per attempt throughout his career. He broke and set nearly every record during his active career. Brown re-wrote the run game attack and was an important symbol of the civil rights era.
Players' Rights: Charters and Contracts
In the early 1950s, an amalgamating wind swept the league so swiftly that by 1956, 11 out of 12 teams had players signed on to unionize. These players formed the labor organization, the National Football League Players Association (NFLPA).
Their demands were simple: preseason game compensation, free game transportation, equipment maintenance costs at the franchises' expense, and a league minimum salary. Then-commissioner, Bert Bell, recognized the NFLPA a year later and after some negotiations, the owners granted some of the NFLPA's wishes.
In 1968, the NFLPA threatened to strike due to wage complaints. In light of the threat, owners declared a lockout leaving the NFL dormant; however, just for 12 days. As a result of the labor stoppage, a collective bargaining agreement was enacted.
NFL Labor Issues

1968 Strike/Lockout
1970 Strike/Lockout
1974 Strike
1982 Strike
1987 Strike *shortened season to 15 games
2001 Ref Lockout
2011 Lockout *Lasted over 5 months
2012 Ref Lockout *replacement refs had to be hired for first few weeks#NFL100

— Lauren Phillips (@LaurenP_52) April 10, 2019
Throughout the history of the NFL, players have fought for host rights other than compensation. Most notably safety and health concerns, freedom of expression, as well as the right to protest. Their efforts have not gone in vain.
The first professional football player, William Heffelfinger, was paid $500 plus travel expenses to a play for the Allegheny Athletic Association in 1892. In the mid-1950s, the league minimum salary was $5,000 plus medical coverage.
In 1970, the veteran minimum was increased again slightly to $13,000 along with dental insurance and furthermore allowing players to bargain compensation with franchises. The competition the AAFC and comparatively the AFL incited, helped raise player salaries potentially more than any of the strikes. For example, John Brodie, who was making $35,000 in the NFL, was offered $750,000 to play in the AFL.
Up until the consequences of the merger, it was nearly impossible for NFL players to support themselves on their game checks. Today, Packers' QB, Aaron Rodgers, could support 1,355 median income households with his contract.
Leaders and Legends
The National Football League has been littered with icons. No article or list would ever be able to do justice to the men who tirelessly mastered their craft to bring the NFL one (or several) step farther. Jerry Rice, the undisputed best WR of all time, holds a slew of near-impassable records and the fifth-best AV in NFL history.
Lawrence Taylor, Charles Woodson, Joe Greene, and Reggie White can find their legacies in the record books and on the field to this day. Before Gronkowski was named the greatest tight end of all time when he hung up his pads this offseason, there was Tony Gonzalez who still holds the career receiving yards record for a TE.
Can a conversation regarding NFL legends be had without the mentioning of Otto Graham, Fran Tarkenton, and Roger Staubach? Tom Brady solidified his sixth Super Bowl ring in a 19-year-career. Terry Bradshaw won four rings in 14 seasons. Three-time NFL MVP, Joe Montanna, paved the way for quarterbacks like Brady and Drew Brees who have the second and fourth-best AV of all-time respectively.
All-time AV Leaders. * Indicates they've played in the last 10 years

Peyton Manning (271) *
Tom Brady (269) *
Drew Brees (256) *
Brett Favre (255) *
Jerry Rice (250)
Frank Tarkenton (236)
Reggie White (226)
Bruce Smith (223)
Ray Lewis (221) *
Dan Marino (216)

— Lauren Phillips (@LaurenP_52) April 16, 2019
Beyond the men previously mentioned in this article, dozens after them would make this article remiss if their names were not to appear.
Leaderboard
Passing Yards: Drew Brees (74,437), Peyton Manning (71,940), Brett Favre (71,838), Tom Brady (70,514), Dan Marino (61,361)
Passing Touchdowns: Peyton Manning (539), Drew Brees (520), Tom Brady (517), Brett Favre (508), Dan Marino (420)
Rushing Yards: Emmitt Smith (18,355), Sean Payton (16,726), Barry Sanders (15,269), Frank Gore (14,748), Curtis Martin (14,101)
Rushing Touchdowns: Emmitt Smith (164), LaDainian Tomlinson (145), Marcus Allen (123), Walter Payton (110), Jim Brown & Adrian Peterson (106)
Receptions: Jerry Rice (1,549), Tony Gonzalez (1,325), Larry Fitzgerald (1,303), Jason Witten (1,152), Marvin Harrison (1,102)
Receiving Yards: Jerry Rice (22,895), Larry Fitzgerald (16,279), Terrell Owens (15,934), Randy Moss (15,929), Isaac Bruce (15,208)
Receiving Touchdowns: Jerry Rice (197), Randy Moss (156), Terrell Owens (153), Cris Carter (130), Marvin Harrison (128)
FG's Made: Adam Vinatieri (582), Morten Andersen (565), Gary Anderson (538), Jason Hanson (495), John Carney (478)
Interceptions: Paul Krause (81), Emlen Tunnel (79), Rod Woodson (71), Night Train Lane (68), Ken Riley & Charles Woodson (65)
Passes Defended: Champ Bailey (203), Ronde Barber (197), Terrence Newman & Charles Woodson (183), Johnathan Joseph (181)
Tackles: Jessie Toggle (1,640), Ray Lewis (1,562), Clay Matthews 1978-1996 (1,561), Junior Seau (1,522), Kyle Clifton (1,468)
Forced Fumbles: Robert Mathis (54), Julius Peppers (52), John Abraham (47), Dwight Freeney & Jason Taylor (46)
Sacks: Bruce Smith (200), Reggie White (198), Kevin Greene (160), Julius Peppers (159.5), Chris Doleman (150.5)
Don and the Three Bills
From Marv Levy to Joe Gibbs, Paul Brown to Tom Landry, these coaches have been the shoulders the greats have stood on. Tony Dungy, who is responsible for the birth of the "Tampa 2" defense, created a system where the middle linebacker can participate in pass coverage assisting the DBs.
Joe Gibbs, a student of Don Coryell, emphasized the offensive line. His theory of success starting at the line of scrimmage began to spread around the league. Decorated Hall of Fame coach, Tom Landry, had 20 consecutive winning seasons and sits in between Bill Belichick and Don Shula at second in HC playoff wins.
Don Shula Won 328 Regular Season Games in His Career and Retired at Age 65.

# of 16-0 Seasons Needed to Catch Shula – Age They Would Be…

Bill Belichick: 4.1- 70
Andy Reid: 8.3 – 69
Mike Tomlin: 12.6 – 59
Pete Carroll: 12.8 – 79
Sean Payton: 13.1 – 68#nfl100

— Lauren Phillips (@LaurenP_52) April 12, 2019
Bill Belichick passed Chuck Noll with his fifth Super Bowl victory and later passed George Halas and Vince Lombardi with his sixth in Super Bowl LIII. Prior to his time in New England, Belichick helped design one of the most dominant defenses in NFL history. With the New York Giants, Bill Parcells and Belichick used Lawrence Taylor as the nucleus of their record-breaking defense. Belichick is just one of the many impressive branches off of the Parcell coaching tree.
Bill Walsh (the first Bill) won three Super Bowls with the 49ers as head coach, utilizing the vertical offense. He also had the intuition to draft Joe Montanna in the third round of the 1979 NFL draft. He is a direct coaching descendant of Paul Brown who is the father of the face mask, opposing team scout, and draw play. From Walsh's coaching tree comes Andy Reid, John Harbaugh, John Gruden, Mike McCarthy, Mike Shanahan, Tony Dungy, and Mike Tomlin, just to name a few.
An Endeavour Turns into an Enterprise
Contracts and passing yards aren't the only things that have grown exponentially over the past 100 years. From a vague idea turned endeavor in a smoky showroom in Canton, Ohio came one of the highest grossing enterprises in the world.
The NFL has the highest average game attendance of any sports league in the world with 67,405 people on average attending any given game. The combined revenue of the top two grossing NBA teams (New York Knicks, Los Angeles Lakers) falls $26 million short of the NFL's top-grossing team, the Dallas Cowboys.
Fantasy football is a $7 billion annual industry, out-earning the NBA, Premier League soccer, the NHL and more. Even the price of chicken is effected by the 22-week NFL season due to the influx of chicken wings purchased.
Cost of 30-second Super Bowl Commercials Over Time

SB I: $42,000 ($301,805.21 today, adjusting for inflation)
SB X: $110,000
SB XX: $550,000
SB XXX: $1.085 million
SB XL: $2.5 million
SB 50: $5.01 million#NFL100

— Lauren Phillips (@LaurenP_52) April 10, 2019
The NFL's effect, however, goes far further than economics.
Over time, football's white leather stitching wove itself into the fabric of the American life. College football has become a cornerstone in the South's economic and social infrastructure, while a small town in Wisconsin has garnered international stardom. From traffic patterns, the topic of a sermon, to the biological clock that reminds you of game-time, football and the NFL have become part of the American identity and experience.
Through the World War to Vietnam, Desert Storm to the War on Terror, the NFL provided a morale boost. During the civil rights era when white American let fear and hatred breed violence, the NFL was a space where common interests met.
In recent days, people have questioned what greatness is, can we ever get back to it or have we ever actually achieved it at all. Contentious, hateful, and fearful times of old seem ever-present. As a young generation takes its seat at the political round table and an older generation struggles to interpret the ever-changing language of business and society. America's identity is changing once again.
Yet no matter how many times the Americana silhouette has changed over the past century, in her arms seems to be a football.
To 100 More
While I'm not sure how old this article's readers are, I believe it's safe to say neither you or I will be here to ring in the second Centenary (unless you're Jerry Jones). However, what I am confident of, is that the state of the league is strong and that over the next 100 years the NFL will become more just, more competitive, more exciting, and even more global.
A cento anni di salute e felicità
gān bēi
Na zdravi
À votre santé
Sláinte
Salud
Sei gesund
To 100 More Years. Cheers.
Photo Credit
Featured image courtesy of Yahoo! Sports (via NFL) and Robert Lane via Flickr
Stay informed, follow our NFL Department and Lauren Phillips on Twitter for upcoming stories and news!
Subscribe to get the latest news from TSJ at the TSJ 101 Sports TV YouTube channel!