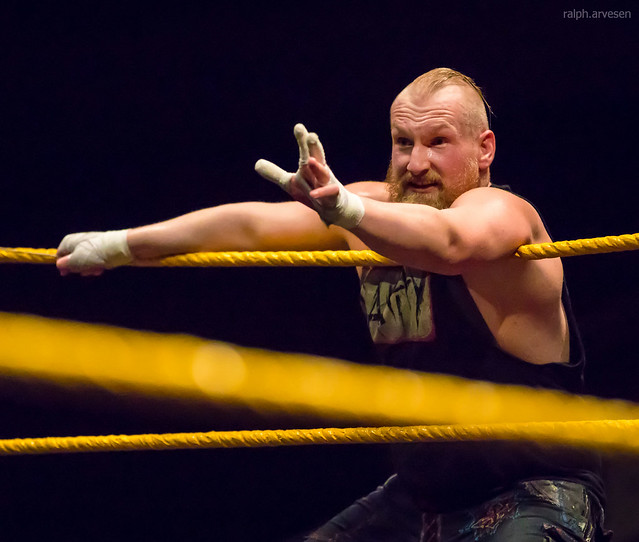 Alexander Wolfe
Alexander Wolfe, real name Axel Tischer, is a member of a fierce stable in NXT, the Sanity; said that he is quitting WWE. This past week, he gave a "goodbye" tweet on his official Twitter account. This is what he said:
"We (SAnitY) made our TV debut October 2016 for NXT at Full Sail University in Orlando,FL. We had a great time in NXT and we accomplished a lot: – NXT Tag Team Champions – NXT Tag Team of the year 2017 – 1st ever NXT/WWE WAR GAMES Match – performed in front of about 15k people at a sold out Takeover PPV – Growing together as athletes and performers The whole group is like a family to me. I made 3 good friends over the last 3 years and I am really grateful for that. It was without a doubt a great time. Thank you guys for everything!

Thank you to the entire SD locker room. Thank you for the good vibes, laughs and wisdom. I appreciate all of you and I wish you all the best for your future careers. Thank you to the fans who supported us and never stopped believing in us. I appreciate you as well and trust me I speak for all 4 of us.

It's time to leave this behind and walk a different path.

RIP SAnitY"

Ended with "Goodbye #WWE"
WWE broke up the SAnitY group during this week on Raw and Smackdown Superstar Shake-up! SAnitY leader Eric Young was drafted to RAW while Wolfe and Dain remain on SmackdownLive. But now it is unclear if Wolfe is following Luke Harper's footstep or is he going back to NXT or NXT UK. But new update suggested that he is still under WWE contract and not leaving yet but could be doing a different role.
Alexander Wolfe might head out to AEW or he is just teasing all the fans that he is leaving WWE and going to NXT UK; which is a whole different ball game. And he is still an active Superstar in WWE.com's roster.
For me, WWE creative dropping the ball on this awesome faction is so sad. At least Eric Young can be US champion and Wolfe and Dain taking the Tag Titles from New Day or The Usos. They can create a nice feud with them but they started the main roster as a joke stable; then disappeared and now broke up during shake-up. This stable has a great theme song and they can go as both Heel or Face team but the chairman thinks they are just another goofy looking team waiting to become jobbers.
I can bet Young will be nothing more than Raw's Jobber while Dain and Wolfe (if he stayed) will be jobbing to a team like Heavy Machinery. So I support Wolfe's decision and I hope Young and Wolfe followed him. But if he somehow decided to stay, I hope he teams up with Sami Zayn because they both look alike and have somewhat almost the same body structure and looks.
Do you think he is really leaving the WWE Universe for good? Leave a comment.
And follow us on Twitter:
Follow the writer:
Photo Credits to Ralph Arvesen via Flickr.com
//embedr.flickr.com/assets/client-code.js