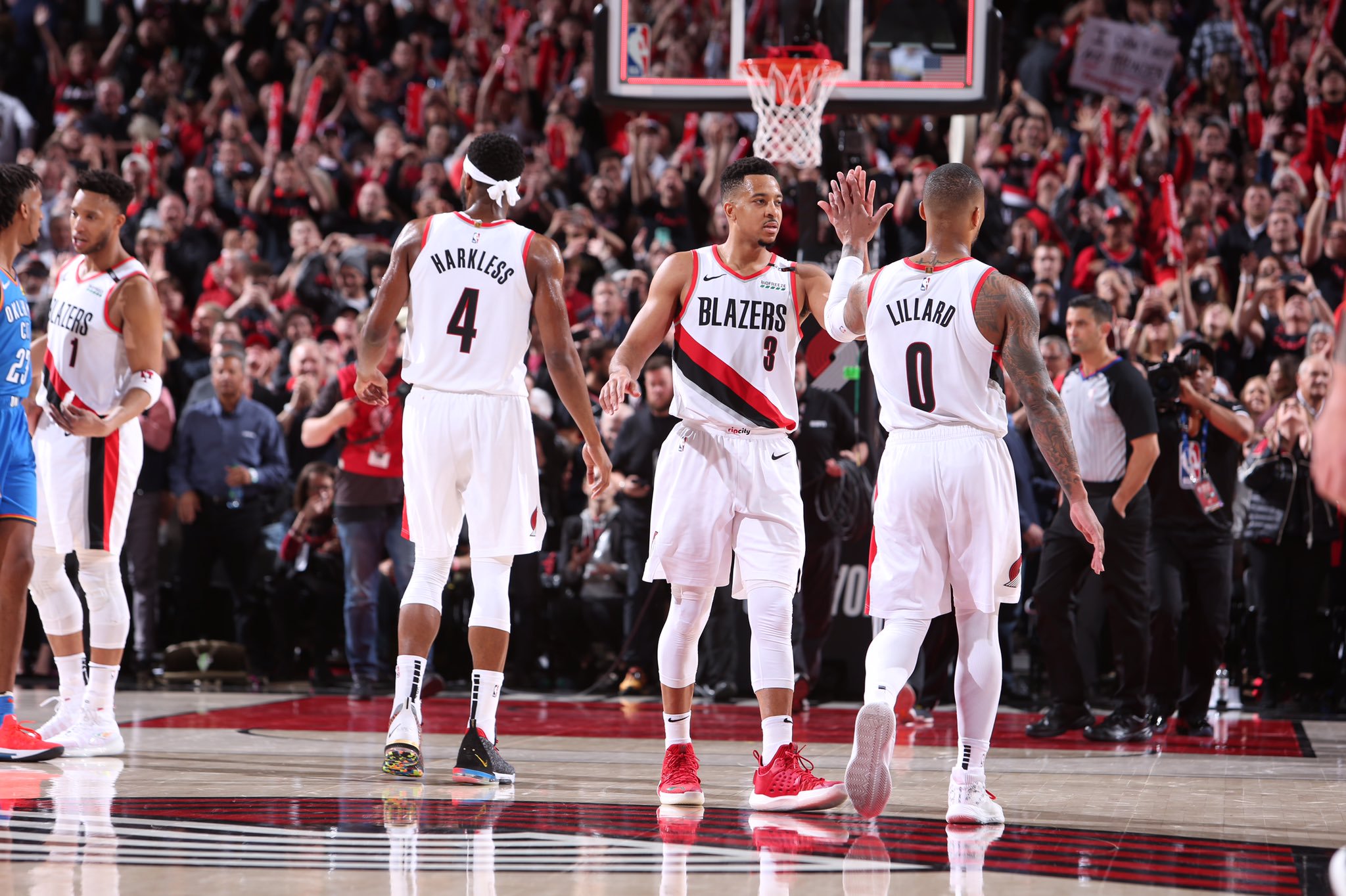 Best "Mid-Major Back-Court" in NBA History
Damian Lillard and CJ McCollum have come a long way in their basketball journey. These once lowly recruited high school prospects are putting their basketball talents on full display. Gone is the label of "mid-major" star looking to translate to the NBA — together they rank among the best back-courts the league has to offer.
Fans and pundits alike are infatuated with the phrase "best in NBA history." It's time we include Damian Lillard and CJ McCollum as part of this conversation. When all is said and done, they will go down as the best "mid-major" back-court in NBA history! How did two of the NBA's elite go from overlooked to a match made in heaven?
Dame D.O.L.L.A
LOYALTY. The first word to come to mind when thinking of Damian Lillard. The word has gone on to define his life both on and off the basketball court.
Growing up, Damian was a part of the Oakland Rebels AAU organization. They held fundraisers to raise money for everything from plane tickets to team shoes. Overall, it was a joint effort from both the parents and players in order for them to compete in tournaments. Even when the Oakland Soldiers came calling, Lillard stayed true to his roots and continued to lace up for the Rebels.
Luckily, for coach Randy Rahe, that same loyalty was on display when Damian made his college decision. After a breakout senior year, in which Lillard averaged over 20 points per contest, schools began to call. Yet and still, he stayed true to his original commitment.
Weber State's record books became Lillard's personal bio. He broke every school record possible. He took home Big Sky Player of the year honors twice and averaged 24.5 points per game in his final year. Portland made Damian Lillard the 6th overall pick in the 2012 NBA Draft.
CJ McCollum
McCollum had "the vision" before anyone else did. Standing 5'2″ as a freshman in High School was not going to deter CJ from his NBA dreams. A relentless worker, CJ would go on to average 29.3 points per game and finish as Glen Oak's all-time-leading scorer.
The Ohio Gatorade Player of the Year would take that same drive and passion with him to Lehigh University. He transformed his body from questionable D-1 athlete to NBA ready. As a result, McCollum was named Patriot League Player of the Year in both 2010 and 2012. The highlight of his Lehigh career was ousting Austin Rivers and the Duke Blue Devils from the 2012 NCAA Tournament.
Still, McCollum was set on an NBA future. CJ was drafted 10th overall by the Portland Trail Blazers in 2013. Averaging just 6.1 points and 0.8 assists his first two years, some outside the organization questioned whether or not he was the answer at shooting guard for Portland. Leaning on the same passion and drive that has fueled him since childhood, McCollum has seen his averages increase to 21.6 points and 3.6 assists per game these past four years!
The Secret Sauce
There are talented back-courts throughout the league. So what has allowed these two to form such a lethal combination? It can all be simplified with one word, "friendship." A genuine friendship, in which both men want what's best for one another.
Even before McCollum was drafted by Portland, he and Damian would exchange texts and talk. Meeting through a mutual friend the two quickly found they had a lot in common. Both went to a small school, broke their foot in college, and are extremely close to their mother's.
Now they spend their summers working out together in the Portland area, even taking family vacations when time permits. CJ's rookie year is when Dame told him: "Trust me. It's going to be me and you the next eight to twelve years." If we learned anything from Lillard's past, the word "trust" is what it's all about.
Numbers to Back it Up…
Lillard is averaging 25.8 points and 6.9 assists on the season while McCollum is putting up 21 points and 3.0 assists. They take turns destroying defenses with a pick your poison mentality. Both players are three level scorers and are comfortable scoring off the dribble or spotting up.
The playoffs were supposed to put the duo under the microscope. Instead, it's provided a launching pad! Through two games they are averaging a combined 58.0 points and 9.0 assists per game, while shooting a blistering 45% from the field! This success is coming against Russell Westbrook and Paul George, a star-studded pairing littered with NBA accolades such as a MVP trophy and multiple All-NBA selections, just to name a few.
With all the intricate story lines throughout the NBA Playoffs, Portland's back-court can be over shadowed. Nevertheless, this dynamic paring continues to reach new heights. If they will be able to deliver a championship to the 'City of Roses" remains to be seen. However, the best "mid-major" backcourt in NBA history calls Portland home!
Written by Joseph Osuna
Follow us on Twitter: @T101Sports @T101SportsNBA
Follow us on YouTube
Photo Credit
@CJMcCollum via Twitter