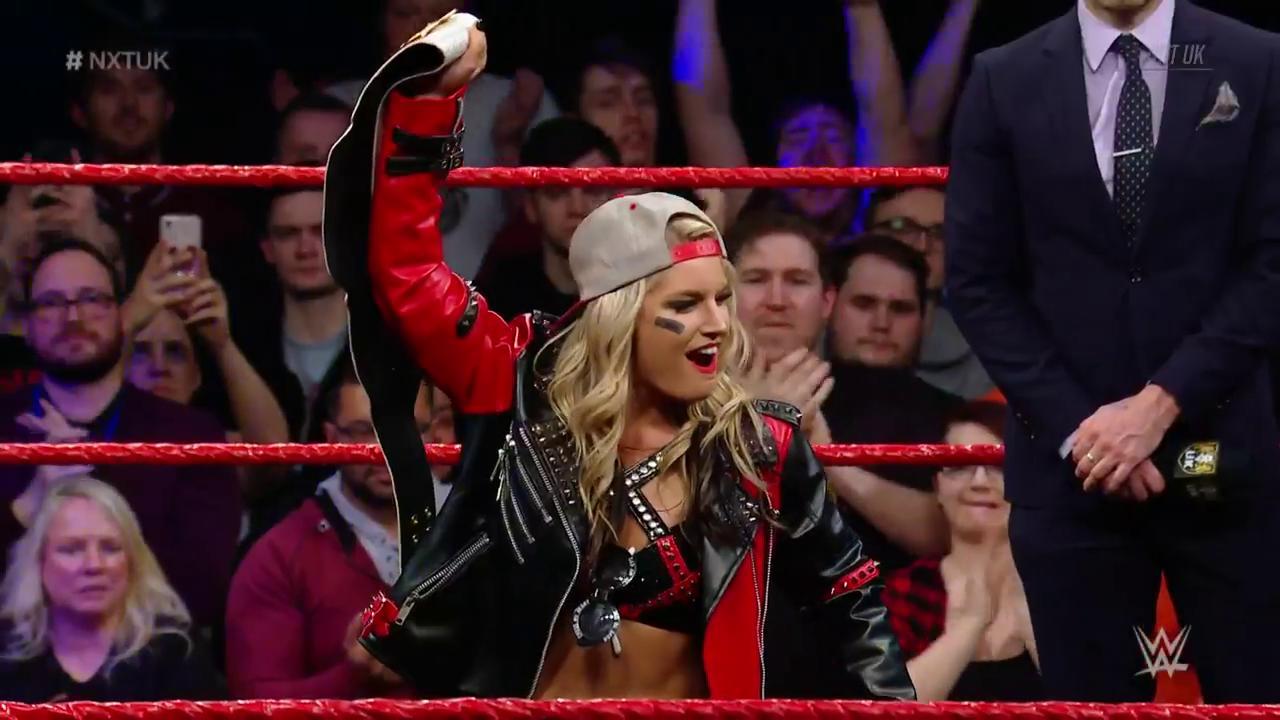 Every Current Champion in WWE Ranked from Worst to Best
The most coveted prize on each WWE brand is their championships. Every male singles competitor hopes to one day hold the WWE World Championship. As for the women, the still somewhat fresh WWE Women's Tag Team Championships are an alternate goal from either brand's traditional Women's Championships. Then there's NXT and NXT UK with their own sets of titles.
There are seventeen championships throughout World Wrestling Entertainment; That goes for every main roster show and both NXT brands. But, when comparing to each other, who is the best champion?
Disclaimer:
To sort this list out, I put the titles in order on how well they're being utilized. For example: the matches, who's the current champion and how they're being portrayed, how frequent we see them on their respective shows, and whether or not their champions look strong and make a believable champion.
17: NXT UK Tag Team Championships
Current Champions: Zack Gibson and James Drake
The NXT UK Tag Team Championships only made its debut earlier this year at NXT UK TakeOver: Blackpool. Now, to be honest, I don't keep up with NXT UK as much as I should, but I haven't heard anything about these guys since TakeOver: Blackpool. I wasn't sure if they were still champions until I checked the website.
Maybe another NXT UK TakeOver would do these titles some good and bring them some more exposure to the WWE Universe.
16: WWE United States Championship
Current Champion: Samoa Joe
This is a case of not who is the champion, but how they are being handled. The US Title scene started off hot again when R-Truth surprisingly defeated Shinsuke Nakamura. Then a pair of amazing Fatal Four-Ways followed and… a twenty second match at WrestleMania?
Joe's run should mean so much more, but it feels like it's not as great as we all expected. Joe is a great heel and can wrestle with the best, but him being champion doesn't feel as important as it did when he was NXT Champion.
15: RAW Tag Team Championships
Current Champions: Zack Ryder and Curt Hawkins
This entree has nothing to do with the people holding the belts and everything to do with how the titles are being treated. Think back for a moment: Who did AOP win the tag titles from? Who beat AOP? Do you remember AOP or them being the RAW Tag Champs? If you have to use Google to look up any of these answers, that's not entirely your fault.
Answers: The B-Team, Roode & Gable, and Paul Ellerings's sons.
It's also bad sign when the champions don't get a televised entrance every week.
14: SmackDown Tag Team Championships
Current Champions: Jeff and Matt Hardy
This one stings a little because it's the Hardy Boyz and everyone loves the Hardy Boyz (if you say you don't, you're a liar). The Usos and The New Day did their damnedest to keep the SmackDown tag division above water, but it felt worse than the RAW tag division at times.
Since The Usos are now on RAW, who are next to challenge Matt and Jeff? No, seriously. Besides Nakamura & Rusev, who's left? The New Day, maybe, but Kofi is WWE Champion now. There's not a lot of hope for the SDLive tag division moving forward.
13: NXT Women's Championship
Current Champion: Shayna Baszler
As I type this my closet door is slowly creaking open and I can only assume it's Shayna coming for me.
Shayna herself is a great Women's Champion. What's not great is her facing the same two people over and over again for said title. Kairi Sane is a great wrestler and Bianca Belair is a person, but why have the same match over and over again? Is Candice LeRae not good enough? Why not have Shayna defend against a PC wrestler and just destroy them? It may not be pretty or Davey Dave Boy five stars, but it'll be something different from the same old wrestling.
12: NXT UK Women's Championship
Current Champion: Toni Storm
The feel good win from NXT UK TakeOver: Blackpool is still fresh in my mind, so this one is mostly for me.
From the very little I've seen of NXT UK, it looks like their women's division is one of the best WWE has to offer. Former champ Rhea Ripley and Toni Storm had a great match during TakeOver: Blackpool. The momentum for the belt may have slowed down a little, but it seems to be picking back up with the recent arrival of Piper Niven.
11: NXT Tag Team Championships
Current Champions: War Raiders
Hanson and Rowe continue to show how great tag team wrestling can be on a near weekly basis. Their clash with Ricochet and Aleister Black this past WrestleMania weekend is definitely one of the best tag matches in recent memory.
NXT's tag division is probably the strongest out of all five brands and continues to shine every week.
10: WWE Cruiserweight Championship
Current Champion: Tony Nese
I'll always give credit where credit is due and the revamped Cruiserweight division deserves some serious accolades. When I say revamped I don't mean back in 2016, I mean from WrestleMania 34 and onward.
Cedric Alexander, Buddy Murphy, Drew Gulak, Tony Nese, Akira Tozawa and Brian Kendrick all give 205 Live a sense of legitimacy every time they step foot in a ring against each other.
Finally, the future looks bright for WWE's Cruiserweights.
9: WWE Intercontinental Championship
Current Champion: Finn Balor
The IC belt nearly died a miserable death when Bobby Lashley suddenly won it from Dean Ambrose last year. But, thankfully, Finn Balor stepped up and beat Lashley twice to win the gold on two separate occasions.
With Finn now on SmackDown Live, it looks like the Intercontinental Championship may finally get the love it deserves.
8: WWE Women's Tag Team Championships
Current Champions: The IIconics
BuT tHeY bEaT sAsHa And BaYlEy!
Yeah, and it was great. Is there a heel champion in WWE currently more hated than these two? It's great from an entertainment view, and it'll make their eventual title loss that much sweeter.
They're only the second ever WWE Women's Tag Champions in history, but it seems these belts are going a long way in the future.
7: WWE Championship
Current Champion: Kofi Kingston
Kofi's big win against Daniel Bryan was feel good for everyone watching and was a landmark match for WWE. That being said, it feels like his title isn't as important as the Universal Championship.
Maybe they're just waiting for after the Superstar Shake-Up to name Kofi's next challenger, but until then it feels like he's just there with no direction.
6: WWE United Kingdom Championship
Current Champion: WALTER
Enough said, really. WALTER is one of the best wrestlers in the world. His war with Pete Dunne is fantastic to watch back. Hopefully he continues to carry NXT UK into a bright and promising future.
5: WWE Universal Championship
Current Champion: Seth Rollins
Finally… The Universal Championship has come back… Home.
No more part-time champions alone bumps the "big red belt" into the top five. Seth Rollins is a hard working competitor and will surely bring out only the best matches possible during his run as champion on RAW.
4: NXT Championship
Current Champion: Johnny Gargano
The NXT Championship has a long lineage of great, and surprising, champions. The prestige of this title hasn't gone down at all since its unveiling in 2012. Now that Johnny Gargano is finally holding the gold, one can assume it's going to continue to be one of the most respected titles in WWE today.
3: NXT North American Championship
Current Champion: The Velveteen Dream
Ever since the title's inaugural match at NXT TakeOver: New Orleans, it seems the NXT North American Championship hasn't had a bad match. With Velveteen Dream as its holder, it seems like that streak will continue on. Dream's recent match with Buddy Murphy is looking to be one of the best NXT matches all year. His bout with Matt Riddle is starting to look like one of the best matches all year all across WWE.
For a title that's supposedly a mid-card belt, it's doing well for itself. Arguably better than its main event brother, in my opinion.
1 & 2: SmackDown and RAW Women's Championships
Current Dual Champion: Becky Lynch
Becky Two Belts won both Women's Titles in a Winner Take All Triple Threat at WrestleMania 35. Since then, and months prior, she's been one of the most talked about Superstars and has topped the merchandise sales chart.
A lot of people claim she is undeserving of being a double champion, but that couldn't be further from the truth. Becky, much like everyone else on this list, has worked hard for many years to be in the spot she's in now. Her being on both brands gives a sense of unpredictability of what will happen next. And with the combining of both belts, more attention is being brought to the women's division that didn't seem possible in years before.
Also, Becky's The Man.
Social Media
People get mad when I make jokes down here, so I had to stop…
Follow TSJ101Sports on Twitter: @T101Sports and @T101SportsWWE
Follow me, a terrible, evil person, on Twitter: @JordanPiekarski
Cover photo credit to Toni Storm and WWE via Twitter
All other photos are trademarked and used with the courtesy of the WWE via various Twitter accounts