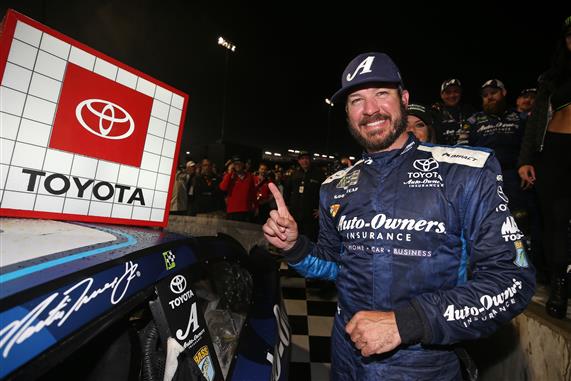 Martin Truex Jr Holds Off Late Charges for First Short Track win at Richmond
Rain gave way to a cool night in the Virginia capital, and prime conditions for a short track battle. After 400 laps in the Toyota Owners 400, it was a Toyota driver celebrating in Richmond's victory lane. Martin Truex Jr earned his first win of the year, also his first short track win. Truex's win puts 3 of the 4 Joe Gibbs Racing Toyotas in the Playoffs heading into the Easter off weekend.
Rough Start For Many Teams
The day did not start off on the right foot for many race teams on Saturday. A total of 8 teams would be sent to the rear for failing prerace inspection. Included in these teams were Jimmie Johnson, Chase Elliott, Aric Almirola, Denny Hamlin, Erik Jones, and Daniel Suarez. With Richmond being an impound race, teams had much less time to work on their cars, so there were many inspection issues.
Busch Breaks Through at the Start
Despite Kevin Harvick starting from the pole, he did not have the strongest car in the first run. The fastest man in the first Stage was Kyle Busch. For the first time since 2017, Busch did not start from the rear at Richmond. This comes after winning last week at Bristol, and trying to go for 3-straight Richmond wins. The 18 would be a thorn in the side of the competition for Stage 1, as Busch took a commanding Stage win. However, his night would get much more difficult from there.
Another Bad Showing for Larson Costs Busch
When Stage 2 began on lap 112, Kyle Larson made contact entering turn 3 with Daniel Hemric. This contact would cut the 42's left rear tire. Just a few laps later, the 42 went spinning hard into the turn 1 wall. Kyle Larson's day was done, and the other Kyle would suffer a setback here. While pitting under this yellow, Busch endured a speeding penalty. This infraction sent Busch from the lead back to 26th, with nearly 300 laps left to regain lost ground. The 18's penalty was not a total loss for Joe Gibbs Racing, as the 19 of Martin Truex Jr inherited the lead.
Late Lead Change in Stage 2
After Busch's penalty, the 19 of Truex appeared to be the next-strongest car while leading the way. At times, Truex's lead in Stage 2 was more than a second. However once Truex caught the tail of the field, that allowed Joey Logano to close in. With just 5 laps left in Stage 2, the 22 of Logano passed Truex for the top spot. Logano would take the stage win followed by Truex, while much further back Busch was mired in 15th.
Logano looked as strong as Busch or Truex out front, as he controlled the race for over 50 laps. The 22 only lost the lead to Truex in the pits on lap 246, under what would be the final caution. When racing resumed, Truex once again looked unbeatable, as he was chasing his first short track win.
Brad Keselowski Battles Forward
Truex's main challenger to start off the final stage would be Brad Keselowski. The 2 Mustang would catch the 19 with about 150 laps remaining, and took the top spot on lap 266. At this time, Brad appeared to have the race well in hand. But lapped traffic allowed Truex to pass the 2 again on lap 293. Truex only gave up the top spot to Keselowski when he made his final pit stop. After Truex was in for service, the race was on between him and 2nd place Clint Bowyer.
With 77 laps to go, Truex exited pit road and had a 2 second advantage over Bowyer. However, the faster 14 car and lapped traffic would make that lead evaporate. At one point, Bowyer was quicker by 3 tenths per lap. In the closing laps, Bowyer got alongside Truex but could never complete the pass. This allowed 3rd place Joey Logano to join the fray, as it was a 3-way fight for the win.
Closing Laps Short Track Battle Between Rivals
With just 4 laps remaining Logano passed Bowyer for 2nd, and set his sights on the 19 just ahead of him. What may become Truex's first short track win was entirely dependent on how hard Logano would race him. Recall last fall's Playoff race at Martinsville where these 2 drivers raced for the win, when Logano nudged Truex out of the groove in the final turns. Logano was right on Truex's rear bumper for the last 2 laps, but did not race the 19 as hard as he did at Martinsville. With the third-best of the top 3 cars, Martin Truex Jr would hold on to win at Richmond. This would be the first short track win of Truex Jr's career.
The top 10 finishers from Richmond's Toyota Owners 400 were Truex, Logano, Bowyer, Kevin Harvick, Denny Hamlin, Austin Dillon, Brad Keselowski, Kyle Busch, Ryan Newman, and Paul Menard. With his 8th place finish, Busch extends his streak of top 10s to 9-for-9 in 2019.
Significance of the First Short Track Win for Truex
As team owner Joe Gibbs said post race, Truex "hit the trifecta," with the Richmond win. It was his first short track win, career win number 20, and his first win for JGR. Winning at Richmond in particular was especially noteworthy for Truex, as he had led the most laps in 4 of the last 5 races here.
"Well, it feels awesome," said Truex. "Honestly, to finally get that first win not only on a short track but here at Richmond, at a track where we've been so strong the last couple seasons and led so many laps and had some real, real heartbreakers, some that were really tough, some really tough losses. Sometimes those things are — they're hard to get through, but they make you stronger and make you appreciate the good days. Today we didn't have the best car, and it worked out the way we needed it to thanks to a great team and a pit crew."
How to Watch the Next Race
After 9 straight weeks of racing, the first off weekend of the year is here to honor the Easter holiday. On April 28, the Monster Energy NASCAR Cup Series is back in action for the Geico 500 at Taladega Superspeedway. Coverage begins at 2 PM EST on Fox, MRN, and SiriusXM NASCAR Radio Channel 90. The spring race at Talladega has recently been one of the most chaotic and unpredictable events of the year, so don't miss a lap of excitement!
Be sure to follow the writer  @PeterStratta, and @T101_NASCAR.