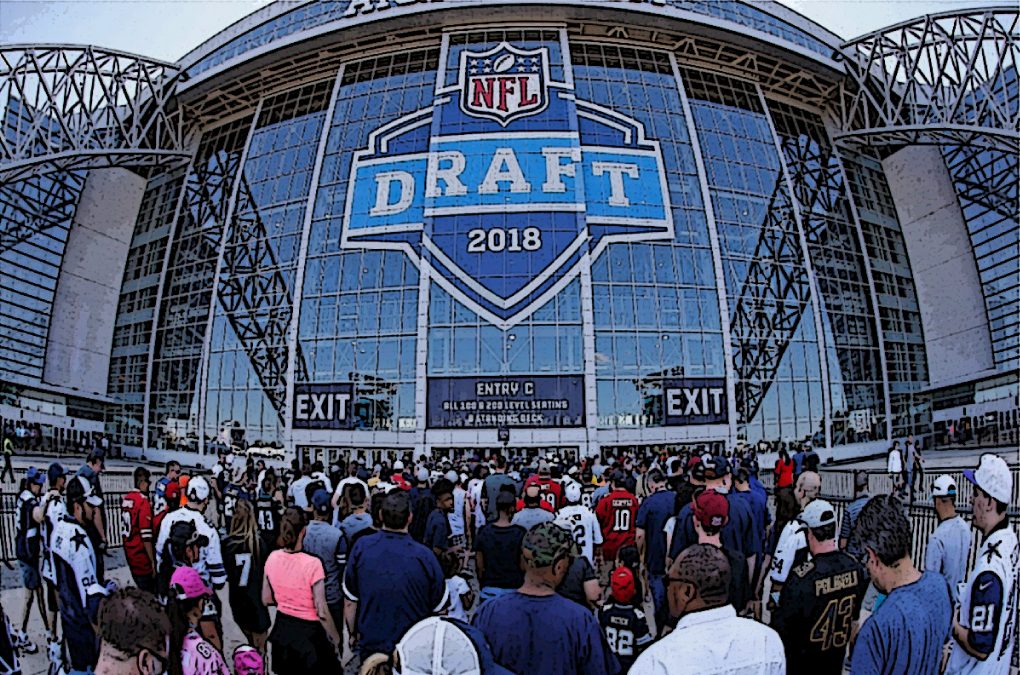 Looking Back: Re-Grading the 2018 NFL Draft
The 2018 NFL Draft class was one of the most quarterback-heavy classes in recent memory. Five QBs were selected in the first round, alone. Baker Mayfield, Saquon Barkley, Sam Darnold, and Josh Rosen were the main headlines after the draft — and for good reason. Mayfield was a surprising pick to many and Barkley is one of the best RB prospects ever, while Darnold was touted the savior of the Jets and Rosen claimed that everyone taken before him was a mistake.
The draft, however, is made up of 7 rounds and many gems are found in the mid-to-late rounds. As the 2019 draft is only weeks away, it's time to look back at the 2018 NFL Draft and see how each team did.
Arizona Cardinals
Grade: D-
1 (10 overall) Josh Rosen, QB, UCLA
2 (47) Christian Kirk, WR, Texas A&M
3 (97) Mason Cole, C, Michigan
4 (134) Chase Edmonds, RB, Fordham
6 (182) Chris Campbell, CB, Penn State
7 (254) Korey Cunningham, OT, Cincinnati
The Cardinals, by many accounts, looked to have had a very strong draft on paper after the draft concluded. The Cardinals got a steal on many people's #1 QB in the class at pick 10, a sure-fire franchise QB. In hindsight, however, the Cardinals had perhaps the weakest draft class in the NFL. Rosen is almost assuredly on the outs with the club, with Kyler Murray seemingly destined to be Kliff Kingbury's choice to lead this franchise.
Christian Kirk was average, at best, as a #2 receiver behind Larry Fitzgerald — perhaps due to poor QB play, but was the only truly productive player from the class and a building piece for the future. The other players drafted saw minimal to no play and don't project to be active contributors down the line.
Atlanta Falcons
Grade: B
1 (26) Calvin Ridley, WR, Alabama
2 (58) Isaiah Oliver, CB, Colorado
3 (90) Deadrin Senat, DT, South Florida
4 (126) Ito Smith, RB, Southern Miss
6 (194) Russell Gage, WR, LSU
6 (200) Foye Oluokun, S, Yale
The Falcons had a surprisingly good draft, considering both where they were drafting and their selections of low value positions. Ridley proved that he is more than a deep-threat speed receiver, as he emerged as a true touchdown threat next to Julio Jones. Will Ridley ever become a #1 receiver? It is truly hard to imagine, as he did not showcase the elite production with Julio Jones next to him. However, Ridley is an incredibly effective #2 and slot receiver who is already one of the best at that role. Oliver can be a key player for the Falcons in the near future, as his role expands opposite Desmond Trufant, and was a great value pick so late in the second round. Even Ito Smith contributed to the success of the offense, constantly finding the end zone in the back end of the season.
Baltimore Ravens
Grade: B+
1 (25) Hayden Hurst, TE, South Carolina
1 (32) Lamar Jackson, QB, Louisville
3 (83) Orlando Brown Jr., OT, Oklahoma
3 (86) Mark Andrews, TE, Oklahoma
4 (118) Anthony Averett, CB, Alabama
4 (122) Kenny Young, LB, UCLA.
4 (132) Jaleel Scott, WR, New Mexico State
5 (162) Jordan Lasley, WR, UCLA
6 (190) DeShon Elliott, S, Texas
6 (212) Greg Senat, OT, Wagner
6 (215) Bradley Bozeman, C, Alabama
7 (238) Zach Sieler, DE, Ferris State
Ozzie Newsome's final draft for the Ravens was a franchise-changing draft. The Ravens secured two very impressive young tight ends who have the ability to be two of the best in the NFL. Not to mention, they secured the future of the QB position with Lamar Jackson, who was electric in his first season. Orlando Brown is a starting quality offensive tackle who can secure the right tackle position for the future. All around, a solid draft for a playoff team and potential Super Bowl-caliber roster.
Buffalo Bills
Grade: B
1 (7) Josh Allen, QB, Wyoming
1 (16) Tremaine Edmunds, LB, Virginia Tech
3 (96) Harrison Phillips, DL, Stanford
4 (121) Taron Johnson, CB, Weber State
5 (154) Siran Neal, S, Jacksonville State
5 (166) Wyatt Teller, OG, Virginia Tech
6 (187) Ray-Ray McCloud, WR, Clemson
7 (255) Austin Proehl, WR, North Carolina
The Bills had a very top-heavy draft, but the two players they selected in the first round last year carry this class to a B grade. Josh Allen was meant to be a project quarterback who wouldn't see play time for at least a few seasons. However, he became the starter earlier than expected after exceptionally poor performances from Nathan Peterman.
Allen was far and away the best player on the Bills offense last season. He needs to improve his accuracy a great deal, but his dynamic running ability and his arm strength are huge positives that could see Allen as potential top QB in the future. Edmunds was an impact starter for an elite defense in Buffalo and will continue to grow as a top-tier linebacker.
Carolina Panthers
Grade: D+
1 (24) DJ Moore, WR, Maryland
2 (55) Donte Jackson, CB, LSU
3 (85) Rashaan Gaulden, DB, Tennessee
4 (101) Ian Thomas, TE, Indiana
4 (136) Marquis Haynes, DE, Mississippi
5 (161) Jermaine Carter, LB, Maryland
7 (234) Andre Smith, LB, North Carolina
7 (242) Kendrick Norton, DT, Miami
The Panthers did not add a lot of top talent in this draft. DJ Moore was not nearly as effective as many had expected and hoped he would be. Perhaps the ailing right arm of Cam Newton was to blame for his lack of production, but personally I feel he just isn't a great receiver. Ian Thomas made a big impact, working his way into the lineup and being a blanket and touchdown threat for the offense. In total, the Panthers added depth rather than impact talent, leading to a poor overall grade for the class.
Chicago Bears
Grade: B+
1 (8) Roquan Smith, LB, Georgia
2 (39) James Daniels, C, Iowa
2 (51) Anthony Miller, WR, Memphis
4 (115) Joel Iyiegbuniwe, LB, Western Kentucky
5 (145) Bilal Nichols, DT, Delaware
6 (181) Kylie Fitts, DE, Utah
7 (224) Javon Wims, WR, Georgia
The Bears selected my favorite player in the entire draft in Roquan Smith, who really helped to transform the defense into one of the best in the NFL. Obviously the most impactful player the Bears added that made them into a playoff contender was Khalil Mack, but this draft turned out to add enough pieces to solidify any holes on the team.
Smith was an elite linebacker for the Bears and will be a stalwart in the center of the defense for many years to come. Anthony Miller was a great compliment to Allen Robinson in the receiving corps and James Daniels can be the future of the center position for the Bears. All around a strong draft for the Bears.
Cincinnati Bengals
Grade: F
1 (21) Billy Price, C, Ohio State
2 (54) Jessie Bates III, DB, Wake Forest
3 (77) Sam Hubbard, DE, Ohio State
3 (78) Malik Jefferson, LB, Texas
4 (112) Mark Walton, RB, Miami
5 (151) Davontae Harris, CB, Illinois State
5 (158) Andrew Brown, DT, Virginia
5 (170) Darius Phillips, CB, Western Michigan
7 (249) Logan Woodside, QB, Toledo
7 (252) Rod Taylor, G, Mississippi
7 (253) Auden Tate, WR, Florida State
Billy Price was injured for a majority of the season, but even still the Bengals had the worst offensive line in the NFL. The Bengals are still filled with holes across the team and are easily one of the bottom 5 teams in the NFL right now. Sam Hubbard couldn't find a role as an every down player, while Malik Jefferson couldn't work his way into the weakest linebacking corps in the NFL.
Jessie Bates could be a good player on this team, but overall the Bengals had one of the worst draft classes in the league last season.
Cleveland Browns
Grade: A+
1 (1) Baker Mayfield, QB, Oklahoma
1 (4) Denzel Ward, CB, Ohio State
2 (33) Austin Corbett, OG, Nevada
2 (35) Nick Chubb, RB, Georgia
3 (67) Chad Thomas, DE, Miami
4 (105) Antonio Callaway, WR, Florida
5 (150) Genard Avery, LB, Memphis State
6 (175) Damion Ratley, WR, Texas A&M
6 (188) Simeon Thomas, CB, Louisiana-Lafayette
If I could give the Browns a higher grade than A+, I would. This will go down in history as one of, if not the best draft class of all time for any team, but especially the Cleveland Browns. John Dorsey showed his talent evaluation skills in full force by drafting a franchise QB, and all-time rookie passing touchdown leader, a Pro Bowl cornerback, a near 1,000 yard rusher, and several key depth players in one draft.
Baker Mayfield rejuvenated a city by himself, Denzel Ward has already established himself as a lockdown cornerback, Austin Corbett looks to fill the hole Kevin Zeitler is leaving next season, Antonio Callaway lead the team in receiving touchdowns, and Genard Avery became an effective pass rusher and sub-linebacker. In all, the Browns have re-awoken the sleeping giant that Dorsey promised through this stellar draft class.
Dallas Cowboys
Grade: A-
1 (19) Leighton Vander Esch, LB, Boise State
2 (50) Connor Williams, OG, Texas
3 (81) Michael Gallup, WR, Colorado State
4 (116) Dorance Armstrong, DE, Kansas
4 (137) Dalton Schultz, TE, Stanford
5 (171) Mike White, QB, Western Kentucky
6 (193) Chris Covington, LB, Indiana
6 (208) Cedrick Wilson, WR, Boise State
7 (236) Bo Scarbrough, RB, Alabama
The Cowboys took a gamble on selecting Leighton Vander Esch at pick 19 to a largely booing crowd in Dallas. Vander Esch turned out to be one of the better players in the entire NFL. Vander Esch has developed quickly into an elite linebacker and arguably top 10 at his position.
Connor Williams was a fantastic pick late in the second round, as he can become a starter on the offensive line. Michael Gallup is a talented receiver with potential to contribute more to a still needy receiving corps. The Cowboys' draft was nowhere near the talent level from the Ezekiel Elliot and Dak Prescott draft, but strong nonetheless.
Denver Broncos
Grade: A
1 (5) Bradley Chubb, DE, NC State
2 (40) Courtland Sutton, WR, SMU
3 (71) Royce Freeman, RB, Oregon
3 (99) Isaac Yiadom, CB, Boston College
4 (106) Josey Jewell, LB, Iowa
4 (113) DeaSean Hamilton, WR, Penn State
5 (156) Troy Fumagalli, TE, Wisconsin
6 (183) Sam Jones, OL, Arizona State
6 (217) Keishawn Bierria, LB, Washington
7 (226) David Williams, RB, Arkansas
The Broncos received four starters from this draft, which, by all accounts, is a fantastic draft class. Bradley Chubb was easily the most impressive pass rusher from this draft class. He carved out a starting role on the Broncos defensive line and looks to be a force for many years.
Courtland Sutton will have a much larger role in the offense without Demaryius Thomas around anymore. Josey Jewell was a quality starter at linebacker and DaeSean Hamilton became a trustworthy target for Case Keenum.
Detroit Lions
Grade: B
1 (20) Frank Ragnow, C, Arkansas
2 (43) Kerryon Johnson, RB, Auburn
3 (82) Tracy Walker, S, Louisiana-Lafayette
4 (114) Da'Shawn Hand, DE, Alabama
5 (153) Tyrell Crosby, G, Oregon
7 (237) Nick Bawden, RB, San Diego State
Frank Ragnow was a very surprising pick not only to me, but to many others around the NFL. He was a solid starter for Lions, but the Lions are still in-need of plenty of talent throughout the roster. Kerryon Johnson is clearly the starter in Detroit and became the first 100-yard rusher in a game for the Lions in many years last season.
Johnson is the best player the Lions acquired in this draft in terms of visible production, but this was a good building block draft for a franchise that is entering year two with Matt Patricia as head coach.
Green Bay Packers
Grade: A-
1 (18) Jaire Alexander, CB, Louisville
2 (45) Josh Jackson, CB, Iowa
3 (88) Oren Burks, LB, Vanderbilt
4 (133) J'Mon Moore, WR, Missouri
5 (138) Cole Madison, OG, Washington State
5 (172) JK Scott, P, Alabama
5 (174) Marquez Valdes-Scantling, WR, South Florida
6 (207) Equanimeous St. Brown, WR, Notre Dame
7 (232) James Looney, DE, California
7 (239) Hunter Bradley, Long Snapper, Mississippi State
7 (248) Kendall Donnerson, DE, Southeast Missouri State
The Packers had an impressive draft throughout the early and late rounds. Alexander and Jackson were two highly-touted cornerbacks coming into the draft and the Packers landed both. They both showed great progress and figure to be cornerstones on the defense in coming seasons. Valdes-Scantling and St. Brown were both solid contributors last season and will gain bigger roles in the offense after an offseason working with Aaron Rodgers, as well as the departure of Randall Cobb.
The Packers are all-in this season and these players from last year's draft provide them with depth and talent in some of the most important places on the team.
Houston Texans
Grade: A
3 (68) Justin Reid, S, Stanford
3 (80) Martinas Rankin, C, Mississippi State
3 (98) Jordan Akins, TE, UCF
4 (103) Keke Coutee, WR, Texas Tech
6 (177) Duke Ejiofor, DE, Wake Forest
6 (211) Jordan Thomas, TE, Mississippi State
6 (214) Peter Kalambayl, DE, Stanford
7 (222) Jermaine Kelly, DB, San Jose State
The Texans didn't have a draft pick until the 3rd round, but they sure made the best of their picks. Justin Reid is a starting quality safety in the NFL and should fill the hole that Tyrann Mathieu is leaving. Keke Coutee was a surprise at how quickly he got onto the field and how much he actually produced.
He was able to slot in as a #3 option for Deshaun Watson and was even effective at returning kicks. The Texans made the best with what they had and look to continue to grow into a perennial Super Bowl contender.
Indianapolis Colts
Grade: A+
1 (6) Quenton Nelson, OG, Notre Dame
2 (36) Darius Leonard, LB, SC State
2 (37) Braden Smith, OG, Auburn
2 (52) Kemoko Turay, DE, Rutgers
2 (64) Tyquan Lewis, DE, Ohio State
4 (104) Nyheim Hines, RB, N.C. State
5 (159) Daurice Fountain, WR, Northern Iowa
5 (169) Jordan Wilkins, RB, Mississippi
6 (185) Deon Cain, WR, Clemson
7 (221) Matthew Adams, LB, Houston
7 (235) Zaire Franklin, LB, Syracuse
An absolute home run for the Colts in terms of impact talent acquired in this draft. Quenton Nelson was as good as he was expected to be at the guard position. Nelson was immediately an elite blocker and elevated the entire line into one of the best in the NFL.
Darius Leonard was the Defensive Rookie of the Year and one of the best linebackers in the league. Nyheim Hines carved out a role as a backup running back and Deon Cain can be a starting receiver for the Colts in the near future. All around one of the best draft classes in 2018.
Jacksonville Jaguars
Grade: D+
1 (29) Taven Bryan, DT, Florida
2 (61) D.J. Chark, WR, LSU
3 (93) Ronnie Harrison, S, Alabama
4 (129) Will Richardson, OT, NC State
6 (203) Tanner Lee, QB, Nebraska
7 (230) Leon Jacobs, DE, Wisconsin
7 (247) Logan Cooke, P, Mississippi State
The Jaguars really had no holes going into the draft and looked to improve depth in order to gear up for a Super Bowl run. It turned out that the 2017 season was an anomaly in terms of success on the field, and this draft class helped very little in returning to form. Taven Bryan barely saw the field, though will look to gain more playing time as many players along the defensive line have left Jacksonville this offseason.
D.J. Chark could not establish himself as a starter last season even despite the lack of production the rest of the receiving group had. Ronnie Harrison could be a bright spot if he is able to take over at safety, but besides that, the draft was very poor from the Jaguars.
Kansas City Chiefs
Grade: C-
2 (46) Breeland Speaks, DL, Mississippi
3 (75) Derrick Nnadl, DT, Florida State
3 (100) Dorian O'Daniel, LB, Clemson
4 (124) Armani Watts, S, Texas A&M
6 (196) Tremon Smith, CB, Central Arkansas
6 (198) Reginald McKenzie, OG, Tennessee
The Chiefs traded their first round pick in order to move up to grab Patrick Mahomes in the previous draft, which they are not regretting in the slightest. While not grabbing any flashy names in the 2018 NFL Draft, Breeland Speaks was a quality rotation player on one of the best teams in the league.
Kansas City is in a great spot, as the draft gave them needed depth and the upcoming draft will be used to fill any holes left by outgoing players from this offseason.
Los Angeles Chargers
Grade: B+
1 (17) Derwin James, S, Florida State
2 (48) Uchenna Nwosu, LB, Southern Cal
3 (84) Justin Jones, DT, NC State
4 (119) Kyzir White, S, West Virginia
5 (155) Scott Quessenberry, C, UCLA
6 (191) Dylan Cantrell, WR, Texas Tech
7 (251) Justin Jackson, RB, Northwestern
Derwin James single-handedly makes this draft class a good one. He is a game-changing, ball-hawking safety that really took over the secondary for the Chargers. The Chargers are easily one of the most talented teams in the NFL, so most rookies wouldn't be able to find a starting role on the team. James, however, did just that.
Also, the Chargers have had a reputation of putting anyone at running back and they will have success. Justin Jackson was no exception. When Melvin Gordon went down with injury, Jackson was a great change-of-pace back that found success in the Charger offense.
Los Angeles Rams
Grade: D
3 (89) Joseph Noteboom, OT, TCU
4 (111) Brian Allen, C, Michigan State
4 (135) John Franklin-Myers, DE, Stephen F. Austin
5 (147) Micah Kiser, LB, Virginia
5 (160) Ogbonnia Okoronkwa, DE, Oklahoma
6 (176) John Kelly, RB, Tennessee
6 (192) Jamil Demby, OT, Maine
6 (195) Sebastian Joseph, DT, Rutgers
6 (205) Trevon Young, DE, Louisville
7 (231) Travin Howard, LB, TCU
7 (244) Justin Lawler, DE, SMU
The Rams have really focused on improving the team via trades and free agency signings rather than the draft in recent seasons and it shows in the lack of impact talent acquired through this draft. None of these players really made an impact on the team and many of them are practice squad guys with no real future in the NFL.
Noteboom can be a replacement for Andrew Whitworth in the near future, but besides that none of these players look to become starters any time soon.
Miami Dolphins
Grade: B-
1 (11) Minkah Fitzpatrick, S, Alabama
2 (42) Mike Gesicki, TE, Penn State
3 (73) Jerome Baker, LB, Ohio State
4 (123) Durham Smythe, TE, Notre Dame
4 (131) Kalen Ballage, RB, Arizona State
6 (209) Cornell Armstrong, CB, Southern Miss
7 (227) Quentin Poling, LB, Ohio
7 (229) Jason Sanders, K, New Mexico
Minkah Fitzpatrick really under-performed in terms of what was expected and where he was drafted. He is, however, a building block for a team undergoing a full rebuild. Mike Gesicki was average at best and really didn't show off the elite athleticism that he did at Penn State.
Jerome Baker was far and away the best player in terms of production on the field, as he established himself as the starting middle linebacker for the Dolphins and looks to improve on a good rookie year. In total, the Dolphins got two good pieces to build the defense around, but are most likely tanking this upcoming season to grab a quarterback.
Minnesota Vikings
Grade: C
1 (30) Mike Hughes, CB, UCF
2 (62) Brian O'Neill, OT, Rittsburgh
4 (102) Jaylin Holmes, DE, Ohio State
5 (157) Tyler Conklin, TE, Central Michigan
5 (167) Daniel Carlson, K, Auburn
6 (213) Colby Gossett, OG, Appalachian State
6 (218) Ade Aruna, DE, Tulane
7 (225) Devante Downs, LB, California
Mike Hughes was a surprising contributor in his first season in Minnesota. He was projected as a project-type player who needed time developing before becoming a starter, but was immediately able to produce in the secondary. He outperformed Trae Waynes before suffering an ACL tear, cutting his season short.
The rest of the draft class was underwhelming and the only real starter that came from the class was Daniel Carlson, who was cut a few weeks into the season.
New England Patriots
Grade: B-
1 (23) Isaiah Wynn, OG, Georgia
1 (31) Sony Michel, RB, Georgia
2 (56) Duke Dawson, CB, Florida
5 (143) Ja'Whaun Bentley, LB, Purdue
6 (178) Christian Sam, LB, Arizona State
6 (210) Braxton Berrios, WR, Miami
7 (219) Danny Etling, QB, LSU
7 (243) Keion Crossen, DB, Western Carolina
7 (250) Ryan Izzo, TE, Flroida State
The Patriots had a good draft despite not picking up much high quality talent late in the draft. Isaiah Wynn was unable to contribute because he was injured before the season began, but will likely become a starter with Trent Brown having signed on in Oakland.
Sony Michel was one of the better rookie running backs in the league, but was unable to stay healthy throughout the season. Michel is a real weapon for the Patriots when healthy, but in all, this was a relatively average draft for the Patriots.
New Orleans Saints
Grade: C
1 (14) Marcus Davenport, DE, UTSA
3 (91) Tre'Quan Smith, WR, UCF
4 (127) Rick Leonard, OT, Florida State
5 (164) Natrell Jamerson, S, Wisconsin
6 (189) Kamrin Moore, CB, Boston College
6 (201) Boston Scott, RB, Louisiana Tech
7 (245) Will Clapp, OG, LSU
The Saints gave up a lot of picks to move up and acquire Marcus Davenport, who was good but not great as a rookie. Davenport showed signs of being a top-tier edge rusher, but needs time to develop. Tre'Quan Smith is a nice player as well, but will likely be best remembered as the guy who caught Drew Brees's 500th touchdown and not much more.
This draft really rests on Davenport's shoulders as the only guy who can make this draft look better than it was.
New York Giants
Grade: B+
1 (2) Saquon Barkley, RB, Penn State
2 (34) Will Hernandez, OG, UTEP
3 (66) Lorenzo Carter, LB, Georgia
3 (69) B.J. Hill, DT, NC State
4 (108) Kyle Lauletta, QB, Richmond
5 (139) RJ McIntosh, DT, Miami
Personally, I did not believe Barkley was the right pick at #2 overall with the glaring need at QB and Sam Darnold sitting there. Barkley is without a doubt a fantastic player and a franchise cornerstone, and although Darnold struggled in his rookie season, the Giants would have been wiser in drafting a QB.
Especially looking at what the Giants did in free agency, shipping Odell Beckham to Cleveland, its sad to see Barkley trapped in New York with Eli and a horrible offensive line. Hernandez, Carter, and Hill were all quality players, but none had a huge impact in turning around a bad season.
New York Jets
Grade: B
1 (3) Sam Darnold, QB, USC
3 (72) Nathan Shepherd, DT, Fort Hays State
4 (107) Chris Herndon, TE, Miami
6 (179) Parry Nickerson, CB, Tulane
6 (180) Foley Fatukasi, DT, UConn
6 (204) Trenton Cannon, RB, Virginia State
The New York Jets got their franchise quarterback and look to be the best team in New York. That's not something that has happened in many years. Darnold is not a perfect player; he struggled with turnovers, health, and consistency.
Regardless, Darnold was the right pick at #3 and with the tools put around him heading into year two there should be noticeable growth and development. The rest of the draft was average, but Darnold is the main piece acquired in this draft for the Jets.
Oakland Raiders
Grade: C-
1 (15) Kolton Miller, OT, UCLA
2 (57) P.J. Hall, DT, Sam Houston State
3 (65) Brandon Parker, OT, NC A&T
3 (87) Arden Key, DE, LSU
4 (110) Nick Nelson, CB, Wisconsin
5 (140) Maurice Hurst, DT, Michigan
5 (173) Johnny Townsend, P, Florida
6 (216) Azeem Victor, LB, Washington
7 (228) Marcell Ateman, WR, Oklahoma State
An all around average draft for the Oakland Raiders. Kolton Miller was greatly over drafted and was overwhelmed in the NFL. Arden Key could not generate even close to the pass rush that was needed. Maurice Hurst may not be able to play at all because of his heart condition. The Raiders had a horrid first season with Jon Gruden taking over as head coach and this draft class was a significant reason why the team did so poorly. Hopefully, with three first round picks in the 2019 draft class, Gruden can turn around the Raiders.
Philadelphia Eagles
Grade: A-
2 (49) Dallas Goedert, TE, South Dakota State
4 (125) Avonte Maddox, DB, Pittsburgh
4 (130) Josh Sweat, DL, Florida State
6 (206) Matt Pryor, OT, TCU
7 (233) Jordan Mailata, OT, no college
The Eagles were coming off of a Super Bowl championship and really had no holes on the team. While only making five selections in the draft, the Eagles grabbed some promising young players. Goedert was a good pick for #2 tight end behind Zach Ertz and Josh Sweat has potential to be a starter in the NFL. The Eagles are loaded and will be contenders next season.
Pittsburgh Steelers
Grade: D+
1 (28) Terrell Edmunds, S, Virginia Tech
2 (60) James Washington, WR, Oklahoma State
3 (76) Mason Rudolph, QB, Oklahoma State
3 (92) Chukwuma Okorafor, OT, Western Michigan
5 (148) Marcus Allen, S, Penn State
5 (165) Jaylen Samuels, TE, NC State
7 (246) Joshua Frazier, DT, Alabama
Terrell Edmunds was vastly over drafted by the Steelers and was a true shock to draft viewers last season. Washington looked promising as a #3 receiver, but could not stay healthy. Rudolph and Okorafor never got opportunities to play and Rudolph was not even the backup in Pittsburgh. In total, a weaker draft class for the Steelers with no real impact players anywhere in sight.
San Francisco 49ers
Grade: A
1 (9) Mike McGlinchey, OT, Notre Dame
2 (44) Dante Pettis, WR, Washington
3 (70) Fred Warner, LB, BYU
3 (95) Tavarius Moore, S, Southern Miss
4 (128) Kentavius Street, DE, NC State
5 (142) D.J. Reed, CB, Kansas State
6 (184) Marcell Harris, S, Florida
7 (223) Jullian Taylor, DT, Temple
7 (240) Richie James, WR, Middle Tennessee
Mike McGlinchey was overshadowed by his former teammate Quenton Nelson, but that's not to say McGlinchey wasn't a good rookie. McGlinchey is a quality starting tackle and has the skills to be an elite lineman. Dante Pettis is a developmental receiver who could become a top receiver for the 49ers in the future.
The 49ers gained a lot from this draft class, but really need to stay healthy in order to compete for a playoff spot.
Seattle Seahawks
Grade: D+
1 (27) Rashaad Penny, RB, San Diego State
3 (79) Rasheem Green, DL, Southern Cal
4 (120) Will Dissly, TE, Washington
5 (141) Shaquem Griffin, LB, UCF
5 (146) Tre Flowers, S, Oklahoma State
5 (149) Michael Dickson, P, Texas
5 (168) Jamarco Jones, OT, Ohio State
6 (186) Jake Martin, DE, Temple
7 (220) Alex McGough, QB, FIU
It is too early to call, but by all accounts, Rashaad Penny is looking like a bust. Taken over Sony Michel and Nick Chubb, Penny was unable to even start for the Seahawks. He was out-played by Chris Carson and it doesn't look like he will beat him out anytime soon if Carson plays as well as he did last season.
The Seahawks did find two gems in the 5th round, with Shaquem Griffin and Tre Flowers both emerging as starters. This draft class really hinges on Penny, however, and because of the swing-and-miss, the grade has to be low.
Tampa Bay Buccaneers
Grade: C+
1 (12) Vita Vea, DT, Washington
2 (38) Ronald Jones II, RB, USC
2 (53) M.J. Stewart, CB, North Carolina
2 (63) Carlton Davis, CB, Auburn
3 (94) Alex Cappa, OG, Humboldt State
4 (117) Jordan Whitehead, S, Pittsburgh
5 (144) Justin Watson, WR, Pennsylvania
6 (202) Jack Cichy, LB, Wisconsin
The Tampa Bay Buccaneers were a disappointing team in 2018-2019 and the draft class was just as disappointing. Vita Vea is a promising young player, but was not as impactful as a rookie as was expected. Ronald Jones was a massive disappointment and not only couldn't become a starter, but was very inefficient when he did carry the ball.
The rest of the class did not see much play. Vea is a potentially good player, but needs a lot of work to become an elite defensive tackle.
Tennessee Titans
Grade: B
1 (22) Rashaan Evans, LB, Alabama
2 (41) Harold Landry, LB, Boston College
5 (152) Dane Crulkshank, S, Arizona
6 (199) Luke Falk, QB, Washington State
A small draft class, but one in which the Titans grabbed two impact linebackers late in the first two rounds. Evans and Landry can be great linebackers in the NFL, specifically as pass rushers. Unfortunately, the other two draft picks don't project as real NFL-caliber players and will most likely spend their time on practice squads.
Washington Redskins
Grade: B
1 (13) Da'Ron Payne, DT, Alabama
2 (59) Derrius Guice, RB, LSU
3 (74) Geron Christian, OT, Louisville
4 (109) Troy Apke, S, Penn State
5 (163) Tim Settle, DT, Virginia Tech
6 (197) Shaun Dion Hamilton, LB, Alabama
7 (241) Greg Stroman, CB, Virginia Tech
7 (256) Trey Quinn, WR, SMU
Da'Ron Payne was a great pick for Washington, as he's shaped up as a solid defensive tackle. Washington's defense was better than expected and Payne was an important piece to that. Guice didn't get the opportunity to play as he tore his ACL before the season began, but will be able to play this season as a change-of-pace back and future replacement to Adrian Peterson.
The rest of the class is average, but Mr. Irrelevant Trey Quinn could become a slot receiver in the league, akin to Cole Beasley.
Photo Credit
Featured image courtesy of BipHoo Company via Flickr
Stay informed, follow TSJ and our NFL Department on Twitter for upcoming stories and news!
Subscribe to get the latest news from TSJ at the TSJ 101 Sports TV YouTube channel!