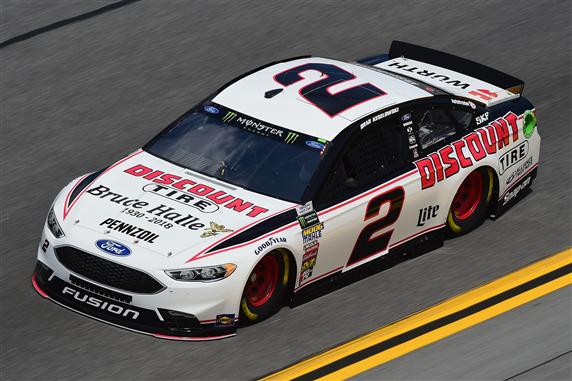 Brad Keselowski Eyes 3rd Victory of 2019 at Richmond
This weekend the Monster Energy NASCAR Cup Series rolls into Richmond Raceway for the first night race of 2019. Saturday night racing under the lights is something that always manages to get the fans excited no matter the venue. However, that excitement only doubles when that Saturday night racing under the lights takes place at a short track. On these Saturday night showdowns, the sport's most exciting drivers always manage to put on a show. Out of all the drivers in the sport, one of the most exciting is the driver of the 2 Penske Mustang-Brad Keselowski. With the race on Saturday night sure to be exciting, Keselowski will surely be one of the drivers to watch.
The Action Track is a place of feast or famine for Keselowski
Throughout his career, Brad Keselowski has made a total of 19 starts at Richmond Raceway. In those 19 starts it has been feast or famine for the driver of the 2 Ford Mustang. In those starts, Keselowski has scored 4 top 5 finishes, 1 of which was a win. His win which took place in the fall of 2014 when he led 383 of the 400 laps. While in his 19 races at the track have produced 4 top 10s he has also finished outside of the top 30 on three occasions. So for every great result at the three quarter mile track, there seems to be one equally as bad.
So far this weekend has not been good nor bad for Keselowski. While he hasn't shown great speed yet, he still managed to qualify 12th for tonight's race. At the very least, he will have good track position to start with for tonight. Of course this benefits the 2, because while the Penske cars haven't exactly been quick in practice on a weekly basis this year, they have shown great race pace on a weekly basis. With that being the case, fans should expect the 2 Mustang to have a strong showing in tonight's race and possibly tally his 3rd win of 2019.
Be sure to follow along for tonight's Richmond action at @T101_NASCAR, @PeterStratta, and @Noah_Lewis1.