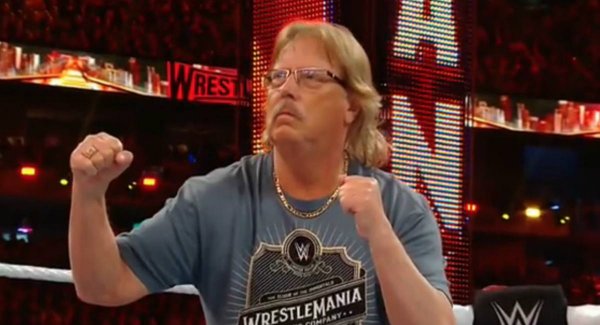 WrestleMania 35 Final Results and Grades
Well, this took some time to think over. The "showcase of the immortals", "the granddaddy of them all", "the biggest party of the… April!" WrestleMania 35 is officially in the rear view mirror. We have some feel good moments, tearful goodbyes, shocking returns, and Sasha screwing up the Frog Splash.
Without further adieu, I bring to you the final grades for WrestleMania 35.
(Pre-Show) WWE Cruiserweight Championship: Tony Nese def. Buddy Murphy to win the championship
Final Grade: B-
Holy moley, did I not see this coming. Tony Nese cleanly defeats Buddy Murphy for the Cruiserweight Championship.
Great match to kick off the eight hour show. Both men show off their unique athletic skill and further prove why the Cruiserweights should be on the main card.
Nese wins with the Running K-Nese to win and become the new champion.
(Pre-Show) Women's WrestleMania Battle Royal: Carmella prevails
Final Grade: C-
It felt like a let down to see Carmella win. She's a former SmackDown Women's Champion and it didn't feel like she needs this big win. The runner-up, Sarah Logan, absolutely should've pulled off the upset and walked away with the trophy.
Not even Lacey Evans showed up to strut down the ramp. The whole match just feels like it's missing excitement.
(Pre-Show) RAW Tag Team Championships: Hawkins & Ryder def. The Revival to win the championships
WTF Moment of the Night: Curt Hawkins breaks his losing streak by winning the RAW Tag Titles
Final Grade: B
Hawkins and Ryder are on top where they belong and that's all that matters!
(Pre-Show) Andre The Giant Memorial Battle Royal: Braun Strowman prevails
Final Grade: C+
Much like its sister, this match feels like it's missing something big. There was no big return or major celebrity involvement (the SNL guys do not count).
Braun lastly eliminates Colin Jost to win the match after Colin nearly wins it himself.
WWE Universal Championship: Seth Rollins def. Brock Lesnar to win the championship
Final Grade: B+
Finally, the title has come back… home!
Brock attacks Seth before the bell, but not even that can prevent him from taking a trip to D*ck Punch City, b*tch. Three Curbstomps and Seth walks away with the big red belt.
AJ Styles def. Randy Orton
Final Grade: C+
Other than half the audience going blind, this match is alright. Nothing special, which is unfortunate since this match has all the hype in the world following it.
AJ wins with the Phenomenal Forearm.
SmackDown Tag Team Championships Fatal Four-Way: The Usos def. Ricochet & Aleister Black, The Bar and Rusev & Nakamura to retain
Final Grade: B-
Very good tag team action here throughout the match. Each man, with their own styles of wrestling, bring different moments of excitement to the match.
In the end, with possibly the wrong twin going for the pin, The Usos retain their tag team gold.
Falls Count Anywhere: Shane McMahon def. The Miz
Final Grade: A-
Shane rolls on top of Miz after Miz Suplexes him off the production set. George Mizanin better get a WWE contract now.
WWE Women's Tag Team Championships Fatal Four-Way: The IIconics def. The Boss N' Hug Connection, Nia Jax & Tamina and The Divas of Doom to win the championships
Final Grade: A-
Simply amazing tag team wrestling by each woman. Billie Kay sneaks in a tag on Beth Phoenix and steals the pin from her after Beth hits a top rope Glam Slam.
Simply fantastic match and congratulations to The IIconics on winning the titles.
WWE Championship: Kofi Kingston def. Daniel Bryan to win the championship
Moment of the Night: Kofi pins Daniel after hitting Trouble in Paradise to win his first WWE Championship
Final Grade: A+
Storytelling, ring skill, drama, everything is on point here. Kofi, finally, after eleven years, becomes the WWE Champion. It's a feel good moment for wrestling fans everywhere and it's a WrestleMania moment that will never be forgotten.
United States Championship: Samoa Joe def. Rey Mysterio via submission to retain
Final Grade: D-
Roman Reigns def. Drew McIntyre
Final Grade: C
Good feeling seeing Roman pick up his first major singles match since Spearing Leukemia from the top of a ladder. Solid ring work, but nothing much else to it.
No Holds Barred: Triple H def. Batista
Final Grade: A-
Holy sh*t, why did Triple H use a pliers to pull out Batista's nose ring? Then a bigger set of pliers to break his fingers?
The match ends with a sledgehammer assisted Superman Punch and one more Pedigree to secure The Game's in-ring career.
Kurt Angle's Farewell Match: Baron Corbin def. Kurt Angle
Final Grade: C+
Thank you, Kurt.
Intercontinental Championship: Demon Finn Balor def. Bobby Lashley to win the championship
Final Grade: C+
I mean, sure, break out the body paint if you want to annihilate your opponent.
Match ends with Coup De Grace and Balor regains the IC title.
Winner Take All for the SmackDown and RAW Women's Championships: Becky Lynch def. Ronda Rousey and Charlotte Flair to win both titles
Match of the Night
Final Grade: A
For the first time ever, the women main event WrestleMania. Did it live up to the hype? Yes, yes it did.
Apart from the odd finish and Ronda nearly dying midway through, this match is one of the best 'Mania main events in WWE history.
Ronda takes her first professional wrestling loss after being pinned to the mat by Becky. Though it was a strange end, this match definitely lives up to all the hype and sets a new high for women's wrestling in WWE.
Overall Final Grade for WrestleMania 35: B
NXT TakeOver may have won again this time, but that does not mean WrestleMania wasn't fantastic. If I graded the John Cena segment, then this show would've blown TakeOver out of the water. I only do the matches, however.
Social Media
Be sure to tweet Ashley Sweetly about Kevin Owens. He's her favorite wrestler in the whole world…
Follow TSJ101Sports on Twitter: @T101Sports and @T101SportsWWE
Follow me, the writer, on Twitter: @JordanPiekarski
Photo credit to The Collector via Twitter