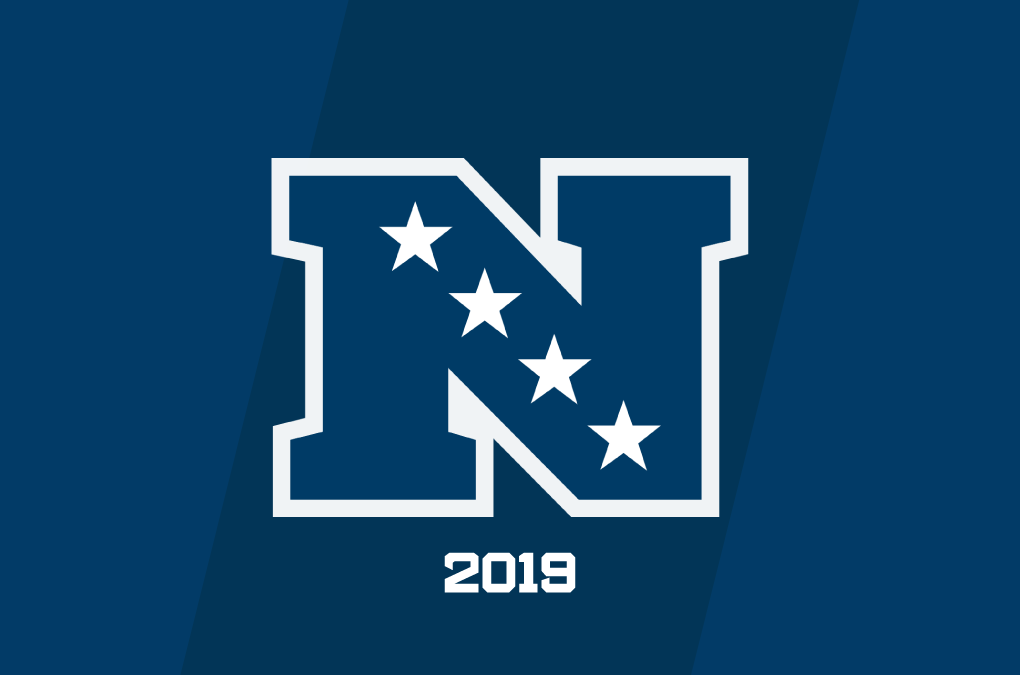 A Pre-Draft Offseason Update on the NFC Divisions
See the AFC version here.
NFC East
2018 Final Standings: Dallas Cowboys, Philadelphia Eagles, Washington, New York Giants
The Dallas Cowboys are intent not let their 2018 lead slip. The club and defensive end, DeMarcus Lawrence, agreed to a five-year, $105 million deal. Prior to locking down one of the better DEs in the NFL, Dallas secured an additional wide receiver for Dak Prescott. Dallas signed former Green Bay Packer, Randall Cobb to replace their longtime slot receiver, Cole Beasley.
Washington suffered another blow last season when their quarterback, Alex Smith, went down with a potentially career-ending injury. In attempts to make up for lost ground, they secured QB, Case Keenum, in a trade. They also re-signed running back, Adrian Peterson, who finished the season with 1,042 rushing yards, averaging 4.2 yards per attempt, his longest run going for 90 yards. At 33, he's performing on par with his better seasons.
Fiscally, Washington's biggest signing was safety, Landon Collins. The two parties agreed to a six-year, $84 million contract. This follows a four-year stint by Collins with the Giants where he intercepted eight passes and defended 32.
The Eagles' 2018 season was a historic low for a reigning Super Bowl champion. After a series of injuries to their receiving core and backfield, Philadelphia reloaded this offseason. The team brought back DeSean Jackson who had been with the team from 2008-2013. Last season in Tampa Bay, Jackson averaged 18.9 yards per reception. Philadelphia signed another former Eagle, Vinny Curry. Curry was an important part of the Eagles' front seven rotation from 2014-2017.
The Eagles averaged the third-least rushing yards per attempt and the fifth-least rushing yards per game in 2018. The acquisition of RB, Jordan Howard, should strengthen their ground attack to balance their passing game.
In a bazar move, the Giants signed WR, Golden Tate, to a four-year, $37.5 million contract with $22.95 million guaranteed. This deal comes right after they traded away Odell Beckham Jr. to the Oakland Raiders.
Overall Grade: B-
NFC North
2018 Final Standings: Chicago Bears, Minnesota Vikings, Green Bay Packers, Detroit Lions
Chicago signed safety, Ha Ha Clinton-Dix, to a one-year contract. The Bears' defense allowed the fewest rushing yards in the 2018 season. However, their secondary wasn't as dominant. Clinton-Dix will try and prove this season he can be a longterm addition to Chicago's league-leading defense.
The Bears will need to make up for the absence of Adrian Amos, who the Packers signed this offseason. Amos last season in Chicago intercepted two passes and defended nine. He also accounted for 73 combined tackles. Green Bay gave Amos a four-year, $36 million contract.
Minnesota re-signed their star linebacker, Anthony Barr. Barr has made four consecutive Pro Bowl appearances starting in 2015. The Vikings also signed OL, Josh Kline, to a three-year deal. Kline had previously been with both New England and Tennessee.
Since March 11th, the Lions have signed 13 free agents to date. They have by far been the most active front office in the NFC North this offseason. Some of their acquisitions include WR, Danny Amendola, and RB, C.J. Anderson. Amendola has a career average of 9.7 yards per reception and has never averaged a catch percentage lower than 62%.
Anderson, on the other hand, has been in the NFL for six seasons but only completed three with 15 or more regular season games. In those seasons, he's rushed for 849, 720, and 1,007 rushing yards respectively.
Overall Grade: A-
NFC South
2018 Final Standings: New Orleans Saints, Atlanta Falcons, Carolina Panthers, Tampa Bay Buccaneers
After losing a controversial NFC Championship game, the Saints were prepared to return the following season. Their tight end in the 2018 season, Ben Watson, failed to meet expectations (400 receiving yards, two touchdowns). New Orleans signed TE, Jared Cook, to a two-year, $15 million contract. Last season, Cook had 68 receptions, 896 receiving yards, and six touchdowns while averaging 13.2 yards per reception.
New Orleans also signed RB, Latavius Murray to pick up the slack left behind by Mark Ingram. Throughout his five-year career, Murray has never averaged less than 3.9 yards per carry.
Saints projected skill group depth chart:
QB: Drew Brees, Teddy Bridgewater
RB: Alvin Kamara, Latavius Murray
WR: Michael Thomas, Ted Ginn, Jr., Tre'Quan Smith, Keith Kirkwood, Cameron Meredith, Austin Carr
TE: Jared Cook, Josh Hill

— Field Yates (@FieldYates) March 21, 2019
Ahead of free agency, Tampa Bay was one of eight teams who hired a new head coach for the 2019 season. Bruce Arians was hired as their new HC, and straight away he had his sights set on re-signing RB, Peyton Barber. Arians stated, "I love him. When you watch him on tape, you don't see his 230 [pounds]. You would think he's a 205-pound running back because he's got great feet. When we're building something, that's the kind I like to build around." Barber signed a two-year, $2 million contract with Tampa Bay.
The Bucs also added two linebackers in Shaquil Barrett and Deone Bucannon. Last season they combined for four sacks, 66 combined tackles, one defended pass, and one forced fumble.
The Atlanta Falcons have been one of the quieter teams this offseason. The moves they did make were centered around their QB, Matt Ryan. Atlanta signed two offensive linemen: James Carpenter and Jamon Brown. Both of their contracts totaling $39.75 million. The Falcons also added TE, Luke Stocker who had his best season last year. That career-high season, however, only culminated in 165 receiving yards and two touchdowns.
The only front office to make the Falcons' look busy is Carolina's. The Panthers have officially signed just three players since the market's opening day: Matt Paradis, Bruce Irvin, and Cameron Artis-Payne. It was reported that Carolina would re-sign OT, Daryl Williams. However, the biggest addition to their team thus far comes is Matt Paradis.
The Panthers took a significant loss in Devin Funchess. While he received little league recognition, he was a fundamental part of Carolina's offense. Funchess was the first and third leading receiver for the Panthers in 2017 and 2018 respectively.
Overall Grade: B
NFC West
2018 Final Standings: Los Angeles Rams, Seattle Seahawks, San Fransico 49ers, Arizona Cardinals
The Los Angeles Rams signed one of the more buzzworthy transactions this offseason when they put Blake Bortles under contract. Bortles finished the 2018 season with a 44.1 QBR and will serve as Jared Goff's backup QB. In more important news, LA signed free agent, Clay Matthews to a two-year, $9.25 million deal. The longtime Packers' linebacker is a six-time Pro Bowler and has recorded 83.5 sacks over his ten-year career.
Joining Matthews is a fellow free agent, Eric Weddle who is also a six-time Pro Bowler and veteran of the league. As a defensive back, Weddle has suited up for the Chargers (2007-2015) and Ravens (2016-2018).
With the first overall pick in the 2019 NFL draft, Arizona's focus has been less on free agency. However, their front office has closed on several instrumental players, along with bringing in a new head coach. Two of their most important signings came at the linebacker position.
Arizona will be the new home of both Jordan Hicks and Terrell Suggs. At 36-years-old, Suggs has had a decorated defensive career. Hicks, like Suggs, has one Super Bowl ring and performed well throughout his rookie contract with Philadelphia.
Ray Lewis: 1,562 Solo Tackles – 41.5 Sacks – 19/20 Forced/Recoverd Fumbles – 31 Int – 3 TDs

Ed Reed: 531 Solo Tackles – 6 Sacks – 11/13 Forced/Recovered Fumbles – 64 Int – 7 TDs

Terrell Suggs: 601 Solo Tackles – 132.5 Sacks – 33/14 Forced/Recovered Fumbles – 7 Int – 2 TDs

— Lauren Phillips (@LaurenP_52) April 8, 2019
The Seahawks' front office is going sleepless in Seattle as Russell Wilson's deadline grows closer. Wilson reportedly gave Seattle a deadline of April 15th back in January to offer him a contract extension. Wilson's current contract (four-year, $87.6 million) has a potential out this offseason. The contract negotiations between the Seahawks and their QB could turn into the biggest offseason story in 2019.
Seattle has worked to re-sign other Seahawks such as D.J. Fluker and K.J. Wright. Wright has played 112 games as a Seahawk giving them two interceptions and 744 combined tackles along with 11.5 sacks, ten forced fumbles, and seven recovered fumbles.
Reporters circulated throughout the close of the 2018 season that one or both of the begrudging Steelers could be wearing 49ers uniforms in 2019. However, neither Antonio Brown or Le'Veon Bell ended up in San Fransico. Instead, the 49ers signed RB, Tevin Coleman, and WR, Jordan Matthews.
Comparative to Brown and Bell this is a significant downgrade from the original expectations. However, Coleman had an impressive 2018 season rushing for 800 yards off 167 attempts (4.8 Y/A) and four touchdowns; that is 800 more yards than Bell rushed for in 2018.
Overall Grade: C
Photo Credit
Featured image courtesy of Corkythehornetfan via Wikimedia Commons
Stay informed, follow our NFL Department and Lauren on Twitter for upcoming stories and news!
Subscribe to get the latest news from TSJ at the TSJ 101 Sports TV YouTube channel!