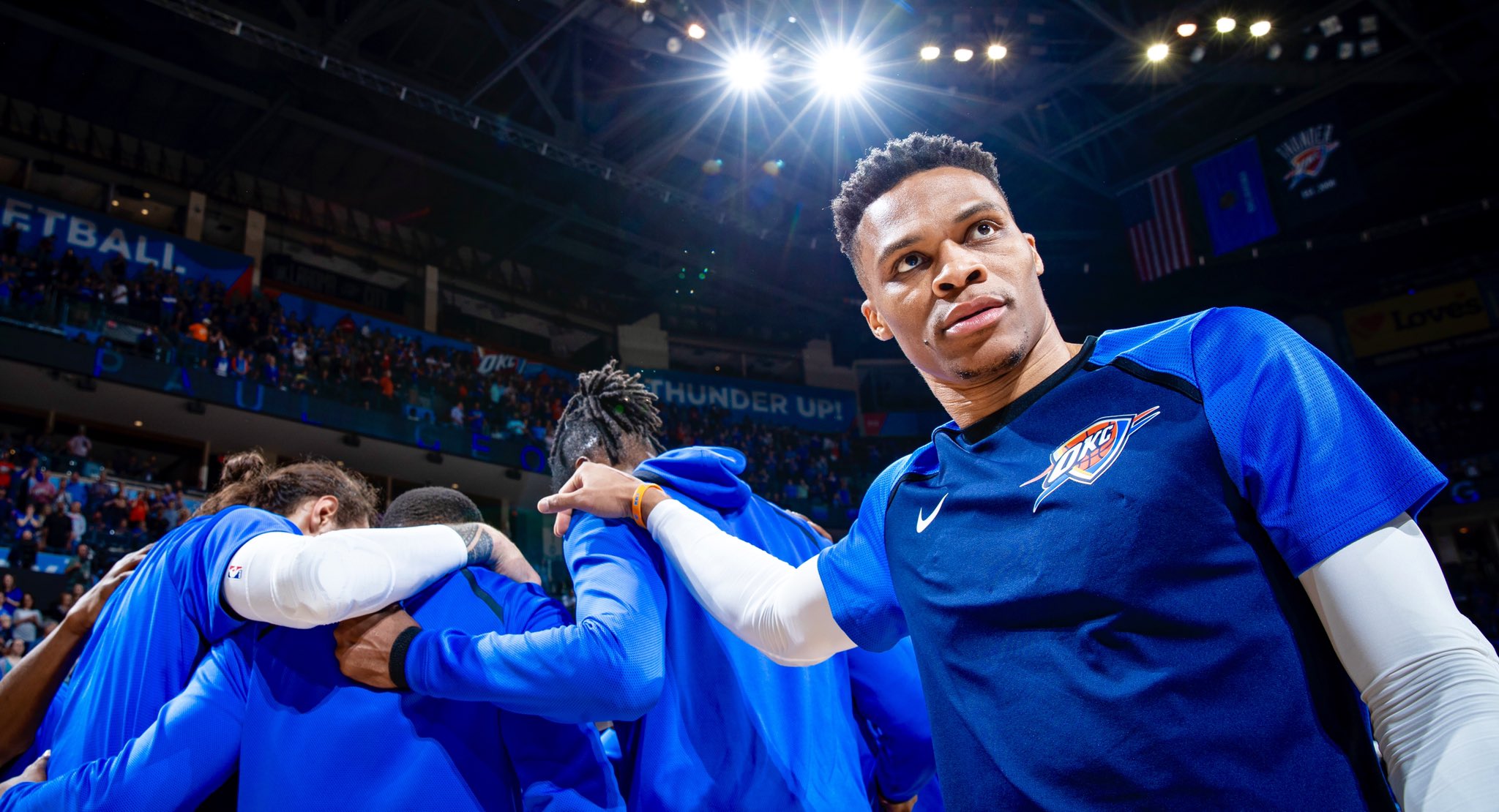 NBA Playoff Preview: Thunder vs. Trail Blazers
NBA Match-Up: #6 Thunder (49-33) vs #3 Trail Blazers (53-29)
The full schedule:
Game 1: 
Sunday, April 14th, 12:30 Pacific, ABC
Game 2:
Tuesday, April 16th, 7:30 Pacific, TNT
Game 3: 
Friday, April 19th, 6:30 Pacific, ESPN
Game 4: 
Sunday, April 21st, 6:30 Pacific, TNT
Game 5: 
Tuesday, April 23rd, TBA
Game 6:
Thursday, April 25th, TBA
Game 7:
Saturday, April 27th, TBA, TNT
Trail Blazers have home court advantage, playing at home in games 1, 2, 5, and 7.
"There's something there"
It seems as if the league and its fans are DESPERATE for a rivalry. In other words, a slight shoving match between players or words being exchanged in between timeouts. Next thing you know, it's the lead NBA story the following morning. In reality, it makes perfect sense. The extra passion and aggression exerted are mixed with an already competitive atmosphere. However, these so-called rivalries are often more media and fan-driven rather than player and team.
Luckily, the feud between Portland and Oklahoma City is a tale of teams in which there is no love lost. In their January showdown, Russell Westbrook and Damian Lillard were seen talking trash to each other all night. There's also the March 6th match-up, in which Russell Westbrook, decided to pull out the Madden Hit Stick on Jusuf Nurkic.
Lillard may have summed it up best. When asked about the tension between both teams heading into their playoff match-up he responded: "There's something there."
King of Cali…
The Head to Head battle between Oakland born Damian Lillard and Long Beach raised Russell Westbrook promises to be entertaining. These two guards are ELITE in every sense of the word. Damian averaged 25.8 points and 6.9 assists per game en route to his fourth All-Star appearance.
Equally as impressive are Westbrook's season averages of 22.9 points, 11.1 rebounds, and 10.7 assists per game! Remember when people actually thought that Oscar Robertson's triple-double average would be the last of its kind? Well, Russell never got the memo. This will be his third straight year accomplishing this legendary feat.
Injury Front
The Portland Trail Blazers have had to close out the season without one of their most skilled players in Jusuf Nurkic. Unfortunately, the 7'0″ 275-pound Center went down in April with a compound fracture to his left tibia and fibula. Nurkic was in the midst of a career year in which he was averaging 15.6 points, 10.4 rebounds, and 3.2 assists per game. The Blazers are turning to Enes Kanter to fill the void.
Thunder star Paul George has been hampered by shoulder injuries. As a result, the MVP candidate was forced to sit out the season's final game. While Paul assured reporters there is "nothing to be concerned about," the numbers tell a different story. Since sustaining the right shoulder injury on Feb. 26th, George has been shooting 33.3 percent from the field and 25.5 percent from deep. PG-13 needs to continue his All-NBA play if the Thunder are to make a deep playoff push.
Predictions
Despite the outstanding play from Portland's back-court, the Thunder are simply a bad match-up. Paul George is averaging 38 points, 10 rebounds, and 5.5 assists on the season against the Blazers. Couple that with the fact that Enes Kanter struggles to guard the pick-and-roll and there is a recipe for disaster. As a matter of fact, the Caesars Palace has Oklahoma City as betting favorites to win the series — making this the only series in which the lower seed is the prohibitive favorite. Given these points, the Thunder will be too much to handle!
Thunder win the series 4-2.
Follow us on Twitter: @T101Sports @T101SportsNBA
Follow us on YouTube
Photo Credit
@okcthunder via Twitter