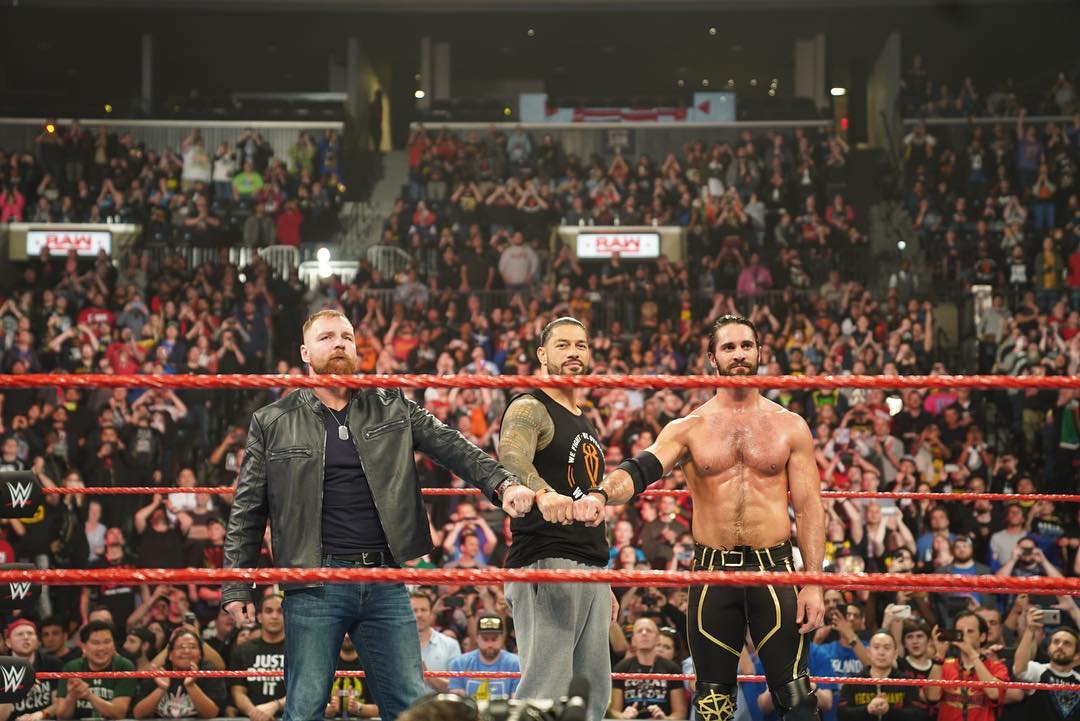 RAW Recap for the April 8, 2019 Episode of Monday Night RAW
RAW wRestling Recap
Hour One
The first Monday Night RAW following WrestleMania 35 starts out with the new WWE Universal Champion, Seth Rollins.
Seth holds the title above his head and says he's been waiting a long time to be champion. Despite Brock Lesnar beating him down before the match, Seth says he got back up and still won. Seth says he is the new "fighting" champion and will be a champion everyone will be proud of.
The New Day, led by new WWE Champion Kofi Kingston, interrupt Seth and make their way down to the ring.
Big E says it's time for celebration after Kofi won the WWE Championship the night before.
Kofi challenges Seth to a Winner Take All match for both of their world titles. Seth accepts the challenge and the match is made official for later.
RAW Tag Team Championships: Hawkins & Ryder (c) vs The Revival
Result: Hawkins pins Dawson
With Dawson trying to pin the wrong person, Hawkins rolls him up and pins him to retain the Tag Team titles
Baron Corbin arrives to the ring next to further ruin everything.
Baron says he deserves a gold medal for retiring Kurt Angle.
Kurt Angle interrupts and comes down to the ring.
Kurt admits Baron was the better man. He wishes Baron luck in his career and Angle Slams him. He then slaps in the Ankle Lock and Corbin bails.
Lars Sullivan finally arrives on RAW to attack Angle. Lars hits the Freak Accident, then follows it up with a Diving Headbutt.
Women's One on One: Alexa Bliss vs Bayley
Result: Alexa pins Bayley
Alexa hits a Snap DDT for the win
Hour Two
Undisputed Women's Champion, Becky Lynch, takes to the ring to kick off the second hour.
Becky says, with all the promise built behind Ronda Rousey and Ric Flair's Daughter, she still won both titles at WrestleMania 35. She says she will always find a way to overcome and win.
Becky says she knows she's a marked woman, but she will happily face anyone in the women's locker room.
Lacey Evans marches down the entrance ramp. She struts up to Becky, seems like she is turning to walk away, but then spins back around and punches Becky in the face.
Becky and Lacey brawl around the entrance stage until referees split them up.
Backstage, Charly the Heel asks Seth Rollins why he accepted the Winner Take All Challenge.
Seth says he doesn't back down from a challenge. He says he knows what Kofi Kingston is capable of, but Kofi better be ready to take it to the next level.
Two on Two Tag Team: Ricochet & Aleister Black vs Roode & Gable
Result: Ricochet pins Gable
Ricochet steals Liv Morgan's finisher to pick up the win
After the match, Roode jumps O'Shea, but Aleister fights him off
Backstage, Elias promises to give us all the performance he deserves. He says there will be "hell to pay" if he is interrupted again.
The Gobbledy Gooker's recovering drug addict brother makes a surprise appearance in a Fed-Ex box.
Dean Ambrose comes to the ring for his final WWE match against Bobby Lashley.
Lio Rush and Bobby hesitate to enter the ring. Bobby tells Dean he will "take care" of Renee Young while he is gone.
Dean rushes Bobby and they brawl up to the announce desk. Lashley Spears Dean, then throws him through the announce table.
Staring into a broken mirror, Mojo Rawley confirms he is the third member of The Ascension.
Sami Zayn makes his long awaited return to Monday Night RAW.
Sami says the one thing he wants at the moment is a match. The New Intercontinental Champion, Finn Balor answers the call.
Hour Three
Intercontinental Championship: Finn Balor (c) vs Sami Zayn
Result: Finn pins Sami
Via the Coup De Grace, Finn pins Sami to retain his title
After the match, Sami tells the WWE Universe he didn't miss any of them during his time off. He says the WWE is a toxic place to be because of how the crowd is as a whole
Backstage, Sarah Schrieber interviews Dana Brooke.
Dana congratulates Becky Lynch on her win at WrestleMania. She says that, if given the opportunity, she will take her chance and challenge Becky.
Elias appears in the ring to give us the concert he was supposed to give the night before. He tries his hand at rapping and does a pretty good job at it.
"…The next one to interrupt me is a Deadman." -Elias, unknowingly foreshadowing what's about to happen
The Undertaker returns to Monday Night RAW to interrupt Elias.
Straps down, The Undertaker Big Boots, Chokeslams, then Tombstone Piledrivers Elias.
Winner Take All: Universal Champion Seth Rollins vs WWE Champion Kofi Kingston
Result: The Bar, for God knows what reason, interfere in the match and cause a double DQ
Two on Two Tag Team: Kofi Kingston and Seth Rollins vs The Bar
Result: Rollins pins Cesaro
Kofi hits Trouble in Paradise on Cesaro, which is followed up by the Curb Stomp from Rollins
After the show goes off the air, Seth Rollins and Roman Reigns bid farewell to Dean Ambrose.
Social Media
Dean leaving might still be a work*…
Follow TSJ101Sports on Twitter: @T101Sports and @T101SportsWWE
Follow me, the writer, on Twitter: @JordanPiekarski
Photo credit to WWE via Instagram
*please, God, let it be a work