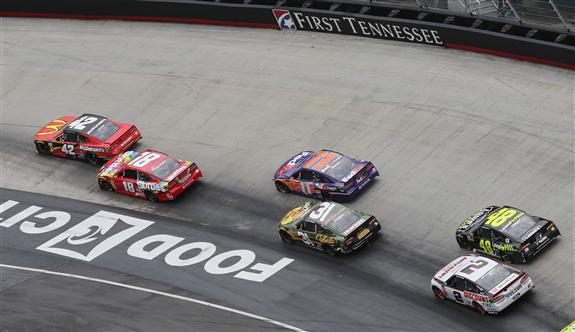 After Years of Close Misses, Can Kyle Larson Score His First Bristol Victory on Sunday?
One of the fastest drivers in Tennessee has yet to win at the world's fastest half mile. Kyle Larson is still winless at Bristol Motor Speedway, but he has performed strong on the concrete. With a 53-race winless streak, can Larson take home his first Bristol victory on Sunday? Vegas odds makers have him as one of the favorites. In addition, he has outscored the field in the last 5 Bristol races.
Kyle Larson's History at Bristol
In 10 career starts at Bristol Motor Speedway, Kyle Larson has 6 top 10s, 579 laps led, and 2 poles. While Larson is still searching for that elusive first Bristol victory, he did finish 2nd in both Tennessee races last season. In last spring's Bristol race, Larson was leading with only 6 laps remaining. However, Kyle Busch pulled off a bump-and-run for the victory. Busch took any chance at the first Bristol victory away from Larson after the 42 led 200 laps that day.
In last August's Bristol race, Larson would again finish runner up to the elder Busch brother. Kurt Busch was able to score the victory over his now-teammate Larson. Larson's 2018 stats at Bristol could not have been any closer to a first Bristol victory, as he scored 2 of his 6 runner up finishes in 2018 on the high-banked half mile.
Bristol is a track that suits Larson's patented driving style, especially when the high lane is the preferred groove. With higher corner speeds due to the 2019 rules package, will Larson's talent still be a benefit at Bristol? Tune in Sunday to see if Kyle Larson can secure his first Bristol victory.
Be sure to follow along for Bristol coverage @T101_NASCAR and follow the writer @PeterStratta.