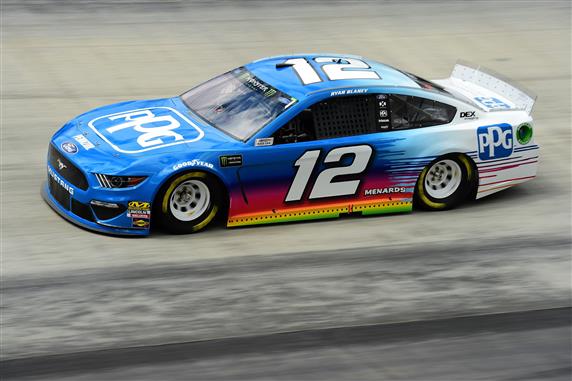 Bad Luck Blaney Hopes for Better Results at Bristol
As the Monster Energy NASCAR Cup Series heads to Bristol Motor Speedway, there are several drivers in need of a bounce-back week. One of which is none other than the driver of the #12 Penske Mustang Ryan Blaney. This year has been a year of disappointment in terms of results for Blaney. Despite having a car capable of winning on several occasions this season, Blaney is empty-handed in the win column. Once again, Blaney is coming off a week in which bad luck struck again. After leading 45 laps late at Texas, Blaney found himself in the garage with a blown engine. This would relegate him to a 37th-place finish. This weekend, bad luck Blaney will be looking to change his fortunes at a track he has always shown speed.
Bad Luck Blaney's History at Bristol
Throughout his short career, Bristol has always been a track in which Ryan Blaney has shown speed. Last season, he led a combined 221 laps in both races at the track. However, the results he has earned haven't always shown how well he has run. In 7 career starts at the track, Blaney has 3 finishes outside of the top 30. In 2016 and 2017, he had power steering issues which ended his days before they even really started in both races despite starting in the top 10. Last year in the spring race, Blaney led 100 laps in the race's first stage before being wrecked by a pair of laps cars while leading. Things haven't been all bad though, as last fall, Blaney led 121 laps in route to a 7th place finish.
So far this weekend Blaney has been one of the cars to watch. Blaney would lead Friday's practice session and then proceeded to set a new track record in round 2 of qualifying later that night. However, the 12 would ultimately qualify 3rd. Then in Friday's two practice sessions, Blaney found himself in the top 10 on the speed charts. It isn't just single-lap speed that the #12 car has however, as he was second in 20-lap average in final practice. So as Ryan looks to break his bad luck this weekend, it certainly appears he will have the car to do so. Look for bad luck Blaney to turn his fortunes around on Sunday.
Be sure to follow along for Bristol coverage  @T101_NASCAR.