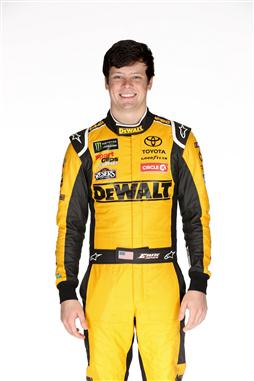 Erik Jones Breaks out of Slump at Texas Motor Speedway
Entering Sunday's O'Reilly Auto Parts 500, a lot of the attention was focused on Kyle Busch's 18 car. Having won the Gander Outdoors Truck Series race on Friday night and the Xfinity Series race the following day, we were potentially about to witness another weekend sweep by one of the sport's greatest drivers. Busch would finish a respectable 10th and lead a race-high 66 laps. However, it was instead 2 other Joe Gibbs Racing drivers that stole the show; Denny Hamlin and Erik Jones.
Starting from the pole for the first time since July 2016, Hendrick Motorsports' Jimmie Johnson would lead 60 laps in Texas. This total was more than he had led in his last 42 races combined. Team Penske's Joey Logano would capture the first Stage, but something clicked midway through the second stage for Joe Gibbs Racing.
Slow Start For Erik Jones
Jones' day did not get off to a positive start.  After spinning out early, he finished 20th in both Stages 1 & 2. "We had a really good Craftsman Camry, but I put us behind there at the start getting in trouble spinning out," Jones said.  However, the 22-year-old was able to put these early race struggles behind him and responded with a very strong final stage.
Fellow JGR driver Kyle Busch led a race-high 66 laps. Seeking the weekend sweep, Busch hit the wall coming out of turn 2 in the final stage and ultimately finished 10th. As Busch began to fade, Jones seized the opportunity. He led 30 laps and was a serious threat to win the race until Hamlin and Clint Bowyer separated themselves late.
"He (Kyle Busch) was really good," Jones mentioned. "I thought we were pretty equal depending kind of who was out front. I knew he was loose, and I was just hoping if I kept the pressure on him, he'd make a mistake and fortunately he did."
While the outside was what bit Kyle Busch, Jones made a lot of his moves going high. He credits a lot of this to the PJ1 on the outside of the track. "It was a lot better than previous races here since the repave. You could go up there. I made some passes on the outside of (turns) one and two today and (turns) three and four. I hope we can continue that."
Up and Down Season To Date For Jones
Jones opened the season with back-to-back top-10 performances at Daytona and Atlanta but had failed to finish better than 13th in the last four races.  With Christopher Bell waiting in the wings in the Xfinity Series, some had begun to question Jones' long-term future with the team.
The driver of the No. 20 knows that he had a good enough car to win, but is happy with the step in the right direction.  "We had a rough few weeks from really Las Vegas on, so it's just nice to get back on track and have a good run.  We learned a lot today.  It was our first really good race with this package on a mile-and-a-half so that's a positive."
Strong Second Half at Texas for JGR
Denny Hamlin won Stage 2 and the race for JGR, his second victory of the season. This must qualify as one of the more unlikely victories in recent memory, as Hamlin was penalized twice on pit road and missed the entry on another occasion.  "I don't know, we tried every way we could to give it away," Hamlin said. "Our car was really, really fast. Once we got out front, we were able to pull away from the pack a little bit."
Hamlin's teammate Erik Jones also experienced some good fortune on Sunday. Jones began the 2019 season with back-to-back top-10s but had not finished better than 13th in the last 4 races. He broke out of this slump in a big way at Texas with a 4th-place finish.
After a strong debut season with JGR in 2018, expectations were very high for Jones this year. With Christopher Bell waiting in the wings and murmurs starting to circulate about his future, today's run could not have come at a better time for young Erik Jones.
Jones led 30 laps on the day. Overall, the JGR stable of Toyotas ran out front for a combined 151 of 334 laps. The 20 Camry will look to keep rolling next week at Thunder Valley. In 4 career starts at Bristol, Jones has two top-5s, 260 laps led, and an average finish of 12.5.
Can Anyone Stop JGR or Penske?
Here's an interesting note on the season so far; we are 7 races in, and only two teams-JGR & Team Penske-have recorded wins in 2019. While this is likely to change very soon, Joe Gibbs is enjoying the ride.  "We're thrilled to be a part of it, I'll tell you that," Gibbs said. "I hope we can find a way to stay up there. But in pro sports, we all know the hardest thing is to stay up there, week in, week out."
Up next, NASCAR heads to the 'Last Great Colosseum' for the Food City 500 at Bristol Motor Speedway on Sunday, April 7 at 2:00PM ET.
Follow Teddy Rydquist on Twitter @TeddyRydquist.