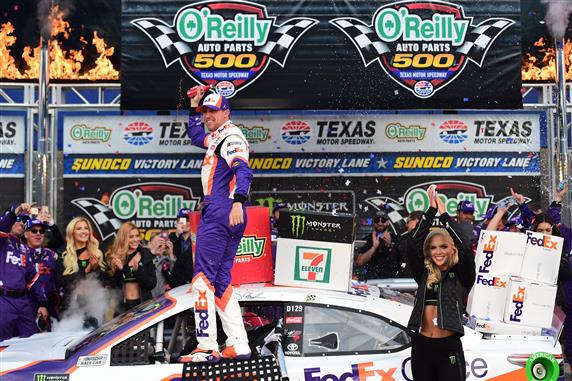 After Multiple Penalties, Denny Hamlin Wins O'Reily Auto Parts 500 at Texas
On a day where he had to endure multiple pit road penalties, Denny Hamlin fought back to win at Texas Motor Speedway. Hamlin's team was far from the only one to suffer from penalties, as many teams had infractions. Denny's win came after Kyle Busch got loose while leading. This allowed the 11 Fedex Toyota to win its second race of 2019.
Hendrick Tops Charts in Qualifying
Friday's qualifying session was the high point of the season so far for Hendrick Motorsports. For the first time in 95 races, Jimmie Johnson qualified on the pole. Starting alongside him was sophomore teammate William Byron, and Chase Elliott lined up in third. The Hendrick Chevrolets showed an unprecedented amount of speed that they have lacked for the better part of 2 years.
Hendrick's fast qualifying speeds would transfer over to race pace on Sunday, as their 3 cars started off strong. From the pole, Jimmie Johnson would lead the first 59 laps, only being challenged by Chase Elliott and Joey Logano. At times Johnson had a lead of more than a second, more speed than the 48 has shown in a long time. Johnson would lead 60 laps total in Texas, more laps than he led in all of 2018. Texas also marked Johnson's first top 5 since the Coca-Cola 600 last May.
Spin and No Damage for Jones Early On
While running in the top 10 early on, Erik Jones went for a spin in turn 2. Turn 2 in particular proved to be a tricky corner all weekend long, as it collected several drivers in all 3 races. Luckily, Jones did not suffer any damage from his lap 15 spin, and he was able to continue on. This one brief caution would end up being the only break in the action for Stage 1.
Multiple Pit Strategies Shake Up Stage 1 Results
While some drivers did pit under the caution for Jones, many of the front runners did not. This set up a 68 lap run to end Stage 1. Many of the top drivers would have to pit again, and this determined the Stage winner. Johnson would pit from the lead on lap 60, which would cause the lead to cycle through a few different drivers. Joey Logano, Austin Dillon, Kyle Busch, and Clint Bowyer all took turns out front.
This pit cycle would be the first of a series of self-inflicted penalties for Denny Hamlin. First off, he missed pit entry while trying to slow down on lap 64, and had to limp around at a lower speed. To add insult to injury, Hamlin was too fast exiting the pits, resulting in another penalty.
During this time, William Byron did not pit, and inherited the lead on lap 66. The 24 would lead 14 laps, as Chad Knaus was trying to catch a lucky caution and hopefully a Stage win. This did not happen however, and Byron finally pitted on lap 79. The Stage 1 win would eventually go to Joey Logano, as he passed Johnson on pit road.
Bad Luck Strikes for Keselowski
Just a week after his most dominant win ever at Martinsville, Brad Keselowski had a less-than-memorable day in Texas. While the field was coming to the restart for Stage 2, Keselowski's 2 pulled into the pits. Brad had a mechanical issue that sent him to the garage, and ended his shot at the win. The 2 would return to the race, but several laps down, and out of contention for a solid result. Keselowski would only recover to finish in 36th position, as he is still winless in his career at Texas.
Strategy Reigns King in Stage 2
Once again, Stage 2 would only be broken up by a single caution flag. Kyle Larson blew an engine on lap 150, setting up a short sprint to close out the Stage. Stage 2 saw many different leaders; Martin Truex Jr., Kyle Busch, Chase Elliott, and Joey Logano. After the caution however, Denny Hamlin was up front thanks to a fuel-only stop. The 11 was able to hold position and win Stage 2, his second Stage win of the year.
However, the 11 would get the last of their 3 penalties on the day following Stage 2. On the pit stop, the 11 crew had an uncontrolled tire. This penalty sent Denny to the back of the pack, with just under half of the race remaining for him to recover. Ryan Blaney would restart the final Stage as the leader.
Good Day Gone Bad for Blaney
After starting the final Stage up front, Ryan Blaney looked to be in position to capitalize for his first win at Texas. Blaney would lead 45 laps before making a pit stop from the lead. That was where his day would end prematurely though, as his car started smoking the next lap. Blaney would come back to pit road, be diagnosed with an overheating motor, and he would not return to the race. After a day where Blaney looked to have a strong car, the Penske driver was relegated to a 37th-place result. In addition to Keselowski's issues, and Logano having hood problems, all 3 Penske cars were stricken with problems. This came after all 3 of them were strong contenders.
Busch Going For Texas Triple in Weekend Sweep
With Blaney now out of the race, the lead went to Kyle Busch. Busch was looking for the weekend sweep after Friday's Truck Series win and Saturday's Xfinity victory. Busch has pulled off this feat twice before, but never at Texas. Kyle looked to be on cruise control for the win until lap 275. While running just ahead of Erik Jones, Busch got loose and barely saved his car in turn 2. However, he went from leading back to 4th. Just a few laps later, Busch pounded the wall while trying to make up lost ground. The 18 made his way onto pit road, but his chances at the win were over due to these self-caused penalties.
Kyle's Loss Turns into Opportunity for Teammates
When Kyle lost the lead, his teammate Erik Jones regained the top spot. Jones was in position for his first ever win at Texas, a track he's had past success at. Jones would hold the lead until his last pit stop on lap 303. Denny Hamlin then had the lead until he also stopped on lap 318. After the field cycled through this last round of stops, it was Hamlin back on top with just 12 laps left. Denny Hamlin would hold on to win his second race of 2019, in spite of several earlier penalties.
The top 10 finishers from Texas were Hamlin, Clint Bowyer, Daniel Suarez, Erik Jones, Jimmie Johnson, William Byron, Aric Almirola, Kevin Harvick, Kurt Busch, and Kyle Busch. Kyle was able to recover from his late issues to still finish in an impressive 10th place. Besides Kyle Busch and Hamlin, nobody in the top 10 has a win in 2019.
How to Watch the Next Race
Up next for the Monster Energy NASCAR Cup Series is Bristol Motor Speedway. The Food City 500 will be next Sunday, April 7 at 2 PM EST. Coverage will be on Fox Sports 1, PRN, and SiriusXM NASCAR Radio Channel 90. Both Busch brothers won at Bristol last year, with Kyle taking the spring race and Kurt winning in August. Can anyone stop the Busch brother's dominance? Tune in Sunday to find out.
Be sure to follow along for Bristol coverage @T101_NASCAR and follow the writer @PeterStratta.