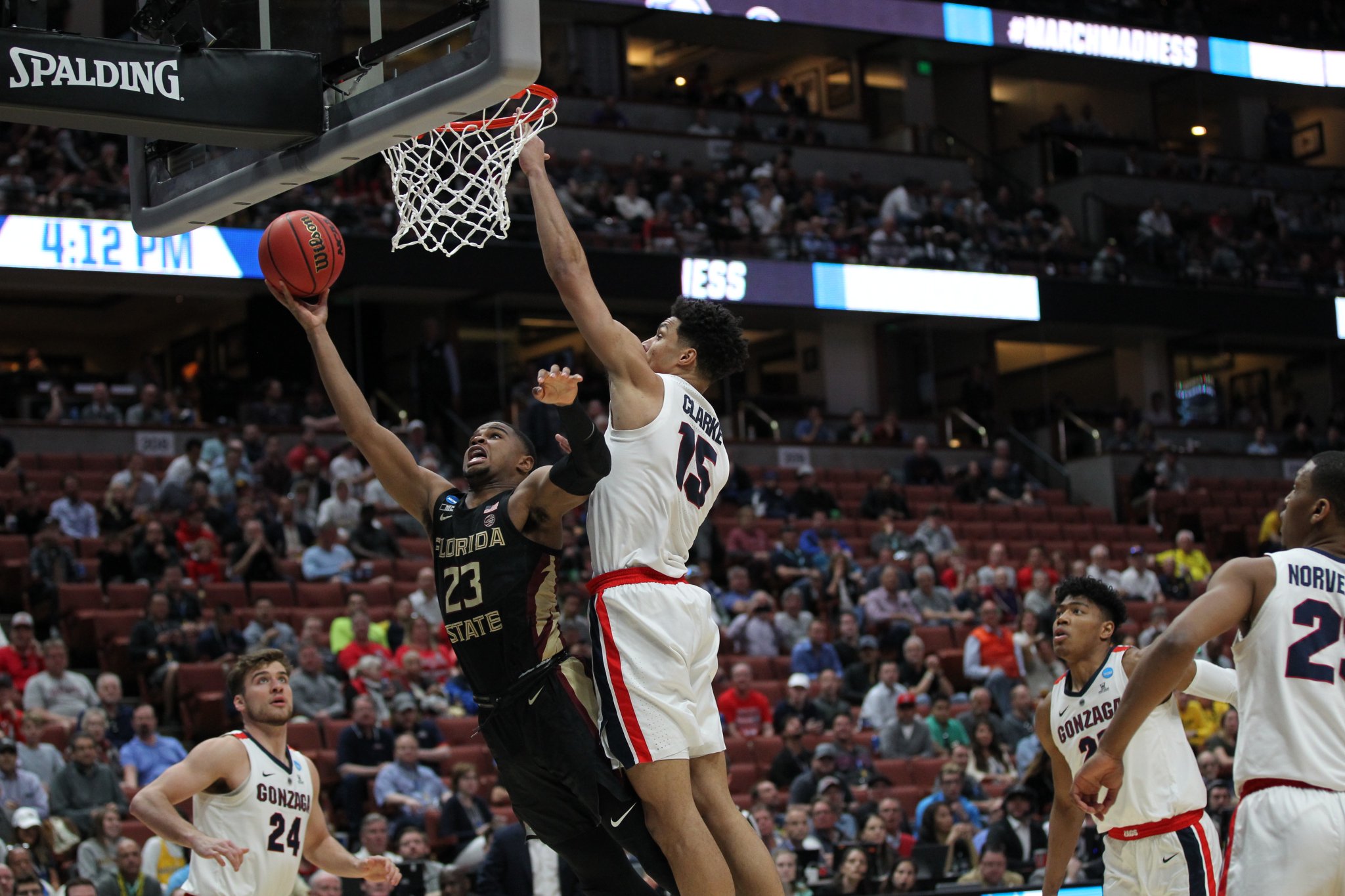 Seminoles Bounced in the Sweet 16, Zags Advance
The Honda Center played host to a highly anticipated match-up between the #1 Gonzaga Bulldogs versus #4 Florida State Seminoles. College Basketball pundits across the country were sounding the alarms for an "upset alert." The logic seemed reasonable. To begin with, the Seminoles were fresh off a 90-62 thrashing of Murray State in the second round. A game in which Florida State's length and suffocating athleticism were on full display.
The Zags made sure to remind those same pundits why they were selected as a #1 seed with a 72-58 victory. Gonzaga may be known as an offensive juggernaut but it was their defense & rebounding that was the catalyst. They held a massive 45 to 36 rebounding advantage over Florida State. Also, clamping down on perimeter jump shots holding FSU to 3/20 (15%) from deep.
Same Song Different Dance
It's not often life gives an opportunity for a do-over, but that's exactly what last night provided. One year ago, it was a Terrance Mann led #9 FSU team that pulled off the upset over the #4 Gonzaga Bulldogs. A balanced FSU attack, which featured five Seminoles scoring at least seven points, proved too much to handle for the Zags.
This year, Gonzaga was ready to return the favor. Rui Hachimura led the well-balanced offensive attack with a team-high 14 points to go along with four rebounds. Equally as impressive was the fact that four players went on to score 14 or more points in the contest. As a team, Gonzaga was able to convert 7/19 from deep, putting them right at their season average of 36 percent.
Game of Runs
In the first half, the Bulldogs raced out to a commanding 33-19 lead. Again, FSU quickly responded with a run of their own. With 19 seconds left to go in the first half, Trent Forrest brought the ball up the court with a chance to cut the Zags lead to five. With momentum starting to swing, Gonzaga needed a big play to stop the bleeding. Veteran point guard Josh Perkins was able to rip the ball handler and go coast to coast for an and-one. The ability for the Bulldogs to end the first half with an 11 point lead as opposed to five cannot be emphasized enough.
A similar run took place in the second half as FSU mounted yet another comeback. Once again, it was FSU guard Trent Forrest with a timely basket to bring the Seminoles within five again. The Zags were able to flip the switch and put together a 12-2 run to close out the victory!
Clarke "Kent"?
All that Brandon Clarke seems to be missing is the phone booth and a cape. In all seriousness, he has been nothing short of Superman for this year's Gonzaga Bulldogs squad. The 6'8″ junior is averaging 16.9 points and 8.5 rebounds in the regular season.
Would the regular season success carry over into tournament play? Just ask Baylor, who he dismantled for 36 points and five blocks! Hachimura may have been the leading scorer against FSU but Clarke stole the show. He finished the contest with 15 points, 12 rebounds, and five blocks. Brandon posted 15+ points and 5+ blocks in consecutive games. A feat that hasn't been accomplished since the 2013 NCAA Tournament.
Moving Forward
Gonzaga entered the game leading the nation in statistics such as scoring offense, scoring margin, field-goal percentage, and assist-to-turnover ratio. As a result, the offense being able to put up points was never in question. However, with its timely defensive possession, Gonzaga are showing they are more than a one trick pony. Up next is a match-up with red hot Texas Tech Raiders, who just destroyed Michigan 63-44.
Florida State was looking to make it past the Sweet 16 in consecutive years for the first time in 17 years. Coach Leonard Hamilton has been able to get FSU into seven NCAA tournaments since 2009. However, he is looking to take his program to the next step. He has to feel like an opportunity slipped right through the Seminoles grasp.
Written by Joseph Osuna
Follow us on YouTube and Twitter
Photo Credit
@ZagMBB via Twitter