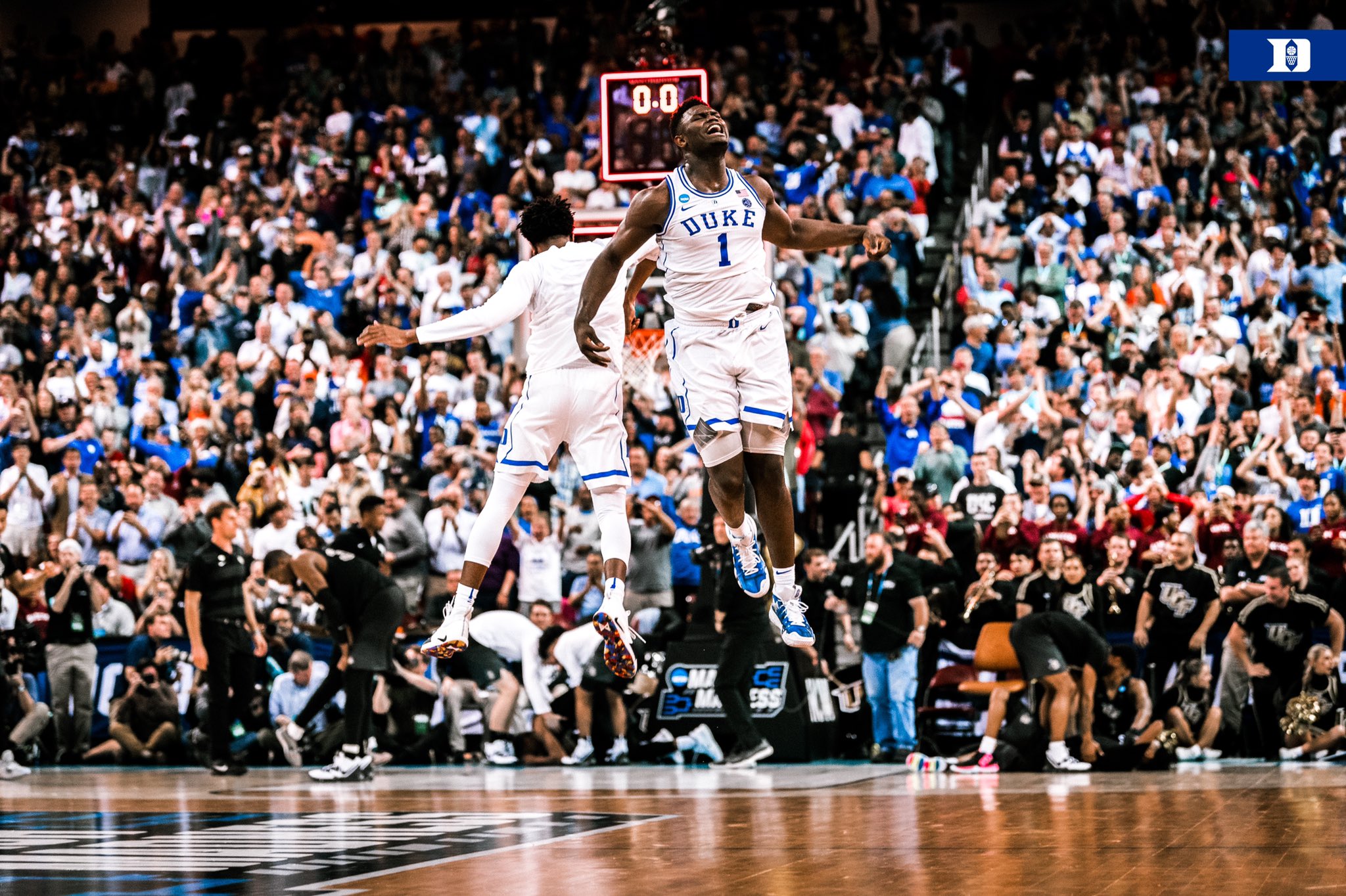 An ACC Showdown
It's Sweet 16 time, and #1 Duke will matchup with ACC foe #4 Virginia Tech. Virginia Tech eliminated #13 St. Louis in the Round of 64 and then #12 Liberty in the Round of 32. Duke beat #16 North Dakota State in the Round of 64 and then followed with a scare against #9 UCF.
Duke's Close Call
How will Duke respond to their close call against #9 UCF in the Round of 32? Hot takes have been flying all week. Many of them saying that the blue print to beat Duke has been found. By forcing the Blue Devils to shoot the three and packing the paint to keep them from scoring easily inside, they can be beat. Well, unfortunately for future opponents, not everyone has a 7'6″ center to stand in the paint with his hands up on defense. Duke managed to beat UCF anyway. They have faced teams all year who have used the same formula, yet Duke is still here in the Sweet 16. The formula for Duke's opponents all year has been the exact same, so UCF "exposing" Duke won't be their downfall. Just because they came close to going down, doesn't mean it will hurt them against Virginia Tech and onward.
Different Story
Duke and Virginia Tech played once during ACC play in the regular season, where Virginia Tech won the game 77-72. This time around, it will look much different.
For Virginia Tech, starting point guard Justin Robinson is back in the lineup. Robinson (13.4 PPG, 3.2 RPG, 5.0 APG, and 1.6 SPG) is the team's third leading scorer and leads the team in assists per game. Without Robinson in the lineup, the Hokies have looked lost at times. Kerry Blackshear Jr was asked about Justin Robinson's impact, "He relieves everybody. He relieves me, he relieves our wings, with the way he's able to push, play with and without the ball, and be a good defender on the other end." Clearly, Robinson is the Hokies unquestioned leader, and they are grateful to have him back.
As for Duke, they will have the ACC Player of the Year in Zion Williamson. Williamson (22.5 PPG, 8.8 RPG, 2.1 APG, 2.1 SOG, and 1.7 BPG), has made his case for National Player of the Year despite missing six games. In his absence, Duke was just 3-3. When Williamson returned for the ACC Tournament, he scored 81 total points — an ACC Tournament record in three games played. While his offensive contributions are obvious, as a defender he may be equally as important to Duke. In the first matchup between Duke and Virginia Tech, forward Kerry Blackshear Jr scored 23 points and grabbed 10 rebounds. With Williamson in the lineup, Blackshear will not be able to put up 23 points, as Williamson is an elite paint defender who alters almost any shot that goes up around him.
Hokie Starters
PG – #3 Wabissa Bede
G – #13 Ahmed Hill
G – #4 Nickeil Alexander-Walker
F – #42 Ty Outlaw
F – #24 Kerry Blackshear
* Justin Robinson came off of the bench in the first two Rounds of the NCAA Tournament
Prediction
Yes, each team has, arguably, their most important player back in VT's Justin Robinson and Duke's Zion Williamson. In the end, Williamson is far more important than Robinson on both sides of the court. Zion is back in full swing and had a week off. Look for him to score at least 25 points with 8+ rebounds and an MVP defensive performance on Kerry Blackshear Jr.
In the first meeting of Duke and Virginia Tech, RJ Barrett had the flu. Barrett is not sick anymore, so you can bet he plays far better than he did in the first matchup and goes for 20+ points including a mind-boggling dunk. Tre Jones will be on his game when guarding Robinson, and Jordan Goldwire has a newfound role, unlike he did in the first meeting of the teams. Cam Reddish had his best game in over a month against UCF. If he can stay out of foul trouble, more than likely he will score 14+ points — including at least 3 three pointers. Duke's defense will win the game in the end, and their offense is too much with Williamson in the lineup.
Duke: 81
Virginia Tech: 77
Follow us on YouTube and Twitter
Photo Credit
@DukeMBB via Twitter