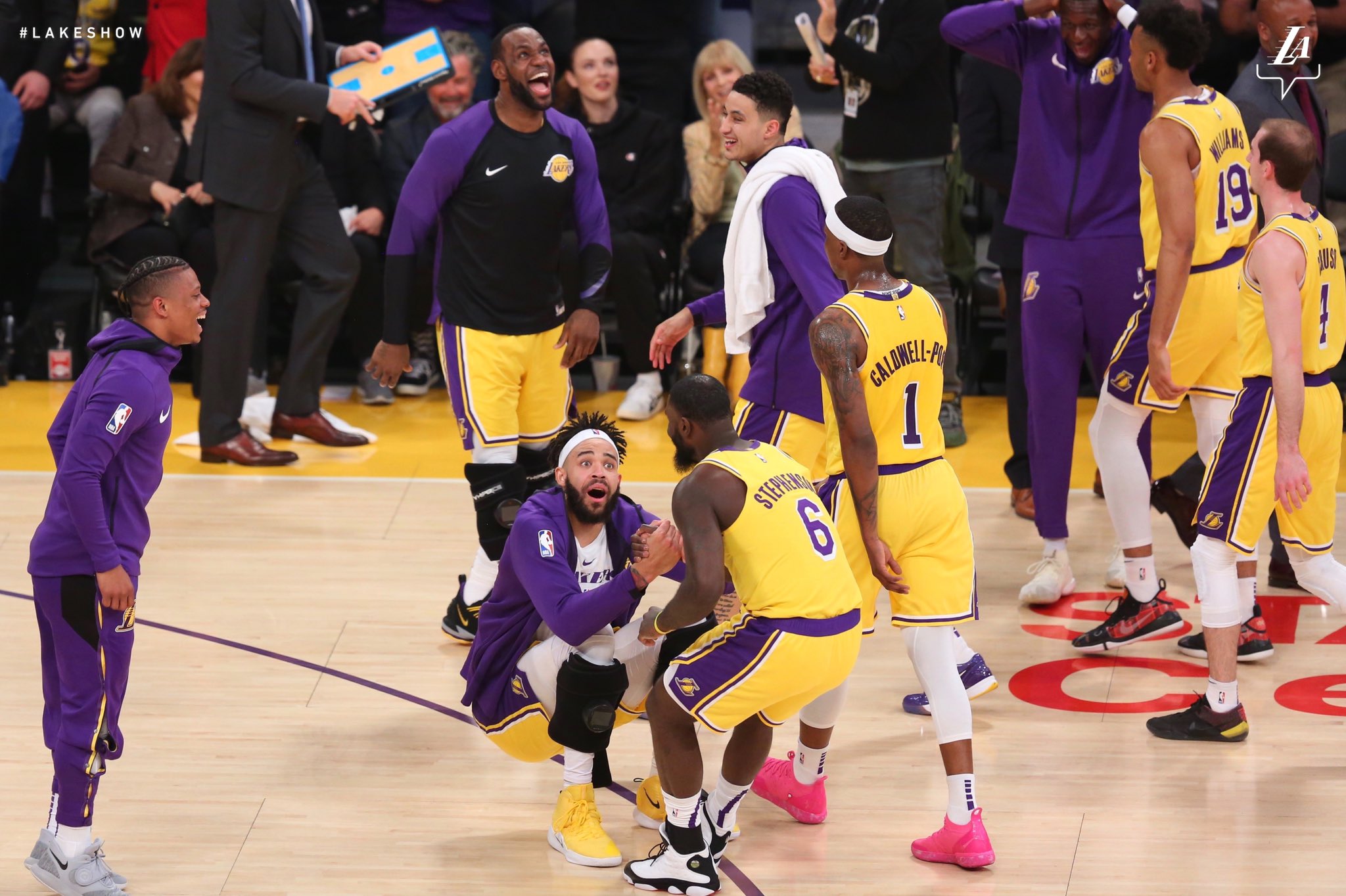 Lebron James scores 23 points and 14 assist as Wizards all but eliminated from playoffs
The Wizards started their west coast road trip with a loss to the Los Angeles Lakers. Lebron James put on a show for the home crowd as he dazzled them with timely shots and crisp passes. This victory for the Lakers marks the first back-to-back wins since January. Bradley Beal, once again, led the Wizards with 32 points, but it was not enough to slow down the Lakers attack.
Jabari Parker added 18 points of the bench, but no other Wizard scored more than 12 points. The Lakers, on the other hand, had five players score in double figures — led by Kentavious Caldwell-Pope with 29. He made six 3-pointers while shooting 50% from deep. Former Wizard Javale McGee had a great game versus the team that drafted him with 20 points and 15 rebounds.
Not at full strength
After returning from a groin injury, Trevor Ariza, started this game for the Wizards. That was short lived as, early in the first quarter, he had to leave the game after aggravating his groin injury. This was bad news for the Wizards because Ariza was going to be the primary defender on James. The results were to be expected as James went on to dominate the game. This injury may be it for Ariza this season, as it takes a couple weeks to recover from a groin injury. With only seven games left, it may be smart to just shut him down.
The Lakers are dealing with injuries as well. Brandon Ingram and Lonzo Ball have been shut down for the season. Players such as Caldwell-Pope and Jonathan Williams have stepped up in their absence. Just like the Wizards, they will miss the playoffs this season which is a first for a team with James on it since 2004. The Wizards have not been mathematically eliminated, but they are seven games back with only seven games to go, so their chances are slim to none.
No playoffs? No Problem?
The Wizards will miss the playoffs this season, but that may not be a bad thing. This team has out performed expectations, especially with so many games missed by starters this season. They would be looking at a top-10 pick in the 2019 NBA draft. They need to improve this team through the draft because they may not have the cap room to add any difference making free agents.
If Bradley Beal earns All-NBA honors this season, that would even further complicate things for the Wizards. He would be eligible for a super-max extension, similar to the deal that John Wall signed last year. Wall's contract extension kicks in next season, so the Wizards have a decision to make. Do they make the offer to Beal, who is coming off his best year as a pro? Or do they look to move him to give them flexibility going forward. It will be a tough call because Wall will miss most of next season, due to his torn Achilles tendon. Beal has stepped up his play, as well as his leadership role this season. This team has become more efficient without Wall on offense, but defensively are towards the bottom of the league.
Up Next
The Wizards close out their final west coast trip, with a trip to Phoenix tonight to take on the Suns. They will have their hands full as Devin Booker is coming off a 59-point performance. They finish out the road trip with games versus Utah and Denver, who are both battling for playoff positions. The Wizards return home in April for three out of four games at home, including their final game of the season versus Boston.
Follow us on Twitter: @T101Sports @T101SportsNBA
Follow us on YouTube
Photo Credit
@Lakers via Twitter