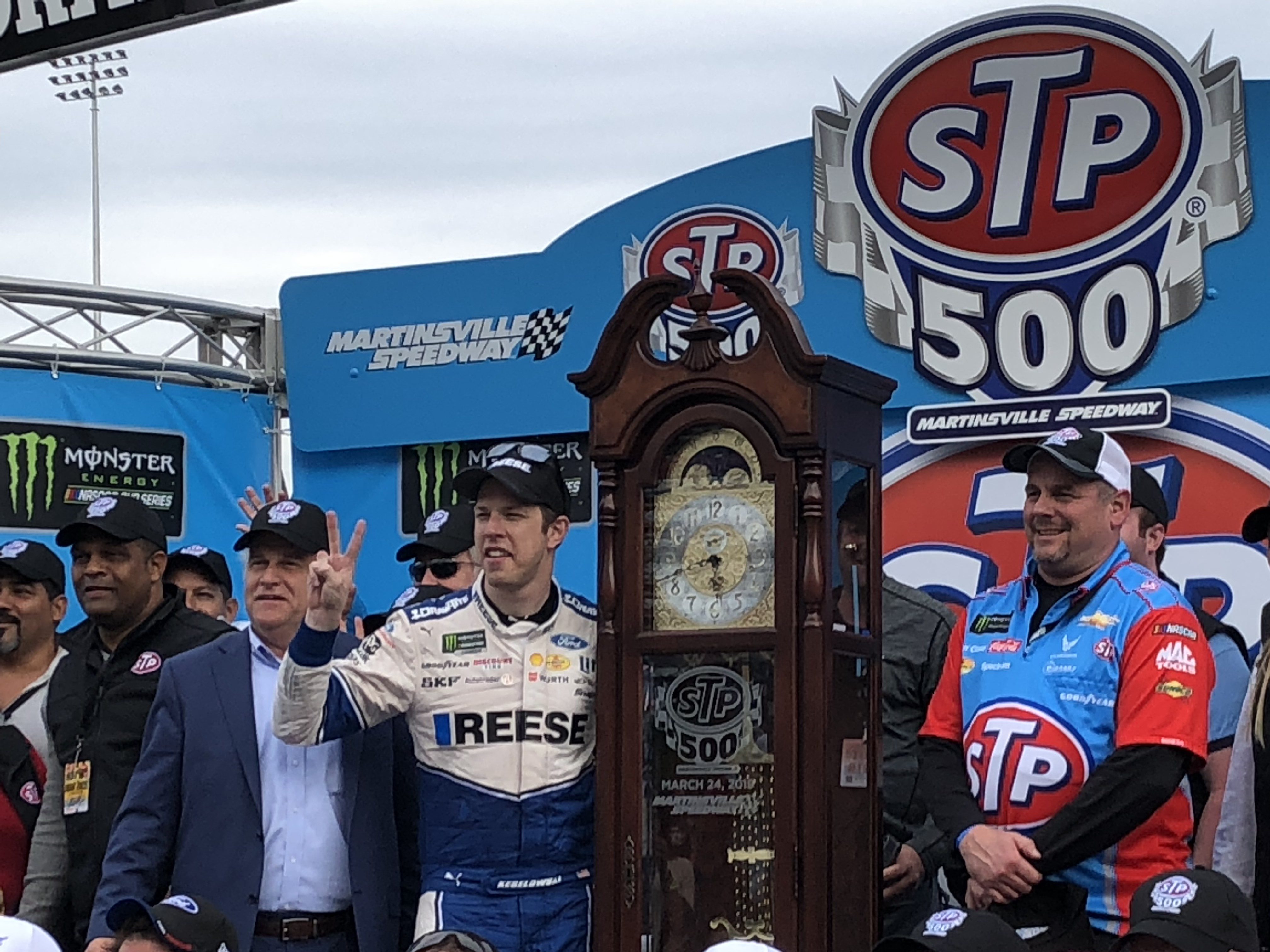 Brad Keselowski Dominates for 2nd Win at Martinsville
On a beautiful spring day in Virginia, Brad Keselowski put on a driving clinic at NASCAR's oldest track in the STP 500. The 2 Penske Mustang led 446 of 500 laps en route to his 2nd win at Martinsville. This is a modern era record for laps led in 1 Martinsville race. In addition, Martinsville also marks Keselowski's 2nd win of 2018 after Atlanta.
Early Laps Show Comers and Goers
In the opening laps of the STP 500, many drivers gained or lost ground. Polesitter Joey Logano, who came into the race as a favorite, fell back after lap 5. Logano was nudged by teammate Keselowski for the top spot. The 22 crew fought a loose car for the rest of the day. Logano would have a much tougher time at Martinsville in defense of his victory there in the Playoffs last fall. A 2nd win at Martinsville was not in the cards for Logano on this day.
In addition, drivers such as Kyle Busch, Ryan Blaney, and Austin Dillon all rallied forward from poor showings in qualifying. By the end of Stage 1, all 3 of them were inside the top 10.
Fluid on Track Nearly Ends Day for Contenders
Just 5 laps into Stage 2, a caution came out for fluid in turns 3 and 4. This fluid was rear end grease from the 15 car, as Ross Chastain lost an axle. This debris nearly ended the race for Chase Elliott, who was running strong, in addition to Kyle Larson and others. This caution would be the only pause in the action for Stage 2.
Brad Keselowski would sweep the Stages at Martinsville, as he led every lap from lap 6 to the conclusion of Stage 2. Brad would not relinquish the lead until lap 325, when Chase Elliott motored on by the 2 car. This was the first time the 9 of Elliott had led a lap in 2019, as he was looking for his first Martinsville win.
Tough Day for Erik Jones
Not long after Elliott took over the lead, Erik Jones made heavy contact while racing against Kyle Larson. This caused a flat tire on the 20 car, and he had to limp around to pit road after missing the entry. Since no yellow came out for this incident, Erik was trapped laps down. Jones would only recover to finish 30th on the day, far less than expectations for the JGR team.
Meanwhile back out front, Chase Elliott pulled away to a lead of more than a second over Keselowski. After Elliott's tough loss at Martinsville in the 2017 Playoffs, many were anxiously awaiting to see if redemption would come.
Race Winner Decided on Critical Pit Stop
On lap 373, a caution came out when rookie Matt Tifft hit the wall in turn 2. Under this yellow, the race winning move was made on pit road. Brad Keselowski's Penske pit crew got him out of the pits ahead of Chase Elliott. When racing resumed on lap 380, Brad was in prime position for his 2nd win at Martinsville.
Young Guns Battle Veterans for the Win
Throughout the last 100 laps the race for the win came down to 4 cars: Keselowski, Elliott, Kyle Busch, and Ryan Blaney. The top 4 were within a second of each other, as it was a youth-versus-experience battle for the win. Blaney and Elliott both had chances to take position away from Keselowski and Busch, but they raced clean.
With the race winding down, the final caution flew for Ross Chastain having an issue in turn 1. The 18 of Busch would leapfrog the 9 on pit road, putting him 2nd to Keselowski. Back underway on lap 465, Elliott muscled his way by Busch on the outside lane. Elliott now had his eyes set on the 2 car, as only Brad separated Chase from a grandfather clock.
In the closing laps, Brad had a relatively comfortable lead of half a second. In the last 5 laps however, Elliott ran a different line. He would catch up to the 2's rear bumper on the last lap. It was too little too late though, as Brad Keselowski hung on for his 2nd win of 2019, and 2nd win at Martinsvile. Had Elliott started running the different line 10 laps earlier, the 9 would have had a better chance at contending for the win against the 2 Mustang.
The top 10 results from Martinsville were Keselowski, Elliott, Busch, Blaney, Denny Hamlin, Kevin Harvick, Clint Bowyer, Martin Truex, Jr., Aric Almirola, and Daniel Suarez. Manufacturer representation in the top 10 was 6 Fords, 3 Toyotas, and the lone Chevrolet of Chase Elliott. Elliott's runner up marks the first top 5 of 2019 for Hendrick Motorsports.
History In Keselowski's 2nd Win at Martinsville
Keselowski would lead a total 446 of 500 laps in the STP 500. This was the most laps led in a Cup race since Kyle Petty's 484 circuits out front in his 1992 Rockingham win. At Martinsville, this run by Brad was the most laps led since Richard Petty's 1970 win, where The King led 480 laps. In short, it was a dominating driving clinic put on by Brad Keselowski at Martinsville. For more information on this year's STP 500, check out this video.
How to Watch the Next Race
The next stop for the Monster Energy NASCAR Cup Series will be Texas Motor Speedway, for the O'Reilly Auto Parts 500. Coverage will begin on Sunday, March 31 at 3 PM EST on Fox, PRN, and SiriusXM NASCAR Radio Channel 90. Kyle Busch won this race a year ago, but can defending Texas winner Kevin Harvick dominate again?
Be sure to follow along for our coverage of Texas race weekend: @T101_NASCAR, and follow the writer: @PeterStratta.