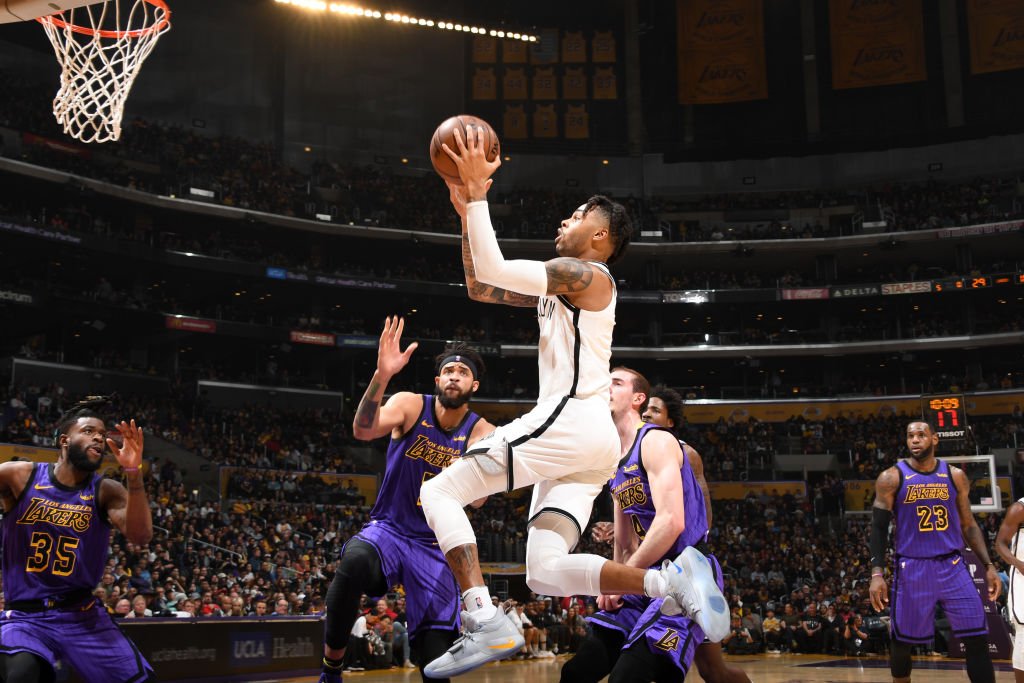 Brooklyn Nightmare
The Los Angeles Lakers will miss another post-season as they fell to the Brooklyn Nets. Yes, the Brooklyn Nets on Friday night.
The Lakers were officially eliminated from the playoffs when they lost 111-106 to the Nets. Ten games remain on the schedule for Los Angeles but statistically, they have already been sent home. LeBron James expressed his frustrations on missing the postseason for the first time since his rookie year in 2003 and admitted "it's not what we signed up for" this season.
The King could not save his Kingdom
"Obviously, it's been a tough season for all of us," James said. "It's not what we signed up for. Throughout the year, things happened. Suspensions, injuries, things of that nature. And just not being able to play sustainable basketball for 48 minutes. But you don't even try to wrap your head around it, you just keep pushing. Just try to get better tonight, move on to tomorrow, and go from there. Playoffs are never promised. You've got to come out and work. For me personally, you just continue to put the work in and see what you can do to help."
Things came around full circle as former Lakers lottery pick D'Angelo Russell contributed to ending the Lakers season. Russell had 21 points and 13 assists against his former team, who replaced him with Lonzo Ball. But Russell is staying focused on his Nets making some noise in the playoffs, not just a "feel good win."
"It sounds good on paper, but at the end of the day, we're not playing them," Russell said. "We're not competing against them for seeding. Just the win is good enough."
The Lakers had so much promise entering into the 2018-2019 season, but they fell extremely short. Los Angeles made the biggest acquisition in the offseason when they signed James to a massive four-year, $154M contract. Laker-land believed all prayers had been answered, and they would resume as one of the best teams in the NBA. The Lakers organization believed if they just surrounded LeBron with a few more pieces then it would all work out. So the organization also signed a host of veterans, including Kentavious Caldwell-Pope, JaVale McGee, Rajon Rondo, and Lance Stephenson.
Injury Prone
Injuries began playing a large role in the stumbling of the team as numerous players were out of the lineup for long periods of time. Even LeBron ended up missing 17 consecutive games with a groin strain. In addition, Rondo missed two separate stretches with multiple hand injuries and was out of the lineup for 31 total games with those injuries, while Lonzo missed a large portion of the season as well due to various injuries. Brandon Ingram saw his season end prematurely due to a blood clot in his arm.
"I mean, you wouldn't imagine not making the playoffs," Lakers forward Kyle Kuzma said. "All of us definitely thought that, but we got derailed by a lot of injuries. That pretty much sums up our season. At one point we were holding our heads high and we were in a great position, and then that bug just kind of came in and hurt us and hurt our season."
So where do LeBron and the Lakers go from here? It's hard to predict who they'll be able to add in free agency, but one has to believe their chances at success next season can only improve.
The Lakers next matchup will be against the Sacramento Kings in Los Angeles on Sunday at 9:30 pm ET.
Follow us on Twitter: @T101Sports @T101SportsNBA
Follow us on YouTube
Photo Credit
@BrooklynNets via Twitter