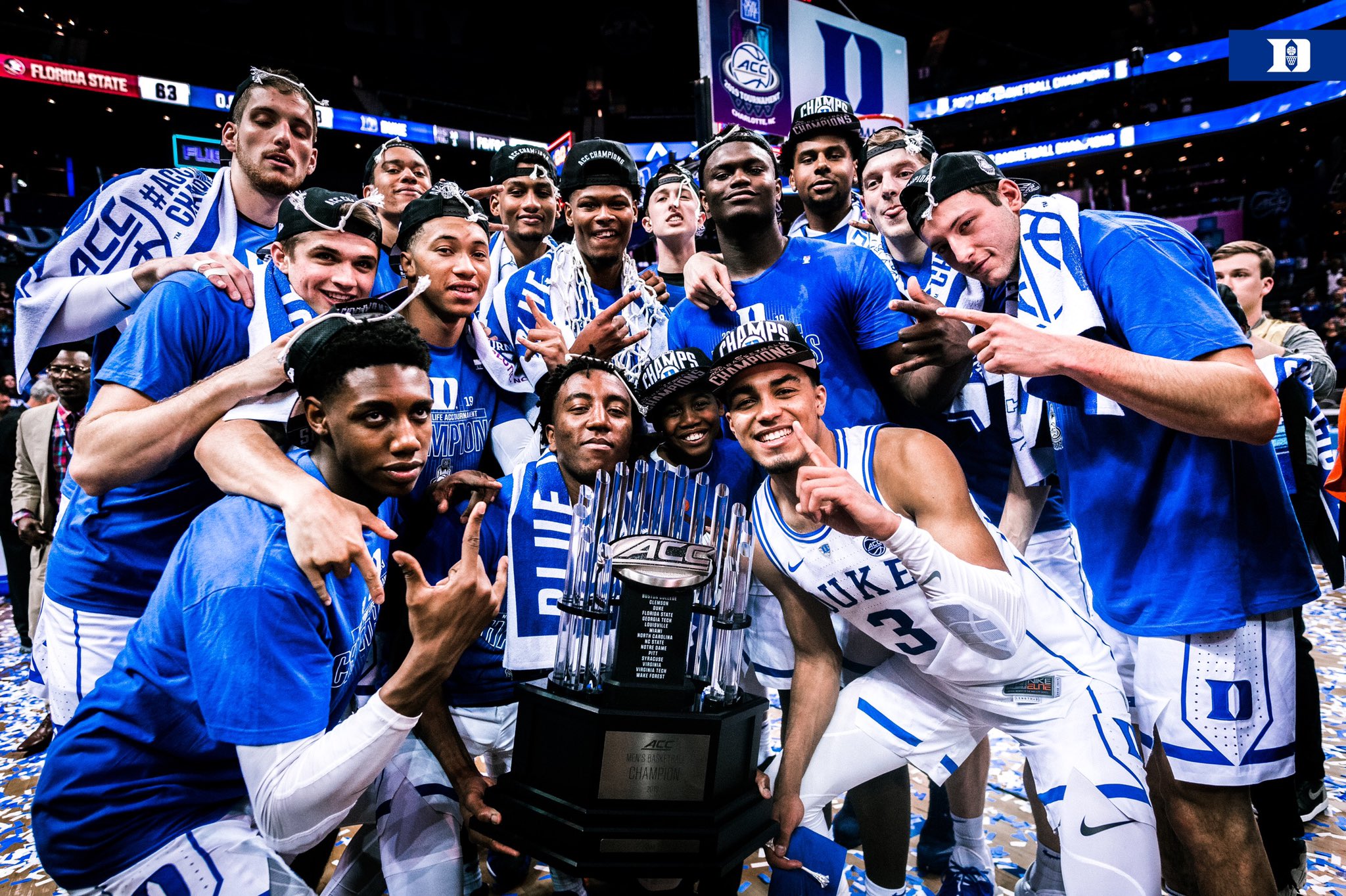 The East Region
The East Region of the NCAA Tournament bracket is intriguing matchups, star players, and upset potential. Strap in as we take a deep dive into #1 overall seed Duke's region.
Game Previews
#1 Duke vs #16 North Carolina Central/ #16 North Dakota State
I'll get into more detail when I write the Duke preview individually and know who the definite Duke opponent is, but it is a safe bet to assume Duke wins this one with ease.
#8 VCU vs #9 UCF*
The most intriguing aspect in this #8 and #9 seed matchup has to be UCF's Tacko Fall. The senior center is 7'6″, 310 pounds and has averaged 10.9 points, 7.3 rebounds, and 2.5 blocks per game. VCU will have to alter their game plan greatly when Fall is in the game due to his shot blocking ability and overall inside presence.
The game will be won on the defensive side of the ball and offense will be tough to come by. I wouldn't be surprised if this was the lowest scoring game in the East Region in the Round of 64. Look for VCU to struggle inside early on against Tacko Fall, but ultimately, VCU has a far more balanced scoring attack and one of the fiercest defenses in the nation. Marcus Evans, coming back for VCU, will give them enough on offense to win this defensive grudge match.
#8 VCU: 61
#9 UCF: 55
#5 Mississippi State vs #12 Liberty*
I don't think Mississippi State is going to beat Liberty. The Liberty Flames have all of the ingredients to become a Cinderella in the NCAA Tournament. The Flames use nine players for at least 10 minutes per game. Six of their players average at least 7.0 points per game, and they have seen 20+ point performances from three different players. Anybody in the starting lineup can go for double figures, which is a nightmare for coaches to game plan for. Expect Flames forward Scottie James to have a big day. The big man can shoot threes and score with touch on the inside, making him tough to guard. The Flames, as a team, shoot the three pretty well, but they have three players who shoot at 40% or better. Mississippi State, on the other hand, has struggled to defend the three this year. Upset alert!
#5 Mississippi State: 71
#12 Liberty: 80
#4 Virginia Tech vs #13 St. Louis
This is an interesting matchup. The Hokies want to run and shoot the three, but the Billikens of St. Louis like to slow down the pace of play and run their offense deep in the shot clock. Tech gets their starting point guard Justin Robinson back for the first time since early in conference play. Though it will be difficult for Robinson early on, Tech has too many scorers, such as Kerry Blackshear Jr and Nickeil Alexander-Walker, for St. Louis to keep up with. Expect the Hokies to force St. Louis to play fast. This one will be uglier than expected.
#4 Virginia Tech: 85
#13 St. Louis: 70
#6 Maryland vs #11 Belmont*
Maryland will have their hands full with the Belmont Bruins. The Bruins are coming off of a First Four win in Dayton, Ohio, over Temple. The Belmont backcourt duo of Dylan Windler (20.8 PPG, 10.8 RPG, 2.6 APG, and 1.5 SPG) and Kevin McClain (16.7 PPG, 3.5 RPG, 4.0 APG, and 1.2 SPG) have been lights out all year. In their win over Temple, McClain had a game-high 29 points, while Windler pulled down a game-leading 14 rebounds.
Maryland will look to counter on offense with junior guard Anthony Cowan Jr, who has led the team in scoring with 16.0 per contest, and sophomore forward Bruno Fernando, who has averaged a double-double this season with 13.7 points and 10.4 rebounds per game.
On paper, Maryland is the far more athletic team, but Belmont is built to be a Cinderella. They have two dominant guards and a big man in Nick Muszynski (14.9 PPG) who can finish around the rim.
This is the most intriguing game of the East Region's Round of 64, and it may come down to the final possession. Maryland is the fourth youngest team in the country, while Belmont has a pair of veteran senior guards in McClain and Windler. It'll come down to pure experience, and Maryland has just one player who has been to the NCAA Tournament. They'll fall apart late.
Give me the upset!
#6 Maryland: 79
#11 Belmont: 88
#3 LSU vs #14 Yale
LSU has been dealing with off the court distractions for a couple of weeks now. Tigers head coach Will Wade is suspended and will likely not coach in the round of 64. Of all the #14 versus #3 games, Yale has the best chance of pulling the upset off. Yale's Miye Oni is among the tournament's best players, and when he is hot, Yale is tough to beat. On the other hand, when Oni scores 12 or fewer points, the Bulldogs are just 2-4.
Oni is ready to show off on the National stage and will score at least 20 points, but ultimately, it won't be enough. You don't go 16-2 in the SEC just to lose in the Round of 64.
#3 LSU: 84
#14 Yale: 72
#7 Louisville vs #10 Minnesota*
The forward matchup of Louisville's Jordan Nwora and Minnesota's Jordan Murphy is among the better individual matchups that will be seen in the NCAA Tournament. Nwora is in the midst of a breakout sophomore campaign. He has led the Cardinals with 17.2 points along with 7.5 rebounds per game. Murphy has been a walking double-double this season, as he has logged 22 of them. He has averaged 14.8 points and 11.5 rebounds per game, good for fifth nationally in rebounding.
Expect the battle between star forwards Nwora and Murphy to come down to the wire with Louisville pulling away late. Nwora is a blossoming star, and the NCAA Tournament will be his stage to show everyone that he is the real deal.
#7 Louisville: 79
#10 Minnesota: 74
#2 Michigan State vs. #15 Bradley
Hats off to Bradley for winning their conference tournament as the #5 overall seed in their conference tournament, but their run ends when they face Michigan State. Head coach Tom Izzo has done a masterful job this year navigating his squad through injuries en route to a Big 10 Tournament Championship. Roll on, Sparty.
#2 Michigan State: 92
#15 Bradley: 70
* Indicates the best matchups in the East Region's Round of 64.
Follow us on YouTube and Twitter
Photo Credit
@DukeMBB via Twitter