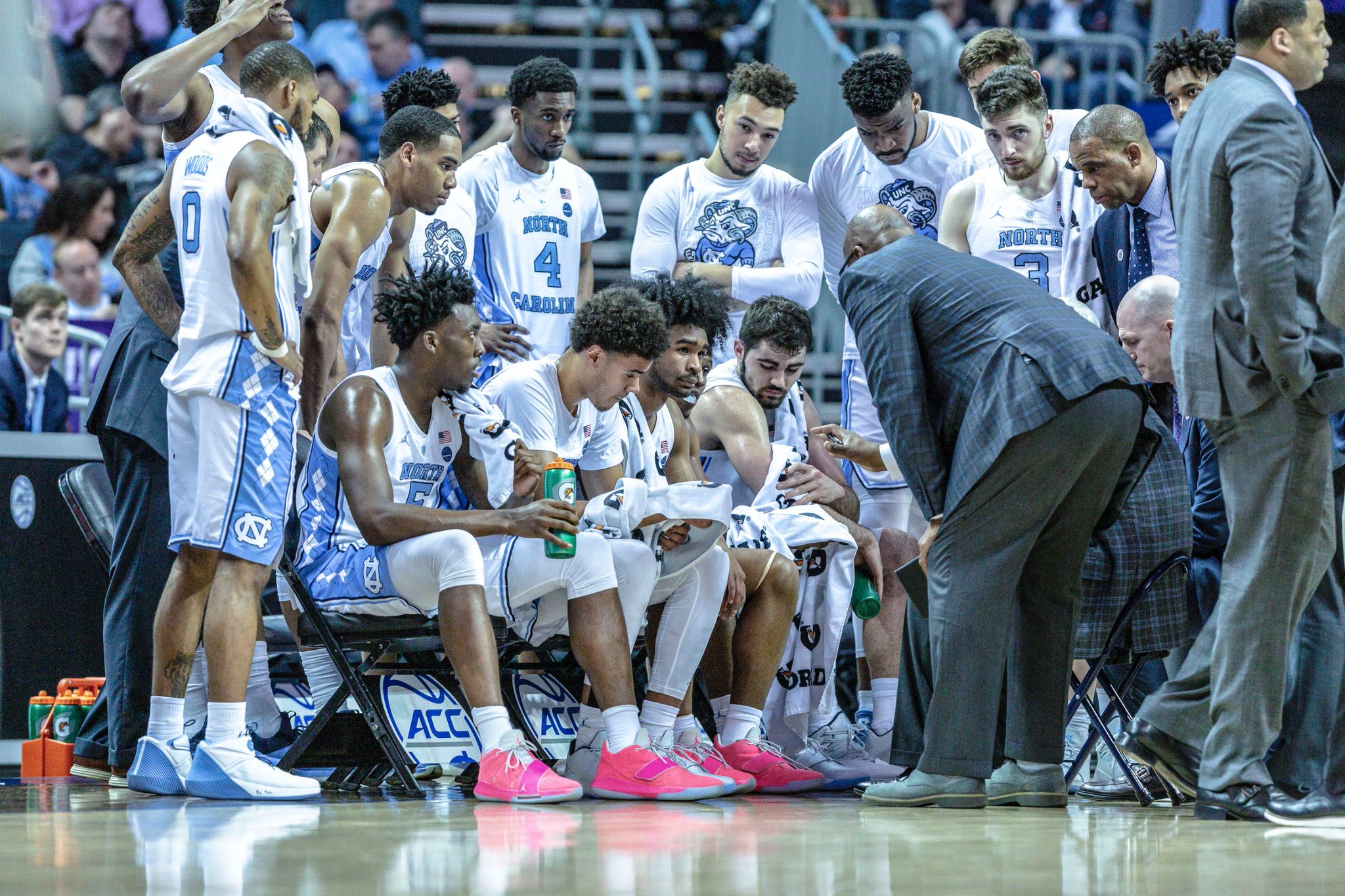 Midwest Region Preview: Round of 64
The Midwest Region features the selection committee's third ranked team in North Carolina as well as a formidable two seed in Kentucky. Additionally, this is perhaps the deepest region in the tournament from top to bottom. The first round games begin on Thursday with Auburn against New Mexico State and conclude on Friday with Iowa State against Ohio State.
Matchups
#1 North Carolina Tar Heels vs. #16 Iona Gaels | 3/22 | 9:20 PM | TNT
UNC features a typical Roy Williams team, which likes to get out in transition and prides itself on rebounding. This team is star-studded, with Senior big man Luke Maye and freshman Coby White running the show. This duo, coupled with the shooting and perimeter defense of Cameron Johnson and Kenny Williams, makes the Tar Heels a tough out.
Iona had a rough start to the year with a 2-9 record through December but are entering this game on a 10-game winning streak. The MAAC champs boast four double-digit scorers and will look to carry their momentum into a monumental upset. However, they will be no match at all for the powerhouse Tar Heels. This game will get ugly in a hurry.
The Pick: North Carolina 
#2 Kentucky Wildcats vs. #15 Abilene Christian Wildcats | 3/21 | 7:10 PM | CBS
Kentucky opened the season with a 34-point loss to Duke. Since then, Kentucky has proven to be one of the few teams that could beat out the heavy favorites for the championship. The Wildcats play a physical game with perhaps the best front court in the country, featuring PJ Washington, Reid Travis, and Nick Richards. Combined with the guard play of Keldon Johnson and Tyler Herro, this team is top-tier.
Abilene Christian won the Southland Tournament to clinch their first ever NCAA Tournament appearance, and clearly deserve it. Holding opponents to under 65 points per game and shooting the long ball at 38% for the year, this team is tough to catch when they get out to a lead. However, that won't happen against John Calipari's team. Kentucky's size and athleticism will bully Abilene Christian from the start, and they'll cruise to an easy win.
The Pick: Kentucky
#3 Houston Cougars vs. #14 Georgia State Panthers | 3/22 | 7:20 PM | TBS
The Cougars finished second in the AAC after claiming the regular season title. With 31 wins and the eighth ranked defense in the country, Houston will challenge any team they run into. Though they are undersized compared to the blue bloods, the Cougars have guard play that can stack up against the best. Corey Davis Jr. and Armoni Brooks lead this efficient team and will try to claim the school's first final four since Phi Slamma Jamma.
Georgia State won the Sun Belt with relative ease and have some history of tournament upsets. They are one of the best three point shooting teams in the country and can definitely make some noise if they get hot. However, the defense and efficiency of Houston will be too much for Georgia State to handle. The Cougars will advance, but Georgia State will hang around for awhile.
The Pick: Houston
#4 Kansas Jayhawks vs. #13 Northeastern Huskies | 3/21 | 4:00 | TNT
Kansas has had a historically strange season. After snapping their 14-year streak of winning the Big 12 regular season title, the Jayhawks lost in the tournament finals, leading them to a #4 seed. A bit shorthanded after losing big man Udoka Azubuike and sharpshooter Lagerald Vick, Kansas is led by a strong group of freshmen and junior Dedric Lawson. With wins over Michigan State, Tennessee, and Villanova, Kansas is battle tested but their lack of depth has produced some cold spells down the stretch.
Relying heavily on the three ball, Northeastern is able to put up points in a hurry but sports an average defense and sub-par athleticism. The Huskies have a chance if they catch fire from deep, but I see the raw talent of Kansas being far too much for them to handle.
The Pick: Kansas
#5 Auburn Tigers vs. #12 New Mexico State Aggies | 3/21 | 1:30 PM | TNT
Auburn showed that they can beat anyone with their performance in the SEC tournament. Beating LSU and dominating Tennessee to win the championship, they showcased their fantastic shooting and organized defense. The Tigers need a performance like that to make it out of the Midwest, and they will be a tough matchup for both North Carolina and Kentucky.
New Mexico State is a deep team that uses its entire bench. They rebound well and use a balanced attack to prevent opponents from game-planning against one player. The Aggies would be a popular upset pick if they were playing most other five seeds, but Auburn is simply too good. The Tigers shooters will get going and will maintain a safe lead throughout the game.
The Pick: Auburn
#6 Iowa State Cyclones vs. #11 Ohio State Buckeyes | 3/22 | 9:50 PM | TBS
Iowa State was on the wrong side of the bubble going into the Big 12 Tournament but went on an unexpected run by beating Baylor, Kansas State, and Kansas to claim the title. This catapulted them to a #6 seed and a sleeper pick to go to the Sweet 16 and beyond. With four capable scorers and a fitting offensive scheme, the Cyclones will hang around with anyone.
Ohio State managed to only beat three tournament teams (none higher than a #7 seed) despite playing fourteen games against such teams. Their lack of success against top competition poses some problems, but their stifling defense, and the return of Center Kaleb Wesson, gives the Buckeyes some promise. This will be a slow-paced and physical game, but the Buckeyes will sneak away with the first upset of the Midwest Region.
The Pick: Ohio State
#7 Wofford Terriers vs. #10 Seton Hall Pirates | 3/21 | 9:40 PM | CBS
Led by sharpshooter Fletcher Magee, Wofford may be the best shooting team in the country. At over 40% for the season, the Terriers spread out their opponents and operate with efficiency and firepower. With double digit losses against the only three tournament teams they faced, the Terriers are an unproven but daunting opponent for anyone due to their shooting ability.
Seton Hall comes into the game red hot following wins over Marquette (twice) and Villanova prior to the Big East Championship, in which they lost a nail-biter to the Wildcats. The Pirates play an extremely balanced game, with all five starters as capable scorers along with sound rebounding and defense. Their best attribute is their athleticism, which makes them a tough matchup for Wofford. I see Seton Hall winning with physicality, although the Terriers could advance if they explode from beyond the arc.
The Pick: Seton Hall
#8 Utah State Aggies vs. #9 Washington Huskies | 3/22 | 6:50 PM | TNT
North Carolina fans should be sweating bullets anticipating a second round matchup against Utah State. The Mountain West champs feature a scary combination of shooting and size that could provide a run in the tournament. Sam Merrill leads the Aggies, averaging over 20 points per game, and he has the ability to score from anywhere. Do not overlook Utah State.
Washington has not fared well at all against good competition, capitalizing off of the weak PAC 12 to make the tournament. Their defense is quite good however, so they will rely on slowing down the pace and getting stops. Utah State should roll in this game, with little to no resistance from the Huskies.
The Pick: Utah State
Follow us on YouTube and Twitter
Photo Credit
@UNC_Basketball via Twitter