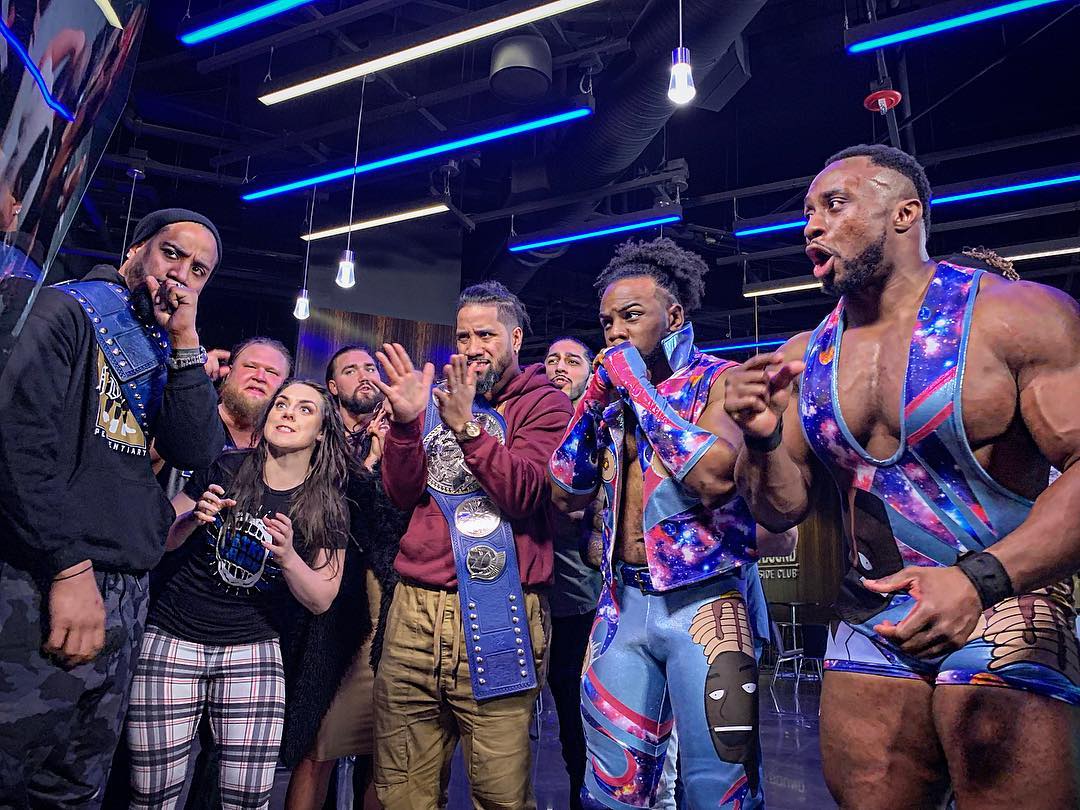 SmackDown Recap for the March 20, 2019 Episode of SmackDown Live
The First 60 Minutes
The Miz looks all business while he takes to the ring to kick off this week's SmackDown Live.
Miz admits throughout his career he used people to get ahead in life because WrestleMania means so much to him. He states that, while teaming with Shane McMahon, several people warned him not to trust Shane, but Miz didn't listen. Miz says he just wanted to make his dad proud of him.
"You are a conniving, vile, disgusting human being, you are rotten to the core, just like your father. You weren't born best in the world. You're a McMahon, you were born the worst." -The Miz
Miz says the McMahons don't own him or Kofi Kingston. He says that through his hard work he made it to the WWE without anyone's help.
Miz states that he thinks his hard work is getting the respect of the WWE Universe. He says the only thing Shane deserves is an ass whupping from him at WrestleMania.
Women's Tag Team: The IIconics vs The Boss N' Hug Connection
Result: Peyton pins Sasha
Before the match, Billie and Peyton cut a promo. They say Sasha and Bayley don't know what they're getting themselves into by coming to SmackDown and facing The IIconics
The Sassy Southern Belle, Lacey Evans, does her strut on the entrance ramp, which distracts Bayley and causes her to fall to a blindside attack from The IIconics
Billie hits an ugly looking Big Boot on Bayley
With a little assist from Billie, Peyton pins Sasha with a leverage move
Kayla Braxton interviews Rey Mysterio backstage. Rey brings out his son, Dominick, who is a good seven inches taller than his dad.
Mysterio announces he will face Samoa Joe for the United States Championship at WrestleMania. Dominick mentions he will be front row for his dad's match.
Kevin Owens hosts the "KO Show" with special guests Becky Lynch and Charlotte Flair.
Kevin says that he knows no one can get under your skin more than your best friend. He lists off some of the questionable things Ronda Rousey is saying about both Becky and Charlotte. Charlotte points towards the concession stand when Kevin reads off more quotes from Becky and Charlotte about each other.
Kevin says he'd rather see Charlotte fight Becky on his show, rather than have them talk it out. Kevin gets the hell out of dodge before allowing the two women to fight.
Charlotte and Becky start fighting. Their brawl spills to the outside of the ring. Security separates them and Becky looks like she is about to bounce back, but the camera switches to Kayla Braxton in a backstage hallway.
Kayla asks AJ Styles what he thinks he has that could beat Randy Orton. AJ compares himself to Randy. He says that, because he started on the indie wrestling scene, he will beat Randy at WrestleMania.
AJ wishes Kofi Kingston good luck in his gauntlet match.
Daniel Bryan and Rowan do a smug vegan walk down to the ring.
Daniel says no one knows what it's like to be an underdog like he does. He says Kofi doesn't deserve to face him for the WWE Championship.
"Unlike me, Kofi Kingston is a B+ player… B+ is not good enough!" -Daniel Bryan
Daniel says that nothing the fans do will change the fact that Kofi will lose the gauntlet match.
The Second 60 Minutes
1 vs 6 Gauntlet: Kofi Kingston vs Rowan, Cesaro, Sheamus, Randy Orton, Samoa Joe, and Daniel Bryan
Result: Bryan pins Kofi
Kofi wrestles for over an hour
Kofi lastly defeats Randy Orton. Vince McMahon walks onto the stage to congratulate Kofi. Mr. McMahon says that Kofi will go to WrestleMania as long as he can defeat one more opponent. Daniel Bryan comes out to be Kofi's last opponent
Bryan pins Kofi after hitting his Running Knee strike
Via social media, a Fatal Four-Way is announced for next week's show. Sonya Deville, Mandy Rose, Carmella, and Naomi will compete to decide a number one contender for the SmackDown Women's Championship.
Social Media
Hard work sometimes pays off…
Follow TSJ101Sports on Twitter: @T101Sports and @T101SportsWWE
Follow me, the writer, on Twitter: @JordanPiekarski
Photo credit to WWE via Instagram