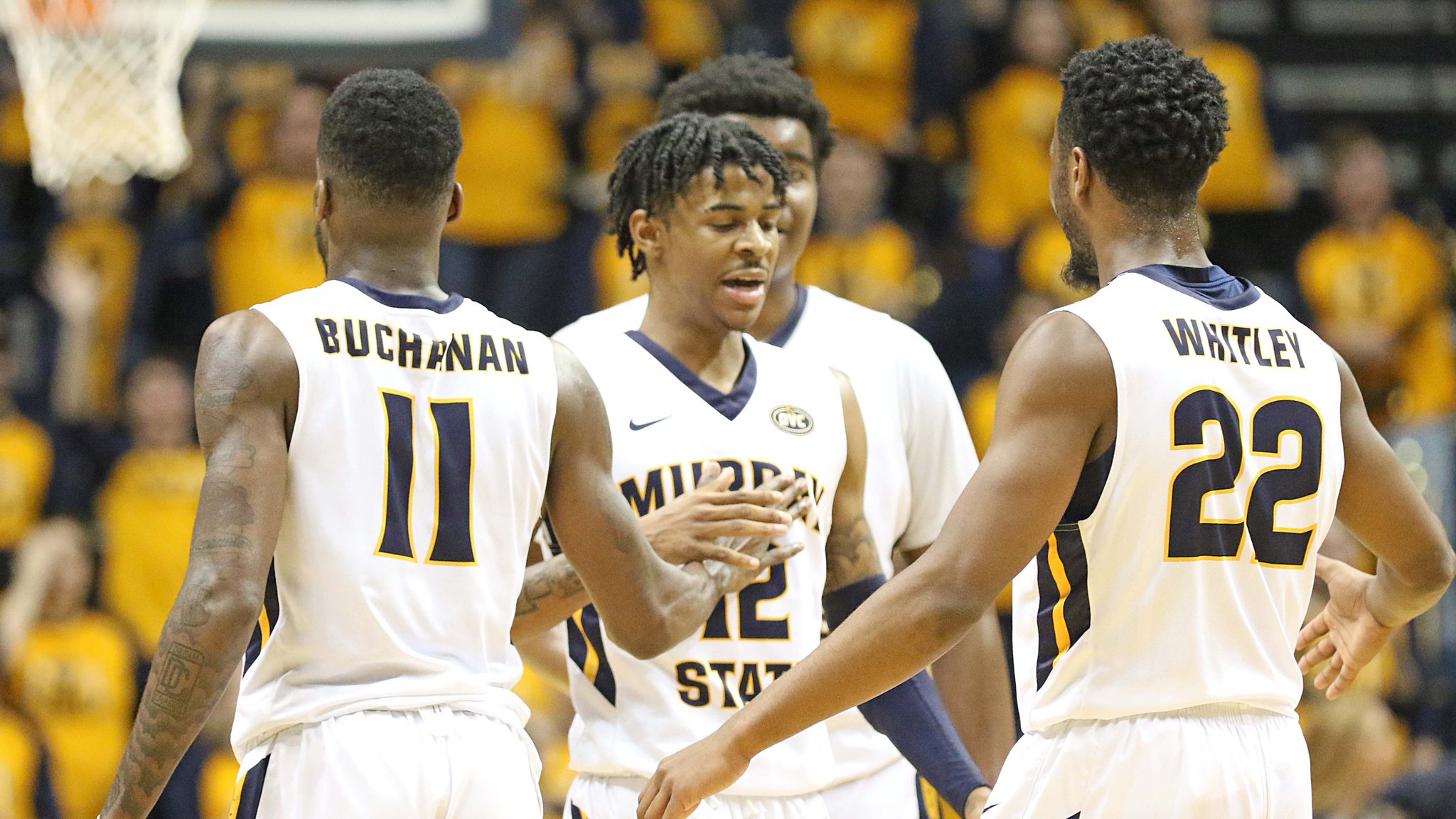 College Hoops Preview: Murray State vs Marquette
Match-Up: #12 Murray State (27-4, 16-2 OVC) vs #5 Marquette (24-9, 12-6 Big East)
Date: March 21, 2019
Time: 4:30 PM EST
Network: TBS
Location: Hartford, CT
Venue: XL Center
Capacity: 16,294
Heavy Weight Bout
It's that time of year again where college basketball is pushed to the forefront of the sports world. Fans spending countless hours dissecting each region in hopes of filling out a perfect bracket. While most of the highly anticipated games take place later on in the big dance, this year's field gives us a match-up worthy of Final Four hype. XL Center will play host to what can only be described as a heavyweight bout between the Marquette Golden Eagles and Murray State Racers. In one corner, you have Ja Morant fresh off of leading his Racers to the Ohio Valley Conference Championship. In the other corner stands Big East POY Markus Howard and his Golden Eagles, fresh off of a deep run in the conference tournament.
Tale of the Tape
Ja Morant
Measuring in at 6'3″ 175 pounds, Ja Morant has NBA scouts salivating at his next level potential. Anyone with a pulse on the college basketball scene has come across videos of Morant sprinting end to end, splitting a double team, and flushing it over the last line of defense. It's not just the highlight plays that have made Morant a household name. He finished the year as the only D-I player in the top 10 in both points (24.6 ppg) and assists (10.0 apg)!
Markus Howard
Don't let the fact that Markus Howard checks in at 5'10" fool you. The Big East Player of the Year is a walking bucket. As a result, Howard finished with the most 30-point games of any player representing a major conference. There isn't a spot on the floor Howard isn't comfortable operating in. Without Markus on the floor, Marquette averages a sub par 0.91 points per possession. Simply put, Howard needs to score in bunches if Marquette is to make a deep run in this year's tournament.
Murray State Season In Review
The Racers finished the season off with an impressive 27-4 record. Still, fans were left in a bit of suspense as Murray State finished tied for the regular season title in the Ohio Valley Conference. With a loss to Belmont earlier in the season, Murray State's only path to the big dance was by winning the OVC tournament. Conveniently enough, Belmont and Murray State faced off in the finals. The game was a microcosm of the Racers regular season. Belmont led by six at half time before Ja Morant put on his Superman cape. Before you knew it, the Racers had pulled off a 14-2 run. He scored 22 of his 36 points in the second half of the 77-65 victory.
Beyond Morant, Murray State sports a suffocating defense led by Senior guard Shaq Buchanan. Buchanan was named the OVC Defensive Player of the Year. As a team, the Racers earned first place in the OVC in defensive scoring on the season, allowing opponents 67.7 ppg. The Racers are especially adept at defending the three-point line. During the OVC Tournament, opposing teams went 19-69 from three for a putrid 27.5 percent.
Marquette Season in Review
The Golden Eagles were able to finish with an overall record of 24-9, allowing them to go from unranked to as high as No.10 in the country. Marquette can attribute much of its successful season to their ability as a team to hit the perimeter jump shot. They checked in at nearly 40 percent from downtown. Good for 10th best among D-I teams.
Marquette came up just short in the Big East tournament with a tough loss to a blistering hot Seton Hall team. The tournament provided a look into what Marquette must do if it wants to make a deep run in the field of 68. Against St. John's, they were able to convert on nearly 50 percent of their attempts from deep while holding St. John's to 15 percent. Another facet of the game they were able to control was the boards. They out rebounded the Red Storm 46-30! This resulted in a 32-point beat down. If the Golden Eagles can keep scorching the nets, and rebounding at a high level, they have a great chance in advancing to the later rounds.
Predictions
Murray State 87
Marquette     83
Murray State is ranked in the top-25 in the country in eFG% on both offense and defense. Their ability to defend the three-ball will be critical when matching up against the Golden Eagles. Marquette ended the regular season on a 1-5 skid. Markus Howard has been given a clean bill of health, but it'll be interesting to see if he has fully recovered from his recent wrist injury. Marquette's season-ending struggles correspond with Howard's. His turnovers have ballooned to 5.0 per game during the losing streak. Likewise, his shooting percentage has also dipped to 36 percent from the field. Shaq Buchanan may not be able to shut down Howard but can limit him just enough for Murray State to pull off the upset! Look for Ja Morant to go out and cement himself as a sure-fire top 2 selection in this upcoming NBA Draft.
Follow us on YouTube and Twitter
Photo Credit
@MSURacers via Twitter