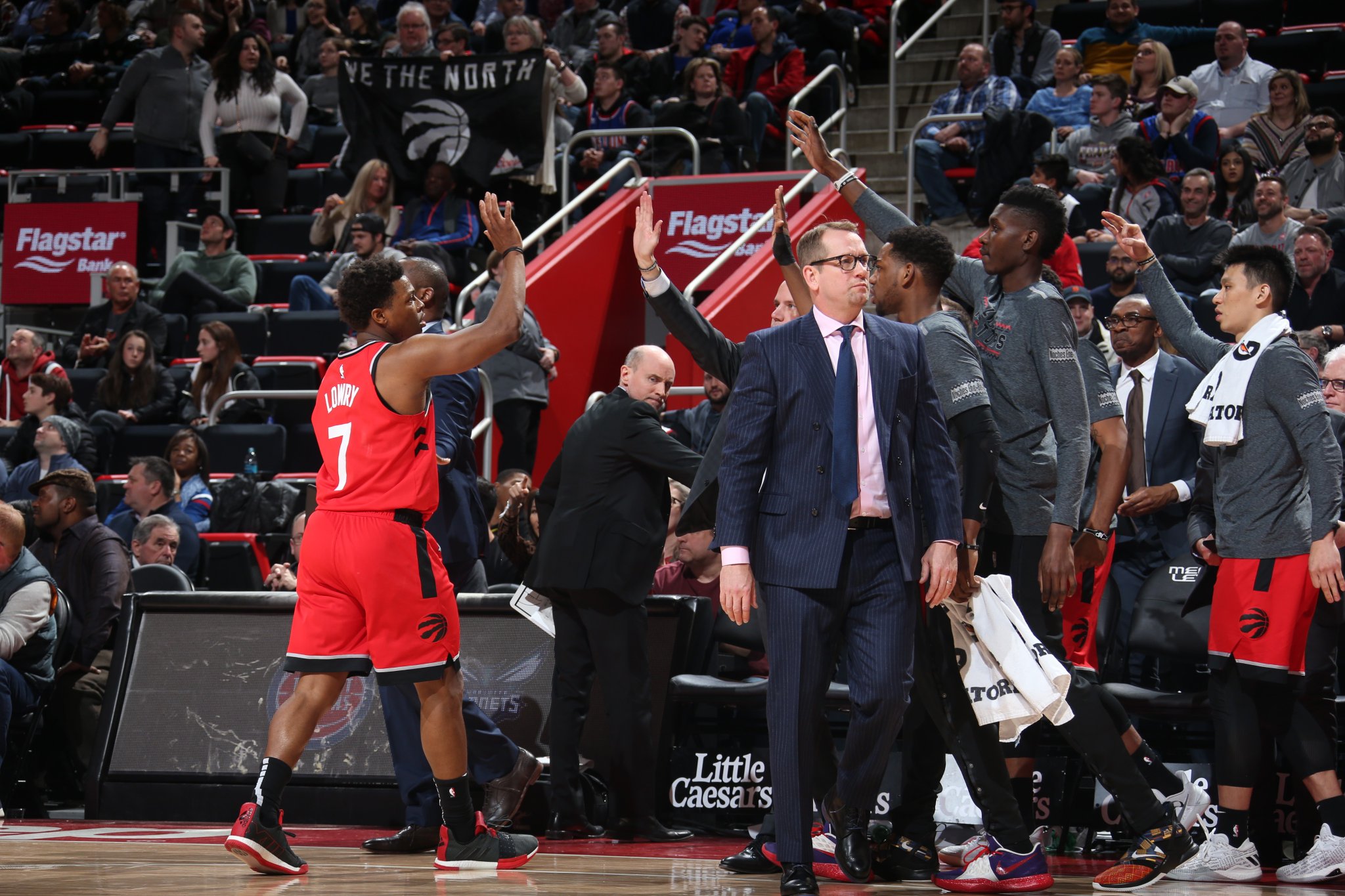 The Flexibility Conundrum
In a basketball world where salary cap flexibility is paramount, is it any surprise that the NBA is playing in an unprecedented era of positional flexibility?
Switchability in Session
The Golden State Warriors are largely credited with creating the gold defensive standard of switchability, which utilizes versatile defenders in a sort of position-less poetry that necessarily leads to league domination. But what if the true catalyst for league change is not the Warriors at all but the salary cap?
When the Raptors fired Coach of the Year Dwane Casey for his lauded assistant Nick Nurse, the NBA metaphor lingered: Old, rigid NBA versus the new, creative NBA. In fact, one of the first things out of Coach Nurse's mouth was the fact that he planned to "experiment" all season. For some, the idea of eschewing traditional notions of rotational construction was the death of basketball as we know it; for others, it was a breath of fresh air. We are in a basketball era without precedent. But if you have been paying attention to the NBA salary cap, it's all quite predictable.
Economics is the Foundation
The NBA trade deadline a few, short weeks ago felt more like an accounting report than a sports competition. The contemporary NBA executive resembles Waldo more than Wilt, money-ball more than street-ball. In a relatively new NBA salary cap era, sophisticated accounting principles usurp motion offenses. Winning is contingent on the most fiscally flexible franchises, not the collection of the most talented players. The NBA news sounds more like the Bloomberg Report these days. "This expiring contract for two years at this salary." "Financial flexibility in the summer for the last year of a rookie deal." More than statistical analysis, a modern NBA fan needs contract analysis.
The Carousel
It's not surprising that in professional basketball, or the collective desire to balance the books, there is an unprecedented number of players being shuffled through the league like poker chips. The 10-day contract used to be a relatively unique setup, even a short-term burst of excitement. These days, it's really a question of just HOW MANY 10-day contracts a team will cycle through during the season. With the influx of G League talent, NBA retreads, novel NBA contracts, international scouting, NBA prospects that don't even bother to go to college, and more, there is seemingly an infinite number of roster possibilities for today's NBA coaches.
For this reason, I believe Nick Nurse is largely a product of this scattershot economic system.
Why build a team strategy on a rigid rotation when you could be cycling through 25 faces through the course of the season? In a world of perpetual flux, prudence dictates that a flexible game strategy makes the most sense. It's a paint by numbers solution as an answer to a question that continually transforms. Why have a monogamous relationship when you can date 100 people on your iPhone app? We are living in the age of abundance. NBA roster spots are not immune to this notion of continual change.
Evolve or Die
Kawhi Leonard recently stated that he views the regular season as an 82-game warm-up for the actual competition, the NBA playoffs.
In light of the abundant nature of NBA prospects, perhaps the same approach can be considered when it comes to NBA job security: We're living in an age where the regular season is an 82-game audition for playoff roster rewards. And if we're going to keep auditioning NBA actors, we might as well keep rewriting the scripts.
I mean, hell, it is Oscar season.
Follow us on Twitter: @T101Sports @T101SportsNBA
Follow us on YouTube
Photo Credit
@Raptors via Twitter